Home

>

Apps

>

Groups

>
India consuming more mobile data than China and USA put together
Question asked by Amol Agarwal in #Coffee Room on Dec 23, 2017
In a rather surprising tweet, NITI Aayog CEO Amitabh Kant has revealed that India now holds the number one spot in terms of mobile data consumption in the world. According to Kant, India's appetite for data has reached an overwhelming figure of 150 crore gigabytes mobile data per month, which has put it ahead of China and USA.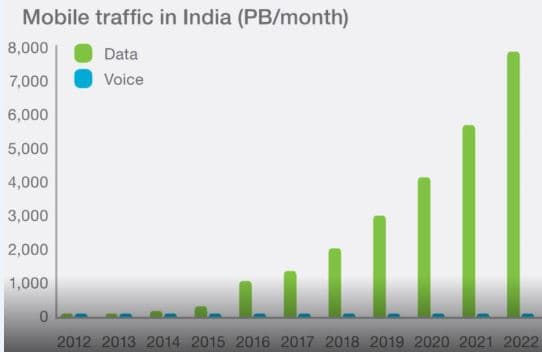 India's past and projected mobile data usage(credits: Dazeinfo)
​
What is even more exciting is the fact that India consumes more data than these two countries' mobile data usage put together. Although the source of the stats was not shared by the CEO, we consider the information to be trustworthy as it comes from a top government official. We can clearly see the exponential rise in mobile data usage year on year, with some remarkable predictions for the coming years.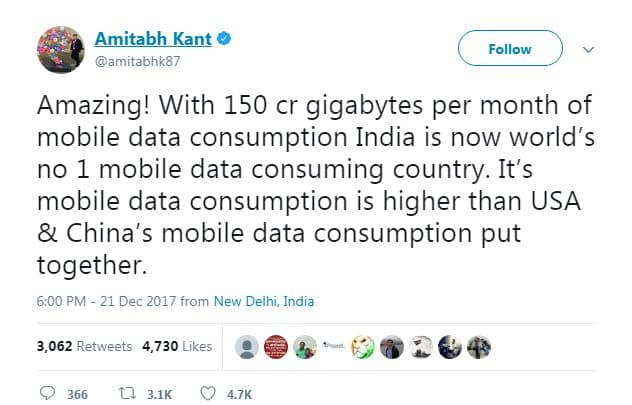 ​
This boom in wireless mobile data access can be attributed to a number of factors such as improved data speeds, increasing smartphone penetration in urban as well as rural areas, competitive pricing, better coverage, changing consumer habits like turning to online shopping, e-banking, using mobile wallets, e-transport etc. The current government's push towards a digital economy has also had its impact.
Introduction of Reliance's Jio last year ushered in an era of dirt cheap 4G data rates throughout the country and made other operators sweat. The competition became so fierce that companies like Vodafone, Airtel, Idea, and BSNL were left with no option but to match prices with Jio to retain their consumers. The Jio effect can be clearly judged from the fact that in June 2016 4G data consumption was 8,050 TB which skyrocketed to an astronomical figure of 39,99,012 TB in June 2017.
Certainly, Internet has become a necessity in India today where almost everything from education to banking, booking hotels to booking flights and a host of services are available at our fingertips. Not only it saves time and money, the Internet today gives us the power to make better and well-informed decisions. No doubt India is growing with time but we still have a long way to go.
Source:
Dazeinfo
|
Zeebiz
|
Twitter
Posted in:
#Coffee Room
All this is because of Jio! Btw, I'm 100% sure most of that traffic is to YouTube's mindless 'vlogs'.
Kaustubh Katdare

All this is because of Jio! Btw, I'm 100% sure most of that traffic is to YouTube's mindless 'vlogs'.
I too agree on the fact that Youtube, fB has major share but Vlogs?, I doubt it.