Home

>

Apps

>

Groups

>
HTC Nexus 9 Leaked: Expected Price, Tech Specs and Availability Details Here
Question asked by Satya Swaroop Dash in #Coffee Room on Jun 22, 2014
As the world gets ready for Google I/O 2014 which starts this week, a leaked image has managed to reveal details about the newest member of the Nexus family. The folks over at
Android Police
have managed to secure a dimly lit image of the tablet as well as its specs. According to the image which has been enhanced and embedded below the 8.9 inch tablet codenamed Volantis or Flounder is the Nexus 9. The tablet has been manufactured by HTC and is supposed to arrive in stores this fall.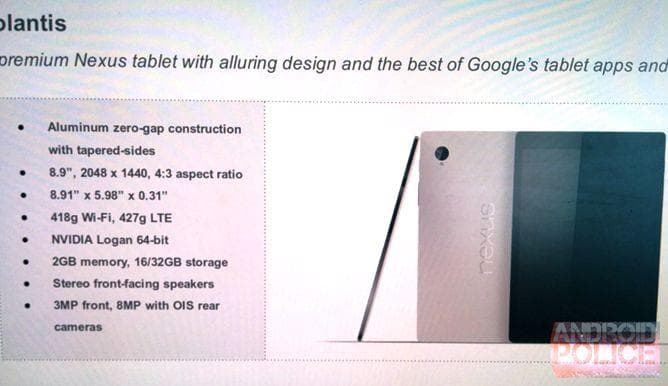 ​
The Nexus 9 will sport a 8.9 inch display which will have a resolution of 2048x1440 pixels and a pixels per inch figure of 281 ppi. It would most probably run the latest version of Android on its 64-bit NVIDIA Logan processor and 2GB of RAM. Just like the Nexus 7 (2013) this one too will be sold in 16 and 32GB internal memory variants. Taking a hint from the iPad Mini, HTC has decided to build the Nexus 9 out of aluminium. The Nexus 9 is equipped with a 8MP sensor with optical image stabilising capability on the rear and a fixed focus 3MP front snapper.
The prices of Nexus 9 are expected to start at 399.00 USD (24,037 INR) for the 16GB Wi-Fi variant. The 32GB Wi-Fi only variant will cost 499.00 USD (30,062 INR) and you would have to pay at least 600 US dollars to get your hands on the LTE capable variant. According to the source the tablet is not expected to make an appearance at Google I/O but will launched at a separate event sometime later this year.
Posted in:
#Coffee Room