Home

>

Apps

>

Groups

>
Hear What You Want To Hear With Here Active Listening Ear Buds
Question asked by Satya Swaroop Dash in #Coffee Room on Jun 3, 2015
Noise cancelling or noise suppressing earphones help us minimise outside noise and enjoy music in silence. But what if you wanted a pair of earphones that enhance the sounds that you hear on a regular basis? Well, your wish has come true with Here Active Listening Ear Buds. These wireless ear buds help you filter the ambient sound that you are hearing with the help of a companion smartphone or tablet application. Here Active Listening Ear Buds not only filter noises of certain frequencies but also offer you real life volume control with the help of a smart Digital Signal Processor. In this article we shall be discussing the product by taking examples of the situations you can use it in.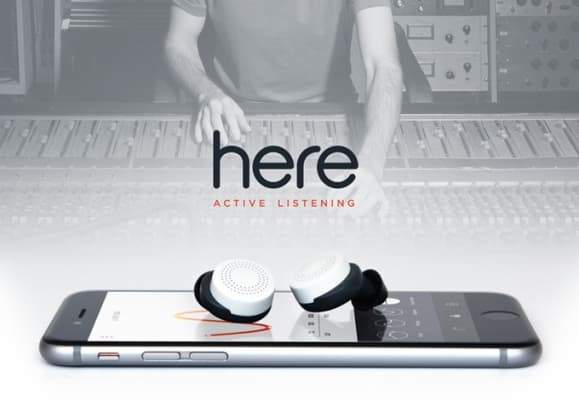 ​
Imagine you are walking on the road and you come across a really loud political announcement vehicle or a wedding procession with speakers blasting a tacky song. Instead of closing your ears with your fingers you can pull out your smartphone and lower the volume level. The process also works vice versa. Imagine you are in class at the back and you cannot hear the voice of your professor. Instead of embarrassing yourself by asking the professor to raise his/her voice you can immediately increase the volume level of the sound you are listening to. Here Active Listening ear buds also feature a live music equaliser. This means when you are at a music concert you can adjust bass, mid and treble levels to suit your listening style.
Here Active Listening ear buds also feature an active sound effect studio. This would be a boon for individuals with subpar home entertainment setups in their house. For example when you are watching a movie you can induce a theatre feel by adding reverb and bass boost. The sound effect studio also contains other effects such as flange, vinyl, echo and noise mask. For ease of use the company has added certain preset modes that can be invoked at certain places. You can have a look at them in the picture embedded below.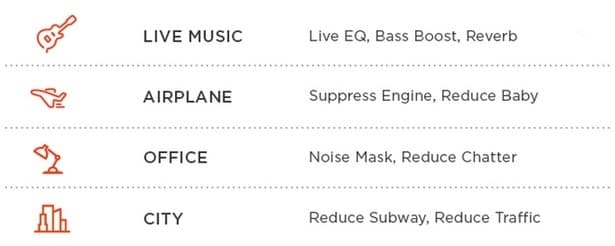 ​
So the question now for geeks is, how does it work? On every Here Active Listening ear bud we find an external-facing microphone that detects the ambient sounds. The digital signal processor in Here Active Listening has been programmed with algorithms that were developed by its makers, Doppler Labs to either filter or enhance certain frequencies. The modified frequencies are then fed into your ears via the earphones that are present in the other end that face your ear canal. You might assume that all of these processes take time and there would be a considerable delay in the sound reception. The company claims that all these processes take less than 30 microseconds which results in no perceivable latency.
Coming to the technical part, all Here Active Listening ear buds come with multiple silicone tip sizes and a charging case that is used to replenish the batteries which will last for six hours on continuous use. These earbuds hook up to your smartphone using Bluetooth 4.0 LE. The makers of the product are currently racing towards the funding goal of $250,000 on Kickstarter. Early backers will get a pair of Here Active Listening ear buds for $179 instead of its retail price of $249.
Source:
Kickstarter
via
Engadget
Posted in:
#Coffee Room