Home

>

Apps

>

Groups

>
Harvard Researchers Synthesize The First Ever 3D Printed Heart-On-A-Chip With Integrated Sensing
Question asked by Debasmita Banerjee in #Electronics on Oct 25, 2016
Having faith on my deductive logic, it can be taken into account that all electronics enthusiasts are familiar with SoCs or system on chips. The mini-world comprising a large number of electronic components work as the core of many smart systems, IOT houses and more or less most of the embedded applications. But what is the point of such ICs, again, it is all about how creations could be made small, portable, cost-effective and flexible with the always-right-handed flow of time. Picturing that, why not imagine an "organ" on a chip that can power one's life? No, it's not a science fiction story anymore. A research team from the John A. Paulson School of Engineering and Applied Sciences at Havard University has already designed the world's first entirely 3D-printed organ-on-a-chip with integrated sensing.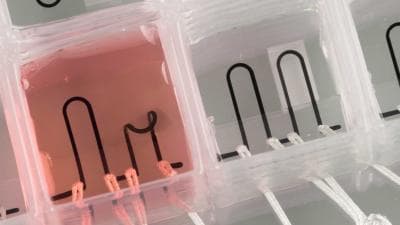 Heart-on-a-chip!
​
This customized heart-on-a-chip not only follows a fully automatic process but also gives enough freedom to the developer to redesign the output's form factor according to the requirement. Such extra qualities could help researchers to take results on varying parameter with higher convenience. The future of the products are the microphysiological systems that could one day mimic an individual patient's cells.
According to Ulrik Lind, the first author of the corresponding paper the approach itself has proven to be unique in combining user accessibility and freedom in changing the design with a quicker and simpler data acquisition through programmable approach. Further, the experiment has been tagged as an unfamiliar microfabrication approach opening new opportunities for in-vitro tissue engineering, toxicology, and drug screening research as per Kit Parker, Tarr Family Professor of Bioengineering and Applied Physics at SEAS.
For now, organ-on-a-chip systems act as a great replacement to animal sacrifice for the sake of initial testing. Already the team has placed their hands on microarchitecture and functions of lungs, hearts, tongues and intestines stuffed in an organ-on-a-chip system. However, they called it an expensive deal with labor which should be optimized for a mass production. The fabrication involves complex, multi-step lithographic process whereas collecting data requires microscopy or high-speed cameras.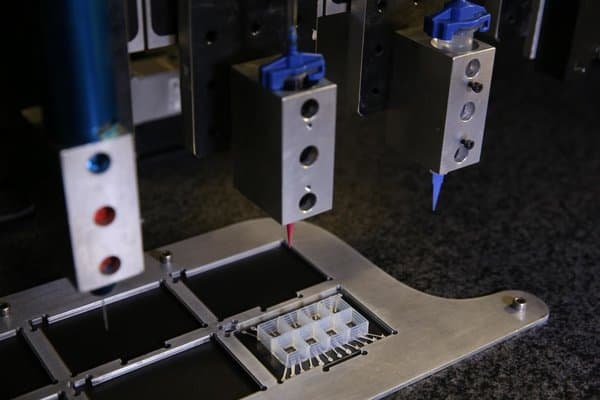 Fabrication Glimpse
​
Travis Busbee, a co-author implied that their approach erased the above-mentioned conditions using digital manufacturing. Cultivating a new ink for multi-material 3D printing the fabrication process was then designed to be automated. The six types of inks embedded the soft strain sensors on the tissue's micro-architecture. Following a continuous procedure, the 3D printed cardiac microphysiological device with built-in sensors were made.
The multiple-well based systems were further tested with a series of drug studies and longer-term studies. The study gets more complicated for the researchers while measuring tissue functional performance provided the heart-on-a-chip system is undergoing gradual maturation. Having the integrated sensors already embedded helps to continuously receive data from the experiment. As seen from the experiments, the research will greatly improve the contemporary systems, still under consideration. The complete research has been published in the Nature Materials journal.
Source:
Nature Materials
Posted in:
#Electronics