Home

>

Apps

>

Groups

>
Google Puts Up Fight Against Ad Injectors On Web Browsers
Question asked by Ankita Katdare in #Coffee Room on Apr 1, 2015
While browsing the web, seeing unwanted advertisements pop up on your screen, is always a big turn off. The programs that make these ads appear are known as 'ad injectors' and they are responsible for inserting or replacing ads on websites without your knowledge. Well, software engineers at Google seem to be poised about fighting against such ad injectors. News about it came to light when Google's Online Security blog put up a post describing the company's efforts to protect netizens from witnessing ad injectors on the internet. Google seems to have taken up this task after it noticed that thousands of complaints were registered by Google Chrome users over the last 4 months. It was clear that this issue was bigger than the performance or network errors.
The unwanted software known popularly as ad injectors are hated not only by end users but web publishers and advertisers as well. They are deceptive, intrusive and users can't seem to find a easy way to remove them. Now, ad injectors come to reside on the user's system as a result of trickery by the attackers. Users unknowingly install these programs through software bundles. Take a look at what the result of an ad injector could be. This ain't a pretty picture -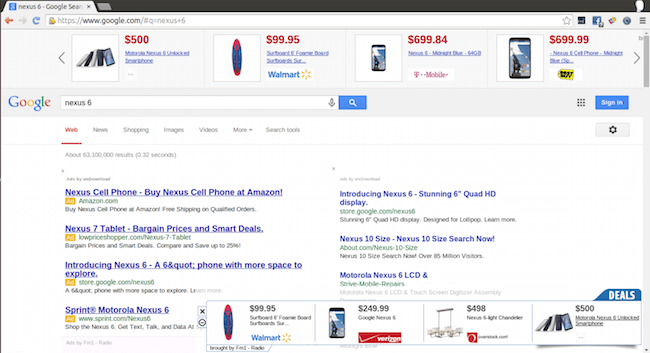 ​
To put up its fight against these ad injectors, Google has come up with a number of policies that either prohibit or at least limit these ads from appearing in your web browser. During their research, the Google engineers found that the Ad injectors were found in all major operating systems including Mac and Windows and web browsers Chrome, Firefox and IE. The statistics suggest an alarming number of users affected with these ad injectors. More than 5% of Google web app users have at least one ad injector installed. In fact, Google has disabled as many as 192 deceptive Chrome extensions.
Among the various policies, Google has made it mandatory that any extension hosted in the Chrome Web Store must comply with the Developer Program Policies. Moreover, Google will be showing warnings to users who are about to download software that it finds deceptive or doesn't use the right APIs to interact with browsers. There are many additional restrictions for advertisers as well. One of them being, making AdWords advertisers with software downloads hosted on their site comply with Google's Unwanted Software Policy.
What are your thoughts about ad injectors and ideas of doing them away? Share with us in comments below.
Source:
Google Online Security Blog
Posted in:
#Coffee Room
good info .. but hackers always found some new way to hack and for stealing data from pc .. no perfect solution for this and if we want any internet security antiviruses for this but we cant buy it because of high subscription price.