Home

>

Apps

>

Groups

>
Giant Mirrors To Light Up Norwegian Town This September
Question asked by Satya Swaroop Dash in #Coffee Room on Jul 24, 2013
As the monsoon wrecks havoc in many cities in India, people will be missing the bright summer sun. But what if you stay in a town where the sun goes into hiding for five months in a year, how will that make you feel? The above scenario is not science fiction stuff; it's actually true for Rjukan, a thinly populated town of Norway where mountain ranges block the direct sunlight for five months in the year starting from September. So to literally bring a ray of hope for the citizens of Rjukan three giant mirrors having a total surface area of 538 square feet have been installed on top of these mountain peaks which shall redirect sun's rays to the town.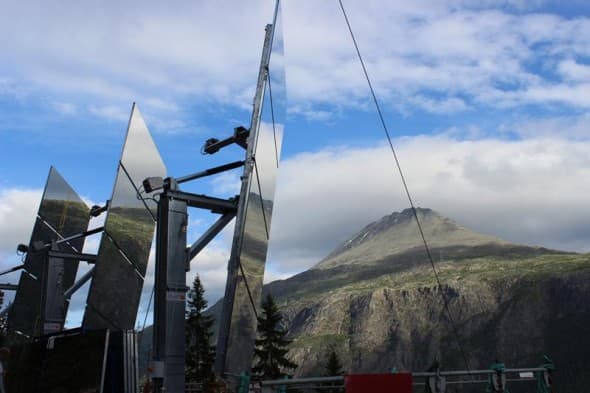 ​
This $850,000 project however does not take the entire town into account, the mirrors will be lighting up an area of 2150 square feet in the town square where the people can come anytime in the day to be bathed in sunlight. The rotatable mirrors positioned on the mountain peaks will be controlled by a computer system located in the town which track the movement of the sun to ensure that optimum amount of sunlight gets into Rjukan. The electricity required to run this system will be provided by wind and solar power. The work for this privately funded project began this year with the felling of trees and the construction of concrete platform above the mountains and by mid–July the German made mirrors were delivered with the help of helicopters.
This project may sound a little over the top, but this concept has already been successfully used in the Italian town of Viganella where brushed steel has been used in a similar manner to reflect sunlight since 2006. The mirror project will be in operation this fall and continue to work till March 2014.
Source:
Geek
Posted in:
#Coffee Room
Looks like people know how to fix the nature's tricks as well. However it might take another millenia before man decides to investigate deep into earth's core and try to control it - only if the entire world was mechanical and man could play God! 👀
Well some things are marvels of engineering and this is acing that list for sure

Replicating solar light in an artificial way so that there will be light is like God telling "Let there Be Light"

But always man can't play god Hope they don't spoil a ecosystem that thrives in darkness there