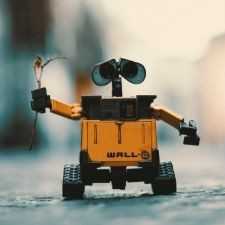 Robotics
Community of Robotics Enthusiasts: Discuss latest robots and questions with fellow robot lovers
631 Members
Join this group to post and comment.
Georgia Tech Builds Birds & Squirrel Inspired Deceptive Robots Perfect For Military
Squirrels can be deceptive. It is their ordinary behavior to gather and store acorns and to make sure that it is kept safe by frequently patrolling those stores. When these squirrels see that another squirrel wants to raid its storage, it turns on the deception mode and starts checking false storage locations that are painfully empty. Studying this phenomenon, Professor Ronal Arkin, from the Office of Naval Research, says that such behavious can be very well implemented in deceptive robots for the military. Therefore, he along with his Ph.D. student Jaeeun Shim developed a robotic model and demonstrated this strategy. They could show how these robots could guard ammunition or important supplies on the battlefield. Smart job!
Also taking cue from the birds found in Israel - the Arabian Babblers, who when attacked by predators join other flocks of birds to create confusion and commotion so that the predator eventually gives up, this researcher duo created a simulation based on how these birds bluffed their way to safety and how they faked 'having strength' - which by the way increases their chances of survival manifold. Whether it is internet security systems or the action time at war, deceit and deception always play a key role. The army knows when and how to use such intelligent systems. The deceptive robots sure have a lot of work to do.
Via:
Georgia Tech