Foursquare Blackberry App Updated With NFC
Foursquare has updated their blackberry app and the updated is app is available in the blackberry app store. According to a blog post on
Foursquare blog
, the new app is speedier than earlier versions and improves upon the GPS logic. The new app also moves all the notifications to your blackberry inbox so that you can easily keep track of what's going on in the Foursquare.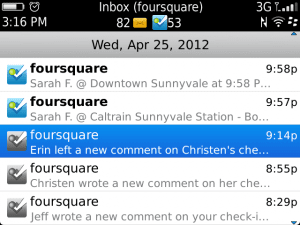 ​
The biggest addition to the app is NFC support which makes it possible to check in at places with NFC tags. You can share places and tips with fellow iOS, Android users. Download the update here:
https://appworld.blackberry.com/webstore/content/6921/
Only logged in users can reply.