Home

>

Apps

>

Groups

>
Flipkart Digiflip Pro XT 712 Priced At Rs. 9999 In India - The Company's First Tablet
Question asked by Akhilesh Garud in #Coffee Room on Jun 26, 2014
There is a new competitor in the tablet market - Flipkart, the online electronics store. You might be wondering how can Flipkart be a competitor in the hardware market? Well, earlier today Flipkart launched their first tablet named "Digiflip Pro XT 712". Let us now have a sneak peak at the features of this tablet.
The 7-inch Digiflip Pro XT 712 has an IPS Display with a resolution of 1280x800.It runs on Android 4.2.2 JellyBean and is powered by 1.3 GHz Cortex-A7 Quad Core Processor and 1GB DDR-3 RAM. It has an internal storage capacity of 16GB which is expandable up to 32GB via a microSD card. It has an 5-megapixel Auto Focus rear camera along with LED Flash which supports full HD video recording and a selfie camera on the front of 2-megapixel. This tab has dual SIM slots (GSM+GSM) and with a 3000mAh battery, it'll provide a talk time of 8 hours and a standby time of 168 hours.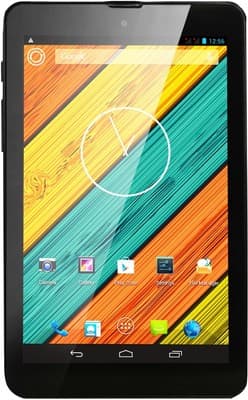 ​
Since this is Flipkart's first tablet, they are offering various combo offers on this product such as if you buy this tablet from Flipkart's mobile app, you'll get free shopping worth Rs. 5300. Also you'll be getting a free Bluetooth headset worth Rs.1199 and free e-books worth Rs. 2300 along with this tab. There is one interesting offer with this tab - the "Try and Buy" offer. In this, you'll be use this tab for a month and if you don't like it, you can return it and you'll get full refund.
The Digiflip Pro XT 712 is priced at Rs.9999 and has started selling on Flipkart.
Source:
Flipkart
Posted in:
#Coffee Room
Just when you thought, Flipkart gulping Myntra was the major news for the e-commerce juggernaut in India, here it comes!
You won't even know what hit you.

PS: There might be a lot of takers for the 'try and buy' offer. ☕
Fantastic options for better marketing. An android 4 kit Kat would have made it splendid. Offers make me wondering about the product but the try and buy offer answers my question. Can this entry from flipkart kill Micromax and HCL tabs.
7-inch IPS Display with a resolution of 1280x800 looks cool....but with 3000mAh battery👎..I am little disappointed...bcoz the competitors like Asus & Xolo have 4000+mAH battery and this is the big reason to worried 😭......Apart from this the 1.3 GHz Cortex-A7 Quad Core Processor and 1GB DDR-3 RAM looks prominent...let see how buyers response this cool gadget in market ahead...👍👍
Flipkart is trying its best to become Amazon. 😉
Dual-SIM on a tablet? Why? It serves very little purpose and can consume most of the battery life. Flipkart's shiny launch day offers seems like a marketing strategy that is working brilliantly, it helps sells devices quicker and it then starts boasting about how stocks go as soon as they arrive.
Not impressed! There is nothing unique about this. And a 7-inch phablet?! That is weird on so many levels! Plus there are a lot of tablet option available already in the market. I guess it's all about user base. If this stuff is really good, I am sure it will take off, as Flipkart is pretty good with marketing and they already have a huge loyal customer base. And yeah, STOP copying Amazon! 😡
What is this !!!

Few years back, when first time I heard that Amazon (the biggest online retain chain) has launched their own product in electronics line as Kindle, I was amazed by the offers they were giving.

Now, FlipKart.. oh Man !!
freebies worth 8000/- INR on a price tag of 10000 and on top of that 'Try and Buy' is a killing feature. In the current Indian market this can be proved as a game changer for Flipkart (Not sure if it will take them in right direction only )!!!
Can't say as indian market related to electronics revolves major around Apple, samsung , micromax , karbonn and some sort of lava , lenovo etc. but these are in rural areas only, so won't think that this product will hit the market upto the expectation.

While after seeing this launch it feels like there may be some long term strategy of flipkart , like he is not copying Amazon but trying to dug out how Amazon becomes popular after after launching its own product and came back with better to hit the market.
Digiflip Pro XT 712 tablet gives best features in this Price range. It comes with amazing "Try & Buy" offer (If customer buys the tablet, he can experience the tablet and return it in case she/he wishes so within 30days of receiving the product). Except for OS all are best in this price range.

Pros:
1. Quad core Cortex-A7 processor with clock speed of 1.3 GHz.
2. 1 GB of DDR3 RAM+ 16 GB internal + 32 GB expendable.
3. 400MP2@500MHz GPU.
4. Dual SIM, GSM + GSM, (Dual Standby).
5. 7 inch 1280 x 800 pixels with IPS Display.
6. 5 MP primary & 2 MP secondary camera with full HD Recording 1080P & flash.
7. Loaded with all latest connectivity features Bluetooth v4, Wi-Fi, 3G, 2G, GPS etc.
8. Lithium – Polymer battery charges quickly.
9. Exclusive combo offers + Screen Protector

Cons:
1. Android 4.2.2 (Jelly Bean), it'll be better if loaded with latest one i.e. Android v4.4 (KitKat).