Home

>

Apps

>

Groups

>
Fiber Optic Throughput Capacity To Increase 10x, Says EPFL
Question asked by Kaustubh Katdare in #Coffee Room on Dec 6, 2013
Swiss engineers have found a way to increase the throughput capacity of fiber optic networks by 10x. The engineers tweaked the shape of light pulses to reduce the space between them. The engineers say that this new change would not need any change to existing fiber cables and can help carry 10x more data using existing infrastructure.
Looking at history, the data carry capacity of fiber optic networks have typically increased by a factor of 10 every 4 years. However, in the last few years, the advancement had hit ceiling which the engineers were trying to break. In most of the previous attempts at improving data carrying capacity of fiber optic networks, engineers tried to modify the fiber itself. EPFL scientists Luc Thevenaz & Bres however, tried to change the shape of the pulse and have achieved desired results.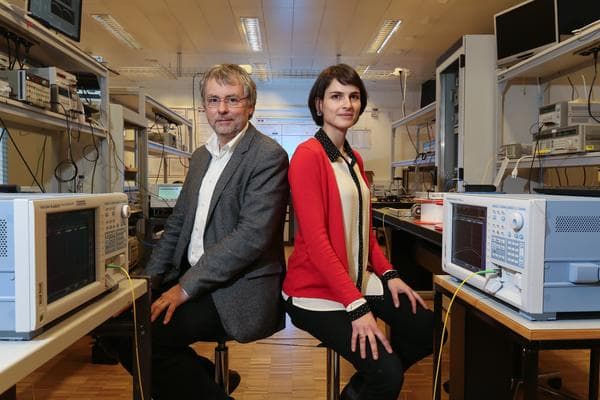 Image Credit: EPFL​
These new pulses are more pointed and fit each other like pieces of jigsaw puzzle. This allows for transmission of more data through the fiber cables. The interference does happen when the pulses travel through the cables, but not at the locations were the data is actually read.
We believe telecommunication companies all over the world would be interested in EPFL's discovery.
Source:
EPFL
Posted in:
#Coffee Room