Facebook's new 'Did You Know' feature can now reveal your deepest secrets
Have you noticed a new type of posts from your friends on your facebook timeline and wondering what the new trend is all about? Well, this is the latest feature addition to web and mobile version of Facebook, called "Did You Know". It is an attempt by the social network major to know its users more directly by asking random questions about your dreams, goals, personal secrets and many more.
The new feature is somewhat similar to the tbh (To be Honest) app which Facebook acquired in October, this year. The tbh was a social questionnaire app which allowed high school and college students to anonymously compliment one another. When the Menlo Park giant decided to acquire it, the app was positioned as the No. 1 free app on the Apple's iTunes chart with more than 5 million users have sent over 1 billion messages.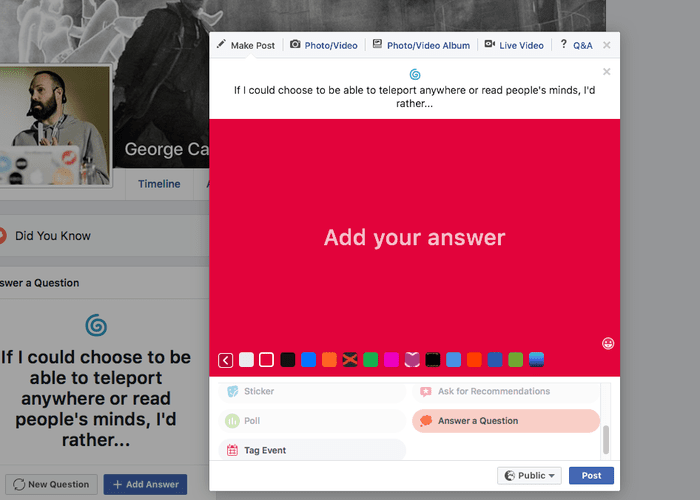 ​
The new 'Did You Know' feature can be found right at the status update editor on your facebook timeline by clicking on the option 'Answer a Question'. Alternatively, it can also be accessed by heading to your facebook profile and clicking on a small window on the left tab which asks questions like, 'My favourite drink is', 'Mondays make me feel like', 'My biggest inspiration in life is', 'The superpower I want most is' etc. One can after answering the questions, also share it on their Facebook timeline to allow their friends see the responses. If you don't like to answer a question, simply click on the 'New question' option to skip it.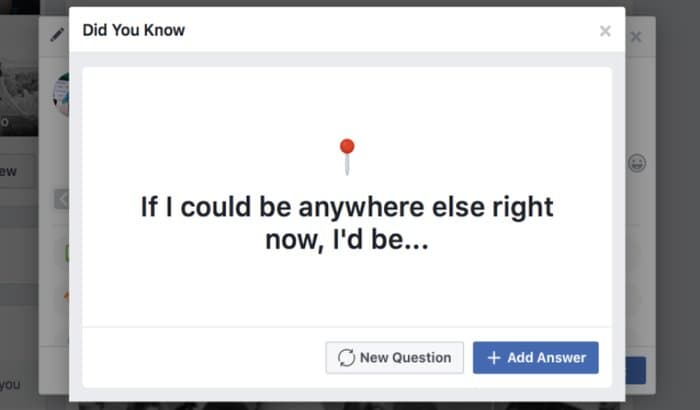 ​
As more and more users nowadays are into sharing pictures, videos or articles and less into posting directly personalized statuses, this new feature can be seen as a clever move by Facebook to extract more personalized information from its users. The feature also might, in the future, help Facebook create much more sophisticated targeted advertising profiles by gathering more data on us all. So even though we do not know Facebook's motive behind launching this feature, it is a fun thing to do and is surely a great way to know each other better.
Source:
wersm.com

Great
Only logged in users can reply.