Home

>

Apps

>

Groups

>
Facebook Adds New Life Event for Timeline, "Expecting a Baby"
Question asked by TheCoolDesiBoy in #Coffee Room on Aug 13, 2012
Facebook is not just a social networking site anymore; it provides a detailed insight on a person's life and the events that are of importance to him/her. Facebook has now added a new life event for timeline to inform your friends when you are expecting your baby. Future parents can choose to add 'Expecting a Baby' as a Life Event on timeline and enter information such as gender of the baby [Please do not do this if you are India or any other country where gender determination before birth is a punishable criminal offence and posting this on Facebook will act as evidence against you in court], due date, whom you are having this child with, date on which they shared this information. Since this has a photo uploading feature parents are surely going to add an ultrasound image. This feature might have been introduced keeping the US in mind. [This probably won't get popularity in India.]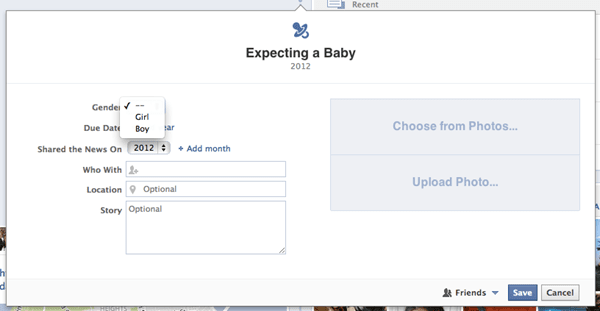 This life event is available under Family and Relationship Tab of Life Event status update. Life Events are the news stories that are highlighted on your timeline signifying their importance. This feature will also be extended to the Celebrations section. The celebration section is where the users see the birthday, wedding and events of their friends.
So what do you think about this new feature? Please comment.
Source:
Mashable
Via:
Facebook
Posted in:
#Coffee Room
When Mark Zukerberg is expecting??? 😁
Now we know where Mr. Zuck gets all his ideas from for updating the FB interface - his own life! 😁
One more timeline should be added for India or probably whole world ...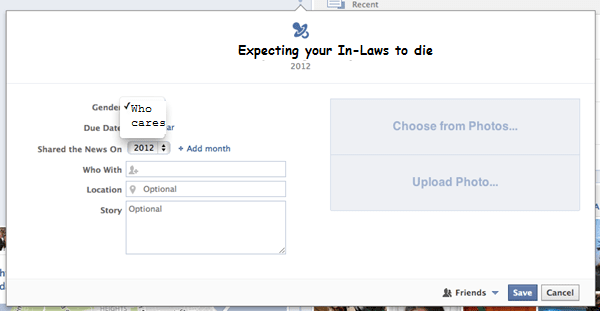 ☕