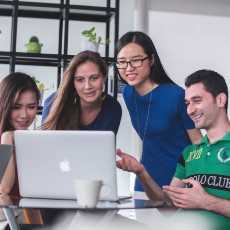 Internships for Engineers
Latest internship opportunities for engineering students
805 Members
Join this group to post and comment.
eligibility criteria for doing an internship
A warm greeting to all CE ans .i have some doubts regarding internships and about campus interview.hope i get solutions here.

i have just now completed my 3rd semester (information technology) and i have basic knowledge in c ,c++,SQL(oracle). and my queries are:

1. To get an internship in a software company what are the basic knowledge i should have?
2. what are the value added courses i can do to shine during campus interview?
3. what are the basic skill i should have to become an IT professional?
4. how can i upgrade my knowledge in my field?
5. how can i implement my knowledge in real time projects?
6. what kind of knowledge should i have to get placed in campus?
7 .where can get internship offers in tamil nadu (software company) ?

these are the few query i have... waiting for a reply from you all...
thank you have a nice day

As I am not from the same background I should not answer this, it will be good for you to have an expert answer 😀
However if you haven't tried yet, try these sites below your questions suits their criteria
To have a very specific question regarding internships:
Academia Stack Exchange
( watch out from this one, it wants very specific question and there are some strict guidelines but if you receive an answer that will be the best I can assure that)
To have knowledge and verified certificates both (free of cost : apply for financial aid)
https://coursera.org/
(financial aid available)
edX
Class Central
( search topics from various specializations available, choose topics as Data
structure, algorithms, machine learning, computer vision etc etc)
To apply for internships online
Internships in India | Internshala
(select location Tamil nadu)
Internship, Online Courses,College Events In India|Twenty19 | Twenty19
(select location Tamil nadu)
Hope it will help you little. 😀
@Debasmita Banerjee
thanks you ... very much ... i hope that i will get solutions through these sights...thanks a lot.. 👍
subathra33

@Debasmita Banerjee thanks you ... very much ... i hope that i will get solutions through these sights...thanks a lot.. 👍
Not a problem buddy. Goodluck for your future.