Home

>

Apps

>

Groups

>
Electronics Is In Your Shirt, Your Pants
Question asked by Kaustubh Katdare in #Coffee Room on Jun 26, 2015
Not just
politics
, but electronics too, is in your shirt and pants. Researchers from University of Tokyo have devised a mechanism to put electronics on your
apparel
with a new type of conductive ink. The new ink will allow printing of electronic circuits for a wide range of bio-medical sensors directly on the textile. All that means is your shirt will also function as your
heart rate monitor
, without needing you to carry an extra wearable gadget.
The currently available technology allows printing of electronic circuits like LEDs, solar panels, transistors etc. on plastic or paper based substrates. The major issue with it is it's either rigid or hard. For creating truly 'wearable' electronic circuits, they must be printed on a soft and stretchable material so that the wearer feels comfortable. The biggest challenge so far in achieving this was the ink that can be printed directly on clothes to function as electronic circuit.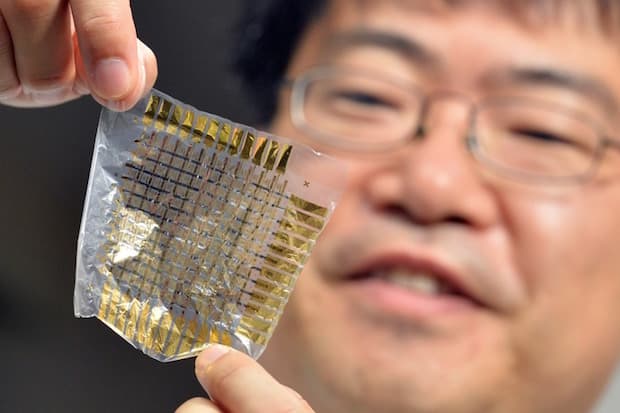 Image Credit: AFP/Yoshikazu Tsuno​
Professor Takao Someya along with his team from Graduate School of Engineering, Tokyo has succeeded in producing an ink that is elastic and conduct electricity. Moreover, it can be printed on the textile in just one step. Someya and his team used flakes of silver, organic solvents, fluorine rubber and fluorine surfactant in the ink to achieve the desirable properties. The end result is the ink that can stretch to 2.5x its original length.
The research group demonstrated the application of the ink with a wristband printed with muscle activity sensor coupled with transistor-amplifier circuit. The circuit can monitor activities of the muscle over 4sq.cm area with 9 electrodes.
The top challenge for the team was to achieve one-step printability with this stretchable ink. As of now, the technology isn't ready for mass consumption; but we'd believe that it's just a matter of next few years that we'll make phone calls directly off our sleeves and collar. Does the future look bright to you? Let us know.
Source:
Eurekalert
Posted in:
#Coffee Room