Home

>

Apps

>

Groups

>
Electronic Fabric Changes Color And Pattern In Response To Touch And Sound
Question asked by Ankita Katdare in #Coffee Room on May 15, 2014
A new research project called "Chromosonic" developed by Judit Eszter Karpati from Hungary has made it possible for fabric to change color on hearing sound or when touched. In his process to investigates how the world of digital media can be made tangible through the textile medium, Judit has built what can be called an
Electronic Programmable Textile Interface
that changes color as a response to sound or touch. Some bloggers have gone on to say that this fabric will make the wearer act like a chameleon. In the Chromosonic project, the two slow moving textile displays present ambient content. As a reaction to environmental impulses, they response results in an animated change in pattern.
The heat sensitive static patterns create dynamically changing patterns. As you can see from the video below, the spectators also can leave traces on the surface through the sense of touch. The developer has used an Arduino with 12V power supply and 20 custom PCBs that drive and control 4 industrial 24V DC power supplies. These are responsible for heating 2 handmade textile that are embedded with nichrome wires and screen-printed with thermo-chromatic dying, so that they reveal the preprogrammed patterns.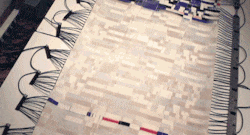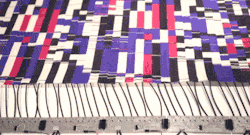 ​
The patterns are generated from sound files. The heat sensitive static patterns create dynamically changing patterns. The open-source electronics prototyping platform of Arduino is the best for artists and designers such as Mr. Karpati to come up with products that push the limits of our imagination. The applications of this kind of technology can go beyond textiles and find solutions in different sectors, if and when developed further. The only application that we can think of right now - is a shirt that not only matches your pants in color, but your mood and your music too. That'll be awesome.
Do take a look at the following video that shows this amazing electronic textile in action. The dynamic changes in the textile color derive from processed sound files. Silkscreen was used to cover the textile in a dye that changes with temperature. Sound makes the nichrome wires woven into the fabric heat up, changing the pattern.
Do let us know what you think of the Chromosonic project and all the applications you can think of for the same in comments section below.
Source:
Chromosonic Tumblr
Posted in:
#Coffee Room
hey a cool project. Would love to see lot more applications of this technology!