Home

>

Apps

>

Groups

>
Electricity generation by motor and alternator
Question asked by yogi.bharadwaj in #Coffee Room on Oct 5, 2013
hello friends every body know that the alternate requires the engine to rotate the alternator and generate electricity.a motor is used to rotate anything.
so my question is are we able to rotate the alternator by connecting its with a motor and the o/p of alternator is again to motor which rotate it and it rotate alternator and generate electricity. And this procedure continues.
but there is not 100% efficiency so it stops after some time but if we manage the losses then it may be continues and for this i think to use field winding speed increase and decrease method.Is it possible friends?
we require some power for this setup but its less as compare to it generates.So my friends the general block diagram i want is follows its a rough one pls reply me with your suggestions is it possible or not and if possible then what changes should be done to it?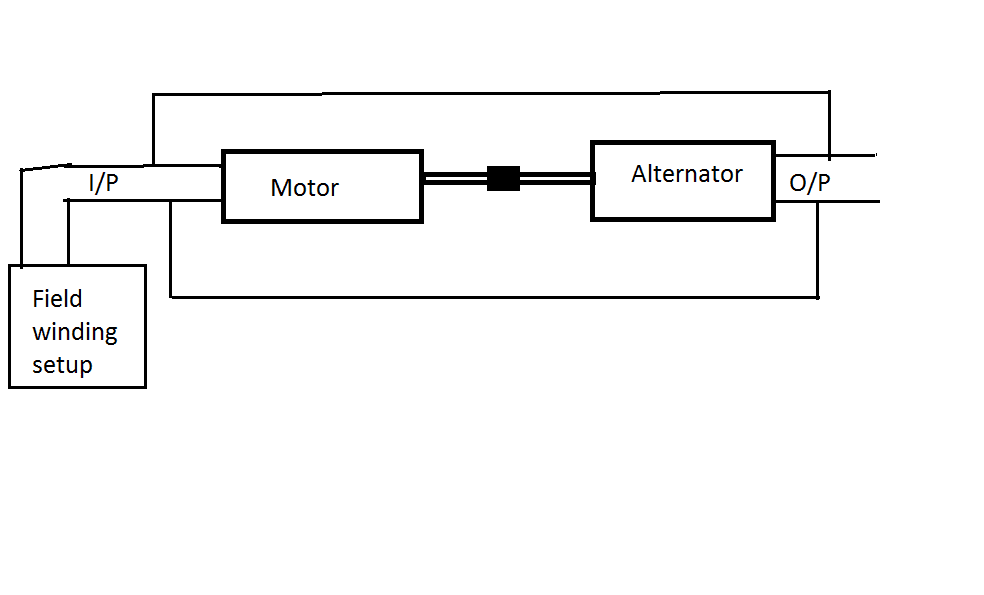 Posted in:
#Coffee Room
Yes it is possible to operate altetnator by connecting it to motor but if the output is used as input then it results in gradual reduction in engine output and after a time period it stops.
Consider a simple circuit.No device is ideal one so output
Actually, there is a test called Hopkinson's test which uses two DC machines coupled just like you mentioned. This test is conducted to calculate the losses in the machines by measuring the extra energy that has to be supplied to cease the setup from stalling. It is a very effective test in calculating the losses. Besides that there doesn't seem to be any practical application of this setup.
What is described is a perpetual motion machine of the second kind.
Sorry, no go.
Second Law has not been violated so far.
But by using field winding concept we can reduces the losses up to some instatnt and is there not any other idea like this by using which this setup is working like pizzoelectric meterial on inner face of casing which gets a pressure when fan rotates or anyhting other?
100% recovery of energy used by moving machines is not possible even theoretically

So forget this in any practical circuits. If you spend 200W power the maximum power you will recover is just about 50 to 60 W and harvesting that from those is pointless as power lost is way to high than power gained

So if you think efficiency is the need of the hour then this is really lossy
I agree with Ramani sir.

what you are talking about is a Perpetual motion machine. and so far not a single such machine has worked successfully.