CrazyEngineers V4: Early Access
We are developing the next version of CrazyEngineers. If you wish to receive latest updates and early access, click the link below.
Home

>

Apps

>

Groups

>
Electric Car Battery To Be Cheaper And Lighter, Yet More Powerful - Waterloo University
Question asked by Ankita Katdare in #Coffee Room on Jan 13, 2015
We could witness the day when Lithium-Sulphur batteries replace the Li-Ion batteries. The department of chemistry at the University of Waterloo has a team working on inventing a cheap, lightweight, yet powerful rechargeable battery to be used in electric vehicles. The team of researchers led by Professor Linda Nazar have discovered that an ultra-thin nanomaterial (a nanosheet of manganese dioxide can be used in a lithium-sulphur (Li-S) battery to achieve significantly better results in its performance. Instead of using the traditional lithium-ion batteries, if the low cost Li-S battery of same weight is used, well in theory, it can power the electric car 3 more times.
A battery needs two electrodes (cathode and anode) separated by the electrolyte to function. Therefore, the Waterloo researchers were delighted to find that the sulphur cathode in a Li-S battery is transformed into a cathode (to recharge more than 2,000 times), when it has a surface of the manganese dioxide nanosheet.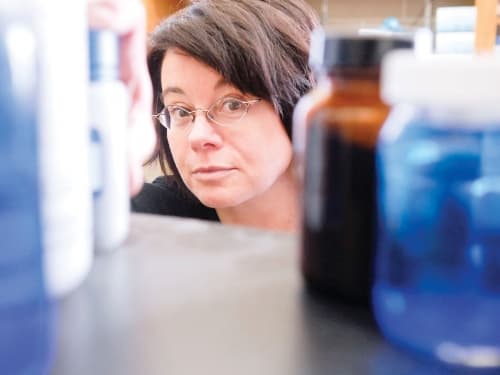 ​
The Li-S batteries are extremely cheap because sulphur is an abundantly available cheap material. It wasn't used inside a battery as much because it gets dissolved into the electrolyte solution, as the battery discharges. Prof. Nazar who has been working on this project for long had earlier figured out that metallic titanium oxide could stabilize the sulphur.
In the team's latest research paper titled "A highly efficient polysulfide mediator for lithium–sulfur batteries", work has been presented on the mechanism of how nanosheets of manganese dioxide work even better to stabilize sulphur in Li-S batteries. The team reports a strategy to entrap polysulfides in the cathode that relies on a chemical process, whereby a host - manganese dioxidenanosheets serve as the prototype - reacts with initially formed lithium polysulfides to form surface-bound intermediates.
Currently, the team consisting of postdoctoral research associate Xiao Liang, the lead author, and graduate students Connor Hart and Quan Pang are working on finding other oxides that can act as the best sulphur retaining material.
Source:
University of Waterloo
|
Nature (Research Paper)
Posted in:
#Coffee Room