Home

>

Apps

>

Groups

>
Do You Think iOS 7 'Flat Design' Will Make It To OSX Eventually?
Question asked by Kaustubh Katdare in #Gadgets on Jun 11, 2013
Yesterday, Apple introduced the biggest change to the iOS operating system mastered by Sir Jonny Ive. The iOS 7 brings in a ton of UI changes to the operating system. I'm curious to know how many of us here think that the iOS 7 'flat design' will make it to the desktop operating system OSX?
Do you think OSX Mavericks will eventually be all 'flat design'?
Posted in:
#Gadgets
Read somewhere on the internet, "
So is this what happens when Windows Phone has a one night stand with Android and WebOS and doesn't know who the parent is!" Frankly UI doesn't look that impressive. I mean, just flatting out the tiles can't be called the "biggest" change. May be there is more!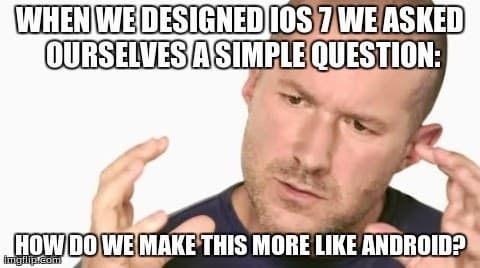 Only one thing I like is notification toggle is bottom of screen accessible with just one hand and reachable via thumb. I am waiting if any mod like this will come at XDA for android. 😀
I for one didn't really like the icons on iOS 7 but the interface is minimalistic and really sweet looking. Apple is said to be tweaking some of the icons on iOS 7 following the public outrage over the design, We'll know more when beta 2, 3, 4 come along but there's no doubt that apple will be blurring the lines between OSX and iOS but that seems far fetched considering mavericks hasn't taken that approach, maybe at WWDC '14.