From the Archives
Archived discussions on CrazyEngineers
@Ankita Katdare • 24 Jul, 2013 • 3 likes
Making the life of commuters in Delhi, India a bit smoother than before, the Delhi Integrated Multi-Modal Transit System (DIMTS) has launched a new app called Delhi Transit Bus Info for the Android as well as online platform. This app has been built to provide information on the estimated time of arrival of buses, routes, bus schedule and locations of bus stops. It works in real time and brings all this useful information to the user on one integrated platform and makes it available at the tip of a user's hands who has access to internet on the go. Bus passengers can either go on to the DIMTS website (
www.dimts.in
) OR just download the app from
Google Play Store
. The developers have promised that this app will be soon extended to other platforms like iOS, Blackberry and Symbian.
This app is currently available for only orange-coloured Delhi transit or cluster buses, except for the trip planner feature, which gives data on DTC bus routes also. However, DIMTS added that the information for DTC-operated buses for the rest of the features will be integrated into the application soon.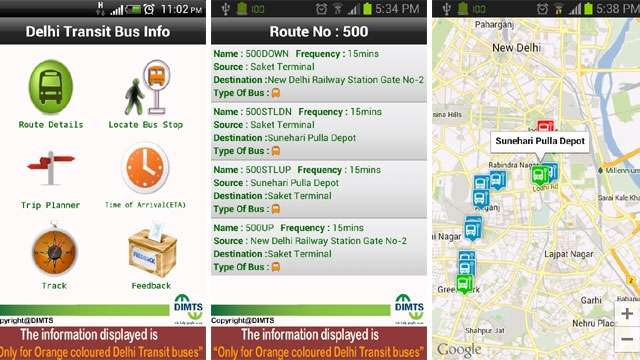 ​
To improve the already existing features, the team has arranged for bus users to be able to give their feedback through a feedback form that is available both on the website as well as the phone application. DIMTS has launched the test version to invite a candid feedback from the public and further improve the application.
How many of you are giving it a try? Share with us in comments.
@Abhishek Rawal • 24 Jul, 2013
Nice one.
Reminds me of Mumbai local train app.
I think Ahmedabad need the similar kindof application for BRTS in Android 👍
@Karshil Sheth • 26 Jan, 2020 • 1 like
Yes, in Ahmadabad we don't have such application for public transport. Its a good way to remind the bus timing on app as we as passenger didn't have to wait on the bus stop.
Related Posts
Archives
@Guneet Khanuja · Sep 24, 2014
Skylark Drones is a technology start-up in the unmanned aerial vehicles (UAV) industry started in the year 2014 by Mrinal Pai and Mughilan Thiru Ramasamy. They have built drones that...
Archives
@Kaustubh Katdare · Dec 6, 2010
2. where do a CFL bulb and a tubelight differs? is it in architecture or working principal or something else?? thanks Posting On Behalf Of CEan: rohit bisht
Archives
@babloo0311 · Sep 4, 2008
India or west, which is the land of oppurtunities. give some points.As far i know for freshers india is best but after experience many people walk out abroad so i...
Archives
@rohitvishnu · Aug 30, 2008
hi every one ....i have been given the job to held the technical events in our college fest and am in badly need of ideas for some technical events relating...
Archives
@Ankit Pandey · Jul 18, 2015
Hello everyone, Congratulations to all who got admission for CDAC - 2015 August Batch. Afrer seeing a lot of queries about several centers and confusion about their Teaching and Placement...