CrazyEngineers V4: Early Access
We are developing the next version of CrazyEngineers. If you wish to receive latest updates and early access, click the link below.
Home

>

Apps

>

Groups

>
Computer Mimics Brains, Learns From Its Own Mistakes - New Chip To Release In 2014
Question asked by Ankita Katdare in #Electronics on Dec 29, 2013
According to a new research, computers that act like brains have been made possible. Human brain has the ability to learn from its own mistakes. Mimicking this behavior is the newly designed chip to be released in 2014, that can be connected by wires to mimic biological synapses. Presenting to us a completely new digital age, this new brain-like computers have the ability to surpass as well as tolerate errors, potentially making the term "computer crash" obsolete. Closely similar to the biological nervous system, the new computer system is able to absorb new information while carrying out a task, and can adjust their functioning based on the changing signals. If you think about it, that is biggest turning point for robotics as well as artificial intelligence.
In coming years, the approach will make possible a new generation of artificial intelligence systems that will perform some functions that humans do with ease: see, speak, listen, navigate, manipulate and control. That can hold enormous consequences for tasks like facial and speech recognition, navigation and planning, which are still in elementary stages and rely heavily on human programming. "We're moving from engineering computing systems to something that has many of the characteristics of biological computing," said Larry Smarr, an astrophysicist who directs the California Institute for Telecommunications and Information Technology, one of many research centres devoted to developing these new kinds of computer circuits. The new approach, used in hardware and software, is being driven by the explosion of scientific knowledge about the brain. Kwabena Boahen, a computer scientist who leads Stanford's Brains in Silicon research program, said that that was also its limitation, as scientists are far from fully understanding how brains function. "We have no clue," he said. "I'm an engineer, and I build things. There are these highfalutin theories, but give me one that will let me build something."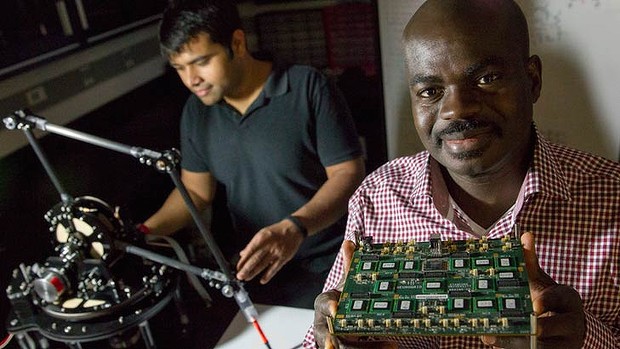 Kwabena Boahen, right, holding a biologically inspired processor attached to a robotic arm, with student Samir Menon in a Stanford University laboratory.
​
Until now, the design of computers was dictated by ideas originated by the physicist John von Neumann about 65 years ago. Microprocessors perform operations at lightning speed, following instructions programmed using long strings of 1s and 0s. They generally store that information separately in what is known, colloquially, as memory, either in the processor itself, in adjacent storage chips or in higher capacity magnetic disk drives. "Instead of bringing data to computation as we do today, we can now bring computation to data," said Dharmendra Modha, an IBM computer scientist who leads the company's cognitive computing research effort. "Sensors become the computer, and it opens up a new way to use computer chips that can be everywhere."
Running the program, known as Compass, which attempts to simulate a brain, at the speed of a human brain would require a flow of electricity in a conventional computer that is equivalent to what is needed to power both San Francisco and New York, Modha said. IBM and Qualcomm, as well as the Stanford research team, have already designed neuromorphic processors, and Qualcomm has said that it is coming out in 2014 with a commercial version, which is expected to be used largely for further development. Moreover, many universities are now focused on this new style of computing. This fall, the National Science Foundation financed the Centre for Brains, Minds and Machines, a new research centre based at the Massachusetts Institute of Technology, with Harvard and Cornell.
Based on this research, we can say that something big is happening and coming our way in the near future. How we react to the changing scenario with a vision for a sustainable future will determine how future generations see our world. What do you think about a brain-like computer? Share with us in comments below.
Posted in:
#Electronics