Home

>

Apps

>

Groups

>
Chem-Phys Patch From UC San Diego Measures Heart Rate & Body Chemistry
Question asked by Satya Swaroop Dash in #Coffee Room on May 25, 2016
Researchers at the University of California, San Diego have developed a tiny sensor that is able to measure your heart rate and body chemistry and send that data to a smartphone or a computer for analysis. Instead of wearing some big wearable on your wrist, now you will be able to obtain the same information and more with the help of the Chem-Phys patch that is non-obtrusive when worn on the body. The researchers from UC San Diego showcased their new invention in the journal Nature Communications which was published recently.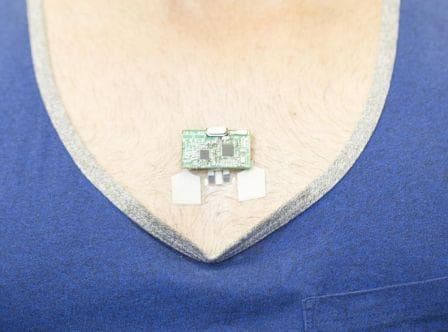 ​
The Chem-Phys wearable is a small patch made out of two inch polyester sheet which houses multiple sensors. The first sensor has been made to measure lactate from sweat which is secreted from your body during intense workout. The second and third sensors on the Chem-Phys have been designed to measure heart rate. The Chem-Phys sensor is quite difficult to spot when you are wearing as it is stuck right to your sternum. The Chem-Phys patch has a Bluetooth module that is powered by a tiny Lithium-ion battery to send information to a smartphone or a computer for analysis.
The researchers at UC San Diego tested the patch with the help of an experiment that was conducted with the help of Samsung. The team stuck the Chem-Phys patch on three men who were asked to pedal stationary bikes. The measurement from the Chem-Phys patch was compared with a traditional heart rate sensor and the data was found to be accurate. The Chem-Phys sensor is still in the prototype stage and we do not know if the patch shall ever go into production or remain just a proof of concept.
Source:
Popular Science
via
Nature Communications
Posted in:
#Coffee Room