Home

>

Apps

>

Groups

>
Cheap 3D Printed 'Droplet' Lens Turns Smartphone To High-Res Microscope
Question asked by Ambarish Ganesh in #Gadgets on Apr 25, 2014
Researchers from Australian National University (ANU) have developed a new lens-making procedure wherein drops of silicone are baked in an oven to produce high quality lenses that are unbelievably cheap. These lenses can come useful in several applications - tools to detect diseases, scientific research in laboratories, optical lenses in microscopes, etc. Researcher Steve Lee was particularly excited about the fact that this opens up lens fabrication technology, in which researchers harvest solid lenses of varying focal lengths by hanging and curling droplets of a gel - a cost-effective and simple process that does away with complex machinery. The conventional lenses are developed by -a) grinding and polishing a flat disk of glass into a desired curve, b) a modern technique wherein you pour gel moulds. Both these conventional methods are extremely expensive and require heavy machinery.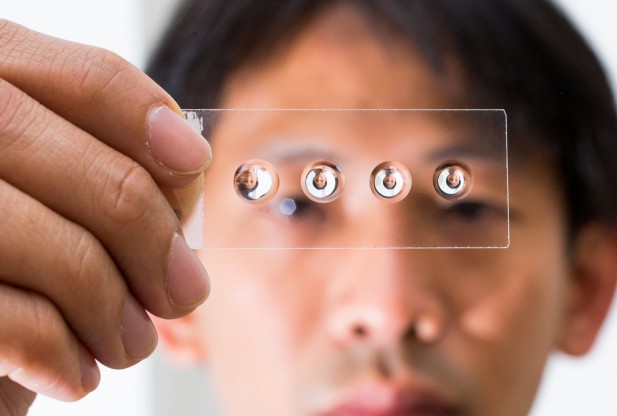 ​
In the new method, the researchers systematically fine-tuned the curvature that's formed by a simple droplet due to gravity, sans the moulds. While earlier it has been recognised that a droplet can function like a lens, no one explore how good a lens it could be. This process takes the concept to an extreme, believes Lee. And the apparatus required - an oven, a microscope glass slide, and a commonly found gel-like silicone polymer called polydimethylsiloxane (PDMS).
A small quantity of PDMS is taken in the slide and baked at 70 degree Celsius. Once a hard base is formed, another drop of PDMS is added on the base and the slide is flipped over. Gravity plays its part and pulls the new drop down to form a parabola, which is then baked again to solidify. Adding more drops shall better the lens shape and even increases its imaging quality. The researchers made lenses with a magnification of 160x and a resolution of 4 microns. The researchers even developed a lens attachment that transforms a smartphone into a dermascope, a tool that diagnoses skin diseases. While a traditional dermascope costs $500, this one costs just $2, and was made by a 3D printer used in rural areas.
Their study is published in The Optical Society's (OSA) journal
Biomedical Optics Express.
Posted in:
#Gadgets
Hope more options come up wherein we get more 'flexible' lens options compared to these heavy breakable/scratchable ones. Would love to wear a glass (for spectacles) that's quite flexible and more durable considering the expenses we've to pay to get the correct settings (refraction, thickness, weight, anti-glare property, et all).

#victim.of.astigmatism😐