Home

>

Apps

>

Groups

>
Chat With The New Range Of LG Appliances Using LINE Messaging App From 2014
Question asked by Satya Swaroop Dash in #Coffee Room on Dec 26, 2013
The
LINE messaging app
claims that it has 310 million users worldwide and soon more users will start using the Japanese messaging app but they won't be humans, they shall be a range of LG appliances. LG Electronics has announced that it will showcase its new range of appliances which can communicate with their users in natural language using the LINE messaging app and LG's HomeChat service. In the press release LG has outlined how this service will be used in its refrigerators, automatic vacuum cleaners, washing machines and microwave ovens.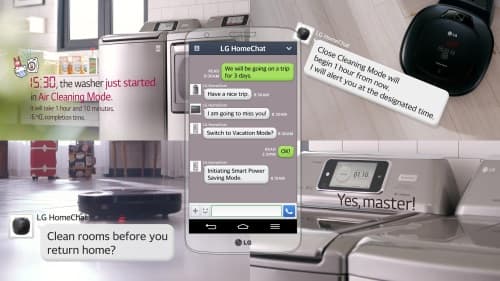 ​
Many of us like to peek into our refrigerators to have a quick look at what's inside but with the Smart Manager on LG refrigerators you won't have to open the door again and again. You will be able to check the food items inside the refrigerators by using the LCD panel on the front of the unit and it will be able to send that information to you wherever you are by using the messaging app. Customers will get the option to enter the expiry date of perishable foods like milk to the Smart Manager which shall then alert them when the food item is about to go bad. Since people like to stick their favourite family photographs on their refrigerators, LG gives a smarter option to upload photos to the same LCD panel by using the LINE app. The LG Smart Oven will be able to converse with its users and suggest recipes. Once the prep for the recipe is done the oven will automatically select the appropriate settings to cook the food.
LG's Hom-Bot Square automatic floor vacuum cleaner will also be able to communicate with you about its work schedule. For example, if you use the messaging app and ask about its last clean it shall reply you the date and time of cleaning along with the modes used. The HomeChat app is also able to control the vacuum cleaner. The LG washing machine can be completely controlled using the HomeChat service. You can start the cleaning, monitor the status of the cycle and receive push notifications on your smartphone whenever a cycle is complete. All appliances can also receive instructions simultaneously. For instance whenever say to them that you are going on a vacation, the refrigerator will go on a power saving mode, the vacuum clear shall schedule cleaning at a particular time and the load that you have left in the washing machine shall be cleaned up a day before you get back.
Now all this sound pretty futuristic but we have to wait until CES 2014 to check how these appliances fare in the real world.
Source:
LG
Posted in:
#Coffee Room
Its looking like every thing we had saw in fiction movies are coming to reality now.I am sure other won't be cheap......