Home

>

Apps

>

Groups

>
Bored Of Folding Your Laundry? CloPeMa Robot Comes To The Rescue
Question asked by Ankita Katdare in #Robotics on May 9, 2015
Of all the mundane tasks that us humans have had to do on a daily basis, the boring-most is the process of sorting and folding clothes. Putting an end to your daily misery, a team of robotics researchers from Scotland, the Czech Republic, Italy and Greece have designed and created a CloPeMa or Clothes Perception and Manipulation bot called 'Dextrous Blue'. The prototype can sort your laundry in different piles and even fold them for you. (Nope! It won't iron them too.) This clothes folding robot has been developed from off-the-shelf components such as Xtions, Cameras, force sensor or photometric close-range sensors and integrated onto the Robot Operating System (ROS).
The CloPeMa robot Dextrous Blue has two Nikon DSLR cameras (D5100) as its eyes. This comprises the robots head which in turn is mounted on two pan and tilt units. An ASUS Xtion Pro Live motion sensor is mounted on each arm for light-weight range sensing. These sensors are used to recognize the type of clothing in front of the robot and to find the key grasping points. The garment/cloth material is sensed using a tactile sensor located at the "finger tips". Finer details such as the presence of buttons and collars is detected using proximity, sound and pressure sensors. A small scale stereo-pair camera sensor that fits into the "palm" of the gripper captures high-resolution images of the clothes. A bunch of variable stiffness actuators smartly adapt to change between different steering and grasping tasks.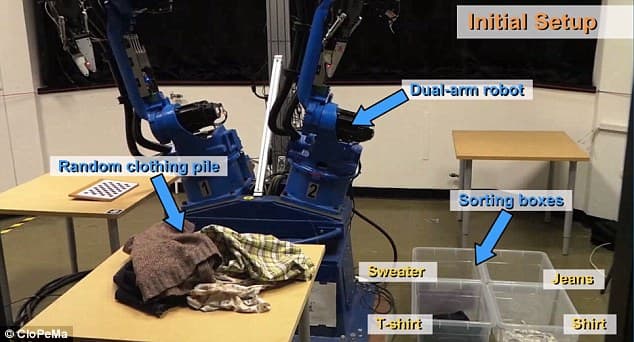 ​
In the following video, the researchers show how fitting to its name, this robot dextrously feels the texture of the clothing and decides whether it's a rugged jeans or a soft sweater and sorts it in different boxes. Take a look -

A new feature in the CloPeMa system lets the user guide the robot arm into a desired position by pushing and pulling lightly the robot arm wrist. This is controlled by the force/torque sensor. As a whole, the Dextrous Blue bot is made up of two MA1400 arms, DX100 control unit and a Motoman tailor made turn table situated on a base.

That said, we all know that robots doing household chores have become a thing of the present. The progress in this field is happening at such a fast rate that there's chance that we could see commercial units of these within the next decade. What are your thoughts about this clothes folding robot? Share your thoughts with us in comments below.
​
Source:
CloPeMa Robot
Posted in:
#Robotics
Robots are the future
Clopema is symbol of that great start in laundry service but needs lots of improvement.

Did you see the video?
If the jeans were a bit lengthy robot would have thrown the Tee on the floor
Also, with its current situation it is dangerous for fancy and delicate cloths and can tear them apart