Home

>

Apps

>

Groups

>
Bionic Eye Uses Electronics To Fix Retina
Question asked by Kaustubh Katdare in #Coffee Room on Mar 24, 2013
Bioengineering professor Wentai Liu has developed a bionic eye that uses some sophisticated electronics to fix the retina related problems which may help the blind. The bionic eye is called "Argus II Retinal Prosthesis System" and has been demonstrated to help people who have lost eyesight because of retinitis pigmentosa (RP), age-related macular degeneration or other eye diseases that affect the retina's light-sensitive photoreceptors. A powerful electronics chip developed by Liu has been implemented in the retina allows replacement of damaged photoreceptors. The Argus II uses a miniature video camera mounted on pair of eyeglasses. The camera is coupled with the a microprocessor on user's waistband. The microprocessors transmit photo-information to a fingernail-sized circuit that stimulate retina's nerve cells to recreate the image as seen by the cameras.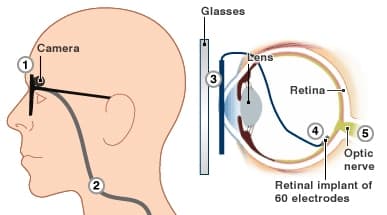 ​
Image Credit: Doheny Retina Institute, USC.​
Check out following video that shows the whole setup and explains how the new bionic eye works.
Posted in:
#Coffee Room