Home

>

Apps

>

Groups

>
Bing Page Zero Search Results : Don't Fight For Being On The First Page Anymore
Question asked by Kaustubh Katdare in #Coffee Room on Sep 20, 2013
You may be Google fan, but this round of 'speed' definitely goes to Microsoft's Bing. Bing's engineering team has rolled out a new feature - called 'Bing Page Zero' that will finally eliminate the race webmasters perpetually have for being on the first page of search engine results. Page 'one' is no longer cool. What's cool is being on the 'Page Zero' - and that is appearing in the search results without waiting for the search results pages to load. Bing's latest feature makes a smart guess about what you're trying to find and then fetches all the information even before you finish typing. It then presents it right there in the 'suggestions' box itself; but it goes beyond what you've seen in Google search suggestions.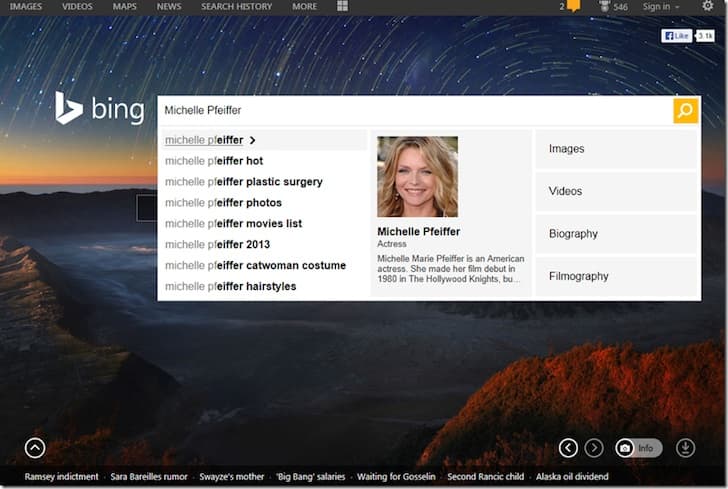 ​
Bing's engineering team calls their search technology 'Satori' - which, in Japanese, means
understanding.
The technology allows Bing to make a guess and show information rich snippets right in the suggestion box that expands below the search field. It all takes the same 400 milliseconds that an average human eye takes to blink.
Though this feature is only available for the US audience at the moment, the way it works is quite interesting. If you search for 'Delhi Airport', Bing will quickly show a rich snippet showing information about Delhi Airport and 'tiles' linking to 'Maps', 'Weather', 'Parking', 'Arrivals' etc. If you search for 'Shah Rukh Khan', it will quickly show a Wikipedia snippet about SRK with tiles linking to Images, Videos, Biography, Filmography etc.; based on the guess 'Satori' makes about what you're trying to find. Bing's engineers say that they're targeting multiple domains and the selection of suggestions will expand over period of time. We believe Bing will make use of the cookies to determine your past searching history and make smarter suggestions.
Try it out on :
www.bing.com/preview
We can't wait to see this feature being rolled out globally, but expect that it will take some time. If you are based in the United States, do give this feature a try and share your views/opinions with us. Do you think Google should quickly roll an update 'inspired' by Bing Page Zero? If this becomes a mainstream way of finding information, what do you think will happen to the SEO industry that collectively aims to put almost every website on the first search results page of search engines?
Source:
Bing Blogs
Posted in:
#Coffee Room
This is completely amazing. There's always room for accomodating better things. It just goes to show that you can't simple ignore Bing even if you totally revere Google.

As for the question posed in the article, I think since all of the websites are becoming increasingly Google-dependent for ad revenues and traffic, such an update could collapse the system and result in a major catastrophe. I think, if in case Google decides to come up with such a Page Zero system, it will have a work-around ready for the online giants who have struggled for years to be on the topmost page.
Microsoft seems be be one up with Google with this feature. As @
Ankita Katdare
has pointed out websites will find it tough in coming with measures to keep up with this kind of search. But Google can instantly implement this feature if it wants to because of its right hand side pane feature. All it has to do is pop up the right hand side pane as the user types in the keywords. The Satori search technology might work well for searches like movies, songs and places but for more detailed results people will still have to scroll further.
Its great to see a good competition between search giants.Few days back we were discussing about the googles new rewamped simple UI. Its sad that it is not available in India.Hope it comes soon.