Home

>

Apps

>

Groups

>
Bicycle Innovation - Pedal With Legs & Arms Too!
Question asked by Kaustubh Katdare in #Coffee Room on Aug 24, 2013
Finally, we've began noticing some 'real' innovation in the way bicycles work. Say hello to Varibike - the bicycle that lets you pedal with not only legs but also using your arms! Interesting, right? This isn't the world's first attempt at making a bike that lets you power the wheels with arm-power. 4StrikeBike & Raxibo Hand-Tret-Velo have already introduced similar bikes. The Varibike works in three modes - pedal only (like regular bikes), arm-powered and a combo of both! We have a video of the bike in action at the end of this article. See how the bike looks below -
​
Varibike has an extra drive-train that transmit the power from cranks at the 'handle-position' to the wheels. According to a study done by University Of New Mexico, rider's maximum power output would go up by 30% when using both legs and arms as compared to using legs only.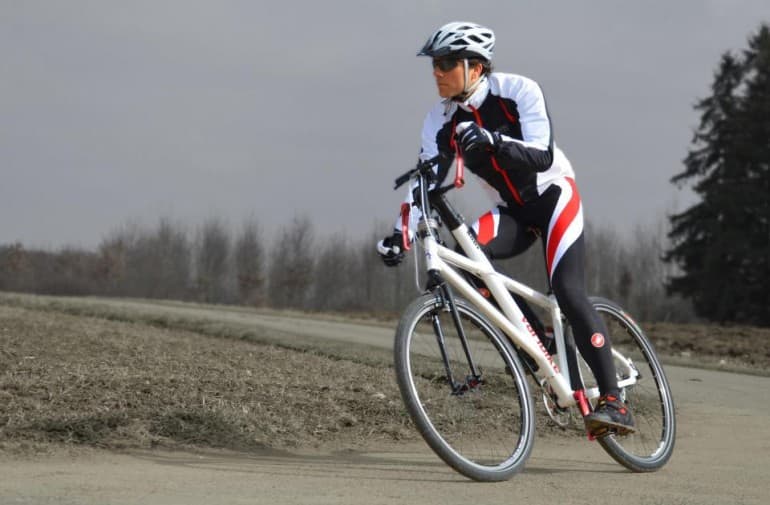 ​
Of course, riding this bike would need some extra maneuvering skills. But even before you get your hands on this bike, be ready to shell out $5350. For the price, Varibike offers 7005/7020 aluminum frame, Shimano XT rear deraileur (no front option), Ritchey Pro V2 seatpost, Schwalbe BigApple 28x2.00 tires. The newer FR3 model will cost $6019 and comes with an extra freewheels to each arm crank.
Check Varibike in action below -
Posted in:
#Coffee Room
Do you think there will be a better stability while riding by both legs and hands?
Isnt this already a fitness device used in GYMs and many personal home gyms? And making it usable both ways is helpful in a number of ways. However it could be better if they added extra mechanism on both wheels for different types of drive experience. That way they could boost performance and ease too.