Home

>

Apps

>

Groups

>
Bank PO Exam Preparation Material - Websites, Apps, YouTube Videos, Online Tests And More
Question asked by Satya Swaroop Dash in #ExamPrep on Mar 20, 2017
If
a report
from the All India Council for Technical Education (AICTE) is to be believed, 60% of engineering graduates remain unemployed after their graduation. This situation has forced engineering graduates to force themselves to look for jobs beyond their domain of professional knowledge. Since engineering graduates can be employed in almost any job, one of the lucrative options is the banking sector, especially the public sector banks. As some of you might know that The Institute of Banking Personnel Selection (IBPS) conducts the examinations for recruitment into public sector banks and its most important exam, the CWE PO/MT-VII (Common Written Exam for Probationary Officer/Management Trainees) will be conducted in the month of October. Since there is just over 200 days to go for the preliminary exam, we here at CrazyEngineers have decided to help you out, just in case you have set your eyes on cracking the exams this year. We know that some of you who might not find the time or resources to join coaching classes for competitive exams, so we have decided to compile the resources that shall help you ace the exams. We have put an exhaustive list of websites, mobile apps, magazines, online mock tests and YouTube channels which offer you the best content.
Bank PO Exam Preparation Websites
We start of the list with websites, as they are free to visit and can be accessed anywhere anytime. All the websites that we mention in this list are free to access and creating an account is optional. Most of these websites are operated by reputed banking coaching institutions and are updated almost every day and their content changes with the changes in exam pattern. These websites not know provide daily quizzes for revision, they also provide full length chapters from various subjects. We shall say, why a particular website is useful and what its USP is.
BankersAdda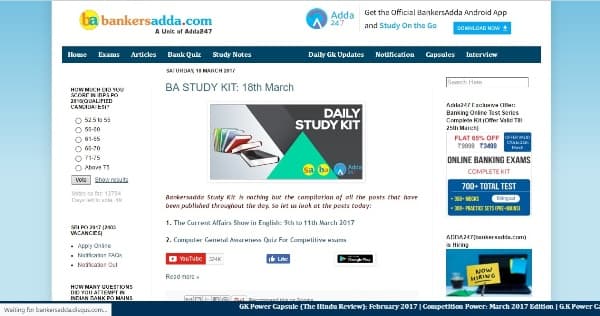 ​
This is the go-to website for banking aspirants. The website is the creation of Career Power that was founded by IIT graduates, Anil Nagar and Saurabh Bansal in 2010. This is perhaps the first website to offer an extensive online platform for banking aspirants. The website does not require any account creation although the discussion on the website is powered by Discus. The website has the most prolific comment section with students asking doubts and also engaging in chit-chat. The website is perfect for banking preparation thanks to its daily quizzes on all subjects. The questions are updated according to the latest pattern and they are the first to adapt to changes. The website also gained fame for its General Awareness capsules, especially the ones that are released just before an important examination like IBPS PO Mains or IBPS Clerical Mains. Just to illustrate their popularity, I would like to mention that their GK capsules are sold in Photocopy shops during exam season. Other highlights of this website, motivational articles, study plans and notifications for upcoming exams.
Gradeup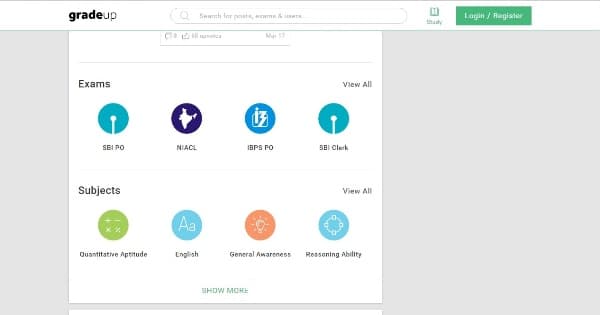 ​
Gradeup, previously known as GradeStack is a relatively new website that was founded by September 2015. Even though the website also provides resources for SSC, GATE, UPSC and TET exams it is well known for its banking section. Unlike BankersAdda where the content is generated by instructors who are professional trainers, the content here is generated by public. The website is best known for improving your vocabulary with daily challenging wordlists and review of the day. While you can see the content for free you have to log-in in order to comment and ask queries.
Mahendra Guru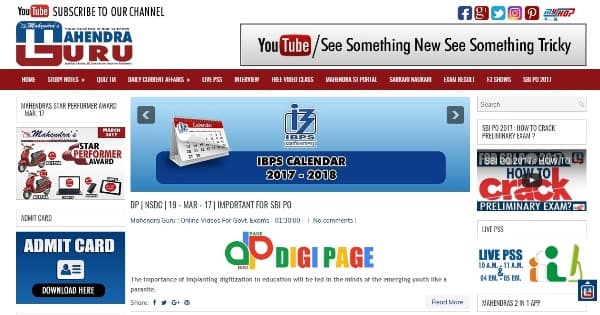 ​
This website is operated by one of the most famous banking coaching chain, Mahendras. The website does not have the best user interface and if we are honest the content presented in a clumsy manner. This gaudy user interface aside, the Mahendra Guru website is best for beginners thanks to its study notes section which is called
DIGI Notes
. From this section you can download PDF files that teach you the basics of every chapter imaginable. The theory is as good as any classroom coaching with questions of incremental difficulty level.
BSC4Success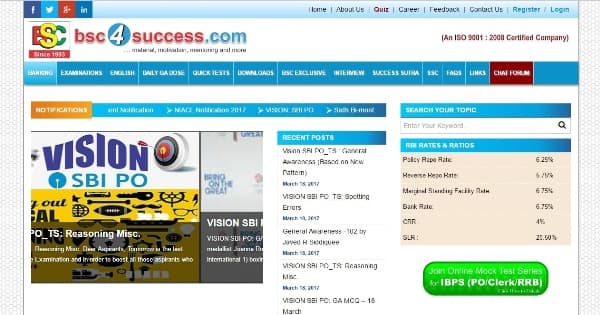 ​
We are listing this website in our list because it is operated by the oldest chain of banking coaching institutes, Banking Services Chronicle, which is also the highest selling banking magazine in India. The website has a slightly better user interface than Mahendra Guru but the content is average at best. The website gains some brownie points thanks to its monthly refreshers for general awareness which are PDF files which are well composed, edited and compiled.
Posted in:
#ExamPrep
Bank PO Exam Preparation Best Android Apps
When you are out on the road or in your college, chances are you are away from your computer and here is where you need apps. You can find dozens of apps to help your banking preparations but we have listed the best ones judged by their popularity. Most of apps chosen here are apps from the websites that we mentioned above, but we have repeated them as they have certain advantages as compared to the website. The headings are the hyperlinks to the app in the Google Play Store.
Adda 24 7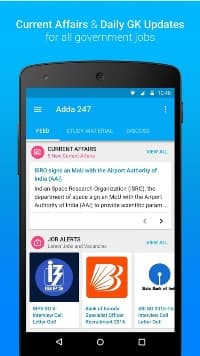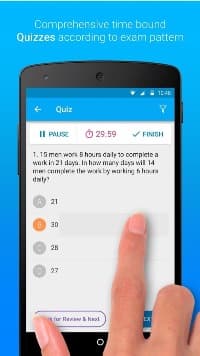 ​
As you might have already guessed from the name, this app belongs to BankersAdda. You can download the app for Banking and SSC preparation. You might say that you get the same content that you find on the website on the app, so why should you download the app. Here is our justification for the same. Firstly, you can choose the language, English or Hindi depending upon your choice. Secondly, when you are attempting daily quizzes you have a specified time and it is in a quiz format. Once the test is over you get the answers along with detailed solutions in the same page, instead of a separate PDF file like you do on the website. Finally, you get a free mock full length test every Sunday with nationwide ranking. This app requires a Google+ signup for access.
Gradeup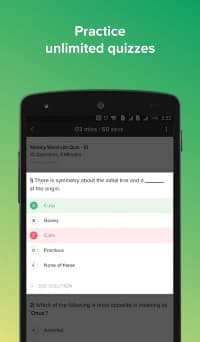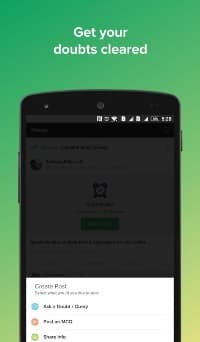 ​
This is the app for Gradeup.co and just like the website it provides the same content albeit in a better format. This is a better option than the website as it is more neatly organised than the former. Unlike Adda 24 7 where you can practice daily quizzes based on random topics, you can choose your topic of choice on Gradeup. You can access study material of various subjects in the app, something which is missing from the website. The app requires Facebook sign-in to start. Once you have signed in you can also post doubts which are clarified by either Gradeup staff or the Gradeup community of students. This is a better version of query resolving as compared to the messy Discus comment section in BankersAdda.
Current Affairs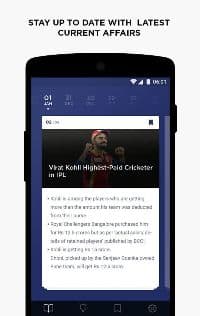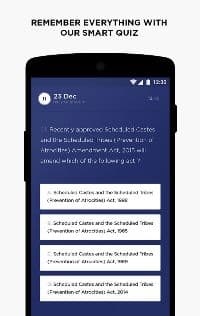 ​
If you are a banking aspirant then you must know that current affairs is the subject that can make or break your chances, trust me, I know. Even though, Adda 24 7 and Gradeup may provide current affairs in their website and app, nobody does it better than Current Affairs app. Although it might serve just one subject it does the job perfectly. The app has a clear, uncluttered interface that shows current affairs of the day in a 20 slide format with each slide containing the news in 100 words or less. Once you have read through the slides the app immediately tests your memory with a quick quiz. You can also find weekly and monthly quizzes on the app. You can save the daily news, so that you can view them without any internet connection. This app requires a Testbook.com signup (something that we shall discuss later).
Other notable mentions
OnlineTyari
,
Jagran Josh
and
Mahendras
Best Magazines For Bank PO Exams
Magazines form an integral part of your banking preparation. Magazines are such a hot resource among students because they represent old-school style learning. The magazines are tangible like books and for many students it's a familiar recluse. They are also beneficial when it comes to notes as you can highlight the points in the magazine instead of having to write stuff down. Magazines are also a one stop solution for your banking study needs. We have to point out an anomaly regarding banking magazines, they are launched a month before the calendar month. For example in the month of March, you can get the magazine for April. We still do not know why they do that but it is the norm with all magazines of this genre. Let's find which the good ones are.
Banking Services Chronicle (BSC)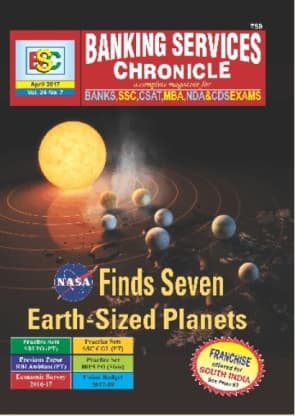 ​
We mentioned about their website in the paragraphs above and told you that it is not polished. The reason behind this is that they put more effort in the magazine. This magazine is powered by the oldest banking coaching institute in the country. This is also the best selling banking magazine in the country. The Banking Services Chronicle (BSC) magazine is out every month and it consists of editorial picks, monthly recap of current affairs (sorted by topic), Match Point one-liners (which are very useful for exams), practice test with detailed solutions. You have to note here that they provide previous papers as well as practice sets for upcoming exams. It is said that BSC captures the trend of questions very well and it shows in their magazine.
You can buy BSC magazine from your local newsstand for Rs. 50 per issue. You can also subscribe to the magazine in three months, six months or yearly format at a discounted rate. Unfortunately they do not accept any online payment method like Credit/Debit card or internet banking. You have to use old school demand draft or money order. For more information about subscription
visit this link
.
Banking Guru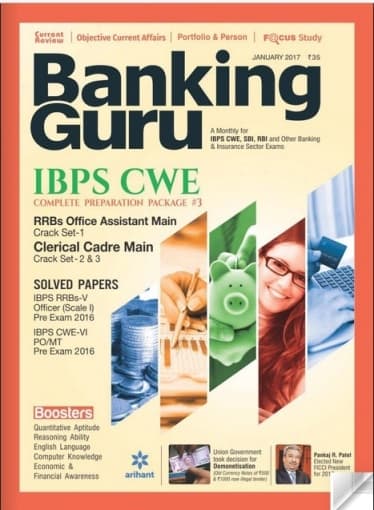 ​
This is a cheaper alternative to BSC as it costs Rs. 35 per issue. The advantage of Banking Guru over other magazines is that it offers more mock papers than any other magazine per issue. Unlike BSC which offers practice test of SSC exams as well, Banking Guru is focused on banking exams only. It also provides subject wise practice dossiers as well as current affairs. Sadly, its current affairs section is not as clear and organised as BSC, it is because they, by which I mean Arihant Publications sells another magazine called Current Affairs.com which is more polished than Banking Guru when it comes to current affairs. The magazine is available on your local newsstand as well as on Magzter for a premium rate. We are afraid that the online subscription booking link is broken, we shall update it once it comes online.
Competition Power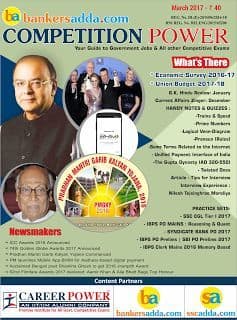 ​
If you want your banking magazine for free then Competition Power is your answer. The Competition Power magazine is powered by Career Power the same company that created BankersAdda and Adda 24 7 app. The digital edition of the magazine (PDF file) is free to download from the BankersAdda website. The physical version of the magazine costs you Rs. 40 per month. The Competition Power magazine is relatively new and offers good content and hey it's free.
Other notable mentions
Mahendras
Best YouTube Channels For Bank PO Exam
If you are not opting for classroom coaching chances are you miss your instructor and that classroom feel. Thanks to YouTube this problem has been solved. There are dozens of YouTube channels where you can learn lessons, ask your doubts and that too live. Yes, two out of the three YouTube channels we are going to mention in the list conduct live classes where students from around the country can get together and solve questions, ask queries and revise.
Mahendra Guru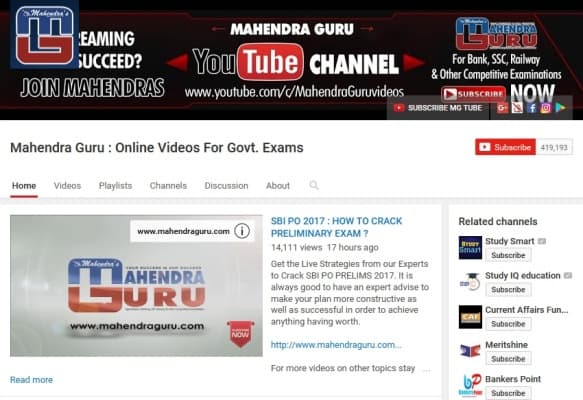 ​
This is perhaps the best YouTube channel to learn and revise your banking coaching. This YouTube channel is powered by Mahendras which is one of the leading chains of banking coaching. This YouTube channel provides you with daily Masters In Current Affairs which is a daily video that discusses yesterday's current affairs. You can improve your vocabulary with The Hindu Vocab sessions. They also conduct exam analysis and upcoming exam preparation. For example, in view of the SBI PO exam they are organising classes every alternate day and Top 10 questions discussions on the other days. They are also known for conducting lengthy sessions for discussing about imminent exams.
Adda 24 7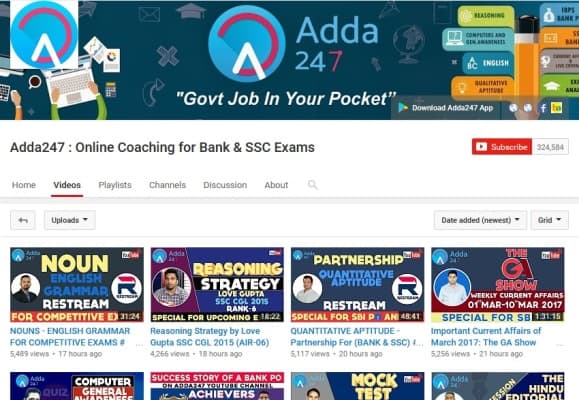 ​
Yes, BankersAdda again in YouTube format. Unlike Mahendra Guru which is famous for subject wise coaching, Adda 24 7 aces in current affairs discussion. They do not conduct classes as regularly as Mahendra Guru but they manage to cover topics easily. This channel gained popularity due to its Analysers event where they interviewed students just after their exams for analysis and put them up quickly on their channel. They are not as high tech as Mahendra Guru but manage to deliver relevant information nonetheless.
MeritShine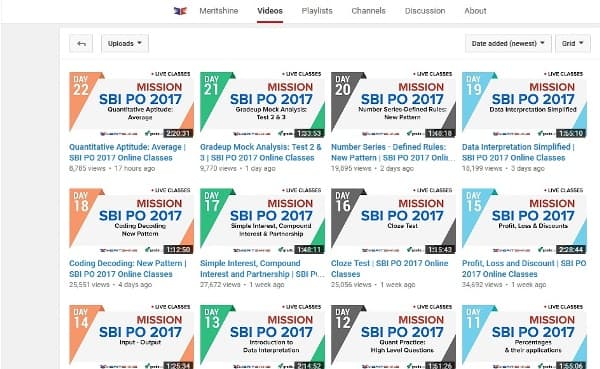 ​
This is a relatively new YouTube channel that was formed in partnership with Gradeup. The YouTube channel has gained popularity due to its SBI PO preparation videos. They are releasing a live video everyday with lessons about every subject. They are not really as polished or technically sound as the other two websites but they are building up momentum. Their lessons are easy to grasp but often a little boring.
Bank PO Exam Online Tests
Once you are done with your lessons and revisions, it's time for the real thing. Mock tests check your preparation level, speed and accuracy. While preparing mock tests with magazines is good you need to appear for online test to build your strategy. You need to give mock tests in order to get ready for the real exam. These mock tests are based on the current and upcoming pattern. Mock tests are mostly paid but you can get a few of them for free too.
Testbook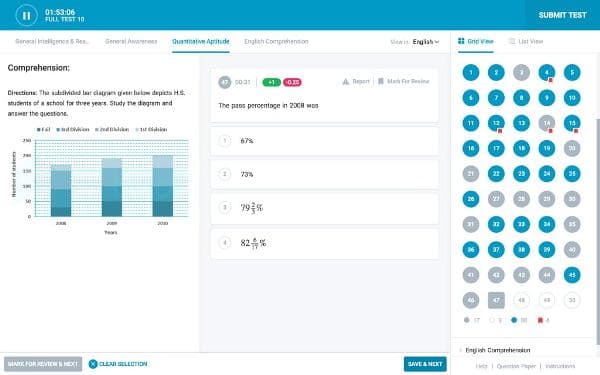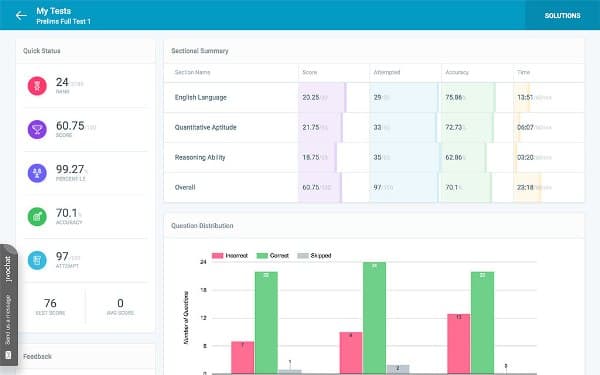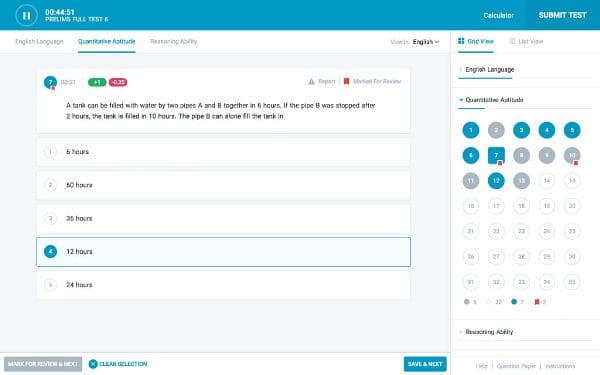 ​
This is the best online mock test portal for banking exams in India. This is also the most polished portal with new design. You can give exams not only on the website (which is recommended), you can also give exams on its Android app. You require a log-in because here you have to buy test series for use. You can buy the test series anytime but we advise you to wait for sales which occur every month. You can get discount of up to 70% by applying promo codes. Testbook excels among other portals because you get detailed analytics. You can know not only your nation rank but also how much time you spent on a question, which subjects you need work on and more. The app also give you the option of subject and chapter wise tests. You can use your Testbook login credentials on the Current Affairs app we mentioned above. The website also gives you free mock tests every month.
Adda 24 7 Store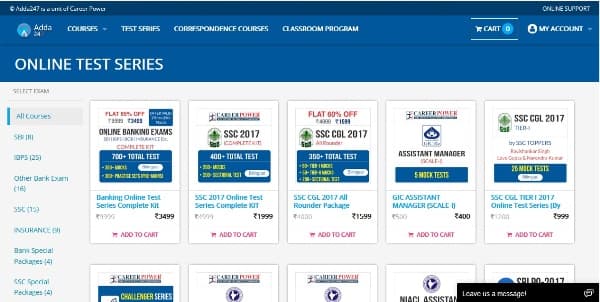 ​
Yes, BankersAdda is at it again. They have their online test portal which may lag behind Testbook in terms of analytics but you get latest questions. Unlike Testbook where test series are just available for banking exams, on Adda 24 7 Store you can get test series for insurance and SSC exams as well. They provide subject wise tests too. The test packages are a little bit expensive as compared to Testbook and discounts are a few and far between.
Conclusion
We have to end the list here. Sure there are a lot of upcoming portals for banking coaching education and if they manage to succeed to shall update the list. If you would like to add your choices to the list then feel free to add them below. We hope the list will help you in preparing for banking exams.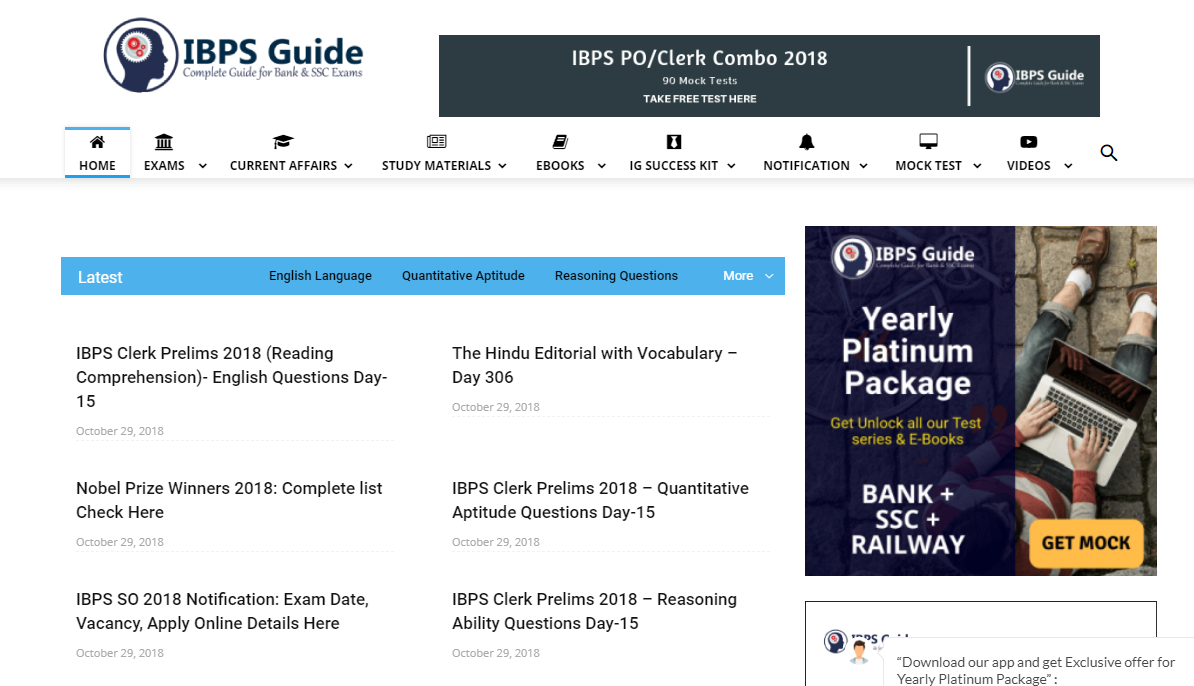 This is the go-to website for banking aspirants. This is one of the first website to offer an extensive online platform for banking aspirants. The website does not require any account creation although the discussion on the website is powered by Discus. The website is perfect for banking preparation thanks to its daily practice questions on all subjects. The questions are updated according to the latest pattern and syllabus. The website also gained fame for its General Awareness capsules. Other highlights of this website, motivational articles, study plans and latest notifications for upcoming exams.
Vidhya360.in is a place where one can have best out of education. It gives the best solutions regarding your career building problems.  Visit: https://www.vidhya360.in/ 
Cloud affairs gk is new place where one can have best current affairs update daily.it covers all current topics for all upcoming competitive exams.
visit: https://www.cloudaffairsgk.online/ 
First of all all the very best to them who are gonna appear in the PO exams.
Secondly if you are taking it seriously, then you have to devote and manage your time accordingly. Time management is equally necessary in order to succeed.
For preparations you can go through study materials of mahendra, times, george telegraph etc.
Otherwise you can do it online from upgrd, unacademy, byjus etc.
You have to practice more.