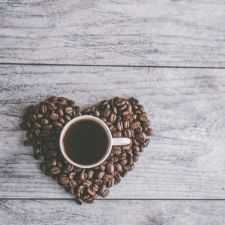 Coffee Room
Discuss anything here - everything that you wish to discuss with fellow engineers.
12921 Members
Join this group to post and comment.
Arcaboard Lets You Levitate For 6 Minutes - New Hoverboard From Arca Space Is Here
The Romanian Company, Arca Space has recently launched its newest, "Arcaboard" which has already gained immense popularity as it enables one to actually hover in the air for up to 6 minutes! Flying in the air is everyone's dream and it may now well come true, if one is ready to shell out $20,000.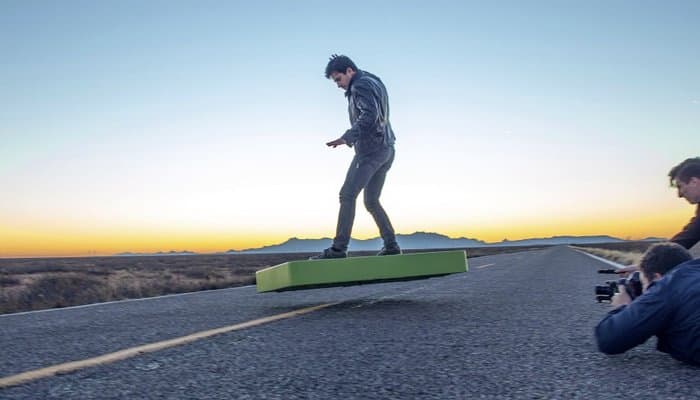 Arcaboard Testing : Credits - Arca Space
​
The company has come up with a technology that uses 36 electric fans, giving enough upward thrust to levitate a person weighing 110 Kg for 3 minutes and the levitation time gets doubled if the person weighs 80 kg. After every run, it requires 6 hours of constant charging.
Sources confirmed that Arca Space will start shipping Arcaboard in the US from April 2016. The gadget has managed to get positive reviews from technology critics and is believed to be much more advanced than any previously made two wheeler self-balancing scooter aka "Conventional Hoverboards".
The only drawback is its high cost and poor battery life. Insiders confirmed that the Arcaboard is made of light composite materials. The specifications include a dimension of 145cmx76cmx15cm (LxWxH) and an input power of 230,000 W. The hoverboard's electric fans spin at 45,000 rotations per minute and provide an output power of 272 horsepower.
It also boasts of a smart stability system. However, an additional cost of $4500 is needed for an add-on recharging dock which will charge the hoverboard in just 35 minutes.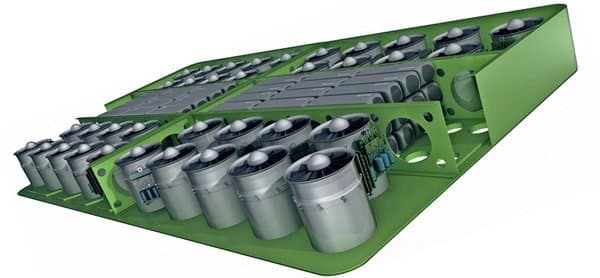 Arcaboard Inside Structure: Credits - GSMarena
​
In a media interview, ARCA Space Corporation CEO, Dumitru Popescu said that the idea of a levitating hoverboard originated from Chris Lang's (company's chief operating officer) youngest son's suggestions to make a hoveboard to easily climb over rockey terrain. Popescu added that he believed ArcaBoard to be the most powerful personal vehicle ever created which suits their tagline 'Engineering the Future'. He added that the vehicle would provide futuristic innovation and comfort.
Like most smart heavy electronic applications such as cars, fridges and air conditioners, the hoverboard is made in such a way that it can be controlled with smart phone apps developed by the company for Android and iOS.
Arcaboard also automatically adjusts the weight and gives consistent performance, depending on the load. The height above the ground is always kept constant and the vehicle is equipped with a high performance stability system. The system consists of an option, which switches off the automatic stability system and can be controlled by using one's center of gravity and body movements.
ArcaBoard is also stuffed with onboard sensors that keep it 30 cm above the ground and limits its speed to 20 km/h. It also has an inertial stabilization system that automates the flying level and can be controlled using a mobile phone app. The board determines its direction of traversal according to the smart phone's tilt angle.
The company has recently launched its official video and it seems that it has something truly amazing and revolutionary to offer! Technology bloggers from all over the world believe that the Arcaboard is definitely a positive step towards future innovation. However, to make it successful in the market, it needs some vital modifications with respect to its cost and battery life, which will be hopefully incorporated in subsequent versions.
Source:
West Texas News (USA)
I couldn't help but imagine the Spider Man villain Green Goblin's hoverboard when I first saw this.
Also, other relevant work here:
World's Farthest Journey On Hoverboard | CrazyEngineers
I saw that the youtube video got bombarded with a lot of negative comments. All I can say to the naysayers is - Isn't this tech still at its nascent stage? Don't we remember how bulky and ugly-looking the first mobile devices were at the beginning of this century? I believe, out generation is incredibly lucky to be able to witness the evolution of such uber cool gadgets. I definitely see a lot of potential in the kind of work these guys are doing. More power to them.
That surely is inspiring how you have imagined the green goblin concept , Ma'am you could ask for credits from Popescu for imagining it at first ,much before than Lang's youngest son 😀

On a serious note its very sad to see how people are eager to criticize a product destructively. Obviously no thing in this world is perfect and I think this Arca board / flying hoverboard is completely new concept and will be improved much farther in near future.
Hi all,
There is an hoverboard which is made up of drone. I watched the video its works fine.
Kindly find the video link
Man Pilots Hover-Board Across Lake
Also one picture is attached.
Akhil C Joy

Hi all,

There is an hoverboard which is made up of drone. I watched the video its works fine.

Kindly find the video link Man Pilots Hover-Board Across Lake

Also one picture is attached.
Awesome customisation!! thanks for sharing.