CrazyEngineers V4: Early Access
We are developing the next version of CrazyEngineers. If you wish to receive latest updates and early access, click the link below.
Home

>

Apps

>

Groups

>
An Algorithm That Binds The Divided US Idealism And Politics Via Twitter Reshares
Question asked by Debasmita Banerjee in #Indian Political on Feb 16, 2017
When the west is divided into two colors and the world experiences the heat of politics wrapped up in race, religion, and gender, the peace lovers in the cloak of geeks have come together to diminish the contrast of both the parties and help them confirm an invisible peace treaty via an algorithm. Following the report of World Economic Forum, which hints that the rising polarization of views posses a serious threat which needs to be barricaded before the fire burns the rest, a group of students from the AALTO university, Helsinki Institute for Information Technology(HIIT )and Qatar Computing Research Institute developed the algorithm which connects people nurturing separate views and ranks them.
The test system, in this case, was Twitter, where the algorithm transforms user data from the tweets from different cases such as the US elections or Obamacare into endorsement graphs, nodes referring to the number of users. The data, mined from the controversial tweet topics being biclustered are handled by building bridges between opposite psychologies. Professor Aristides Gionis, Aalto University Department of Computer Science has voiced that their product is the first of its kind, being a complete algorithm based solution applicable over a large set of conditions and data.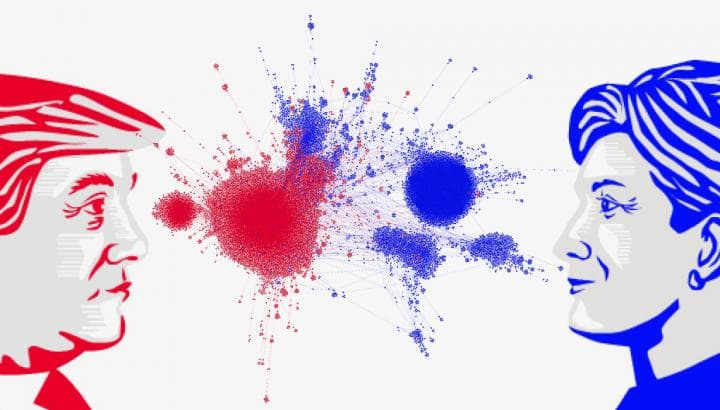 The Endorsement Network
​
As the algorithm works on retweets and recommendations, the bridge itself gets built over the user data, the suggestions on whom to follow. The team has defined the term "high-degree" profile, which is simply the most relevant account associated with the specific topic. To cite an example, they say for US elections, the two sides would be the democrats and republicans and highest degree social profiles highlight Hillary Clinton and Donald Trump.
However, suggesting Trump, follow Clinton on Twitter will only be a futile effort if not infuriating. In that case, the algorithm selects less prominent activists and followers to weave the bridge of negotiation and peace. As the source report claims, the team results perform much better than the existing technologies. Owing to the research, the team has recently won the best student-paper award in the Tenth International Conference on Web Search and Data Mining (WSDM 2017) .
Source:
AALTO
Posted in:
#Indian Political