Home

>

Apps

>

Groups

>
Amazon Fire TV = Set Top Box + Gaming Console
Question asked by Kaustubh Katdare in #Coffee Room on Apr 2, 2014
'Fire TV', the name's Amazon Fire TV! Amazon's full fledged entry into your leaving room has been officially announced. We kept hearing about Amazon's work on a set top box and a gaming console; but not many could guess that it was both gadgets rolled into one. The Amazon Fire TV isn't a Google Chromecast or Apple TV clone; the device does pack a few new innovative features. At its core, the Fire TV runs on custom Android. Inside the tiny box measuring 4.5" x 4.5" x 0.7", the Amazon TV packs a quad-core processor (Qualcomm Krait 300, quad-core to 1.7 Ghz), 8GB of internal storage, Bluetooth 4.0, Wi-Fi 802.11a/b/g/n (no super fast 802.11ac support!) , a dedicated GPU and a 2GB memory chip. The device offers standard HDMI port, optical audio, USB and Ethernet. It can deliver 1080p HD Video and Dolby Surround Sound to your home theatre.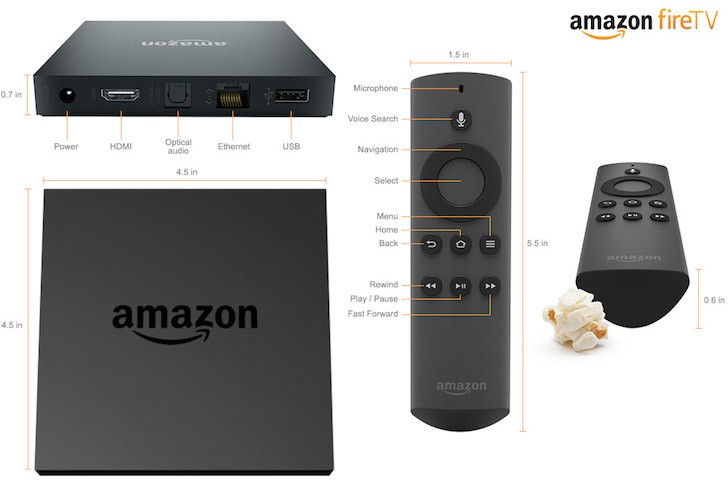 ​
The device itself is a media powerhouse, packing Amazon's collection of over 200,000 TV episodes, tens of thousands of movies, a ton of songs and quite a big collection of games. Amazon's spent quite some time shaping the user interface and has ensured that the system can predict what TV shows or movies you'd like to watch. Users can personalise TV profiles (the feature is coming soon). On the gaming front, the Amazon Fire TV will offer Minecraft pocket edition, The Walking Dead, Monsters University and a bunch of free games. There are a few exclusive Amazon games too and the pricing for paid games starts at 99 cents.
The Amazon Fire TV scores over its competition in voice search, certified Dolby Surround Sound, quad-core processor, 2GB RAM (most of the competition is limited to 512 MB) and having a dedicated game controller, sold separately for $39.99. The Fire TV itself will ship for $99 and you can always opt for one-day shipping at the time of checkout.
We're not sure when will the Fire TV will be launched in India and what its price will be; but we promise to keep you posted on all the developments. Stay tuned!
Source: Amazon Fire TV
Posted in:
#Coffee Room
Yes and great that Amazon entering into this space.