Home

>

Apps

>

Groups

>
Adsense Publisher Toolbar - Check Adsense Earnings Without Logging In
Question asked by Kaustubh Katdare in #Coffee Room on Jan 18, 2012
Adsense publishers rejoice. Google has officially launched what's called 'Adsense Publisher Toolbar' (is not a toolbar actually, just a button) that will sit next to the omnibox on your Google chrome browser and fetch the data from your associated adsense account every time you want to check your earnings. Check out this screenshot -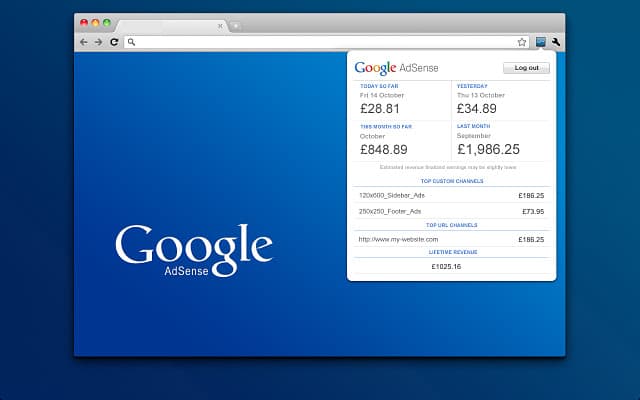 Google says that the toolbar will fetch the data in real time using secure authentication. That is your will have to enter your adsense username and password only once and the extension will remember it. The extension uses OAuth and Adsense API to get the data in real time. This extension makes it incredibly easier for users who maintain different accounts for different Google services. You no longer will have to log out from your primary email address if you want to login to your adsense account, if it uses different email ID.
The pop-up box shows -
• Account earnings summary (today, yesterday, this month, last month) • Top 5 custom channels • Top 5 URL channels • Lifetime revenue
You will also get a direct link to enter your account and view detailed reports there. Now, quickly add this extension to your chrome via this link: -
https://chrome.google.com/webstore/detail/omioeahgfecgfpfldejlnideemfidnkc?hl=en
Posted in:
#Coffee Room
Do we have adsense publishers here? Looking forward to your comments.
I am adsense publisher will try your suggestion.My whole earning was through buzz feeds and now it's already shutdown so my earnings also 😲😔
Can any one suggest me some other ways to earn via adsense.
I am also a adsense publisher. I am earning from buzz feeds but i am facing some problems. Why this happen?
pc tips
buzz has shutdown ... in few days your buzz will also disappear.. any other idea😒 ?

anyway liked your site and you have managed very good Alexa ranking.
Liked this adsense extension ... very neat layout.
cons: no link to view detail not even to go to main adsense website
might suite for those who are using lots of custom/url channels.