CrazyEngineers V4: Early Access
We are developing the next version of CrazyEngineers. If you wish to receive latest updates and early access, click the link below.
Home

>

Apps

>

Groups

>
Accucraft S 150 : Made In India 3D Printer by Divide By Zero Technologies
Question asked by Kaustubh Katdare in #Coffee Room on Feb 4, 2014
Say hello to Accucraft S150 - the 'Made In India' 3D printer, created by Mumbai's 'Divide By Zero Technologies'. Headed by Mr. Swapnil Sansare, the company wants to be one of the the first mover in the Indian markets which is still virgin for all the 3D printing business. The printer has been fabricated entirely in India and demonstrated at the Plastivision 2013 expo. The printer will allow rapid prototyping in various industries. Interesting, right? Let's have a quick look at the machine itself.
The printer ships in the form of a steel box and is capable of printing volume measuring 16x16x16 cubic cm. Covered with powder coated steel, the printer will consume 700 watts of power and need an input of 100-230 V (AC) to operate. The company claims that the printer is very sturdy and can cater to a variety of 3D printing needs. The build platform itself can be removed, which makes taking out the printed objects easy.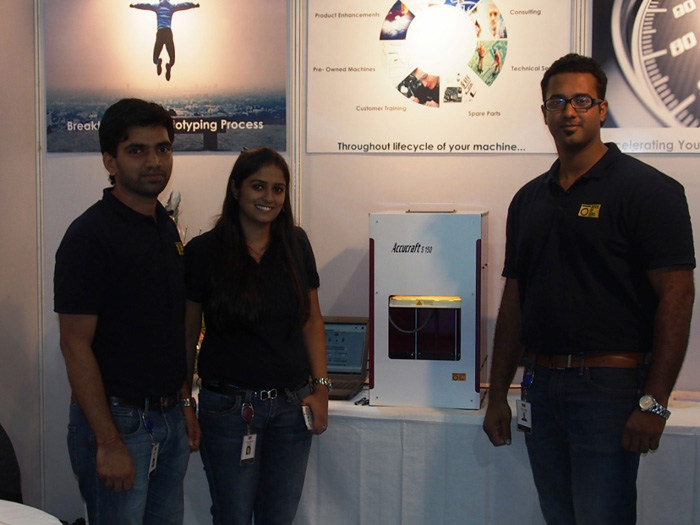 ​
Accucraft S150 is fast & precise as well. The makers have claimed that the printer delivers position precision of 10 microns and can print at 300mm/sec. It is very easy to operate the machine and all it takes to print is a click of a button. The bed leveling required to make the printer ready for the next job will take only about a minute and should you need any help; the company promises assistance from the technical team. The accompanying software will accept .stl or .obj file formats. Following video shows the printer in action -
How do you go about printing bigger objects using this printer? The company says that they'll help you print the bigger object in parts. All you have to do is send them your design in the specified format and they'll print the entire object in parts. These parts can then be assembled using plastic welding or engineering grade adhesives.
3D printers are incredibly useful in prototyping. The biggest advantage is that they eliminate the need of creating special molds. All you need to do is create a CAD model and then feed it to the printer. 3D printing is rapidly becoming popular all over the world among DIYers, researchers, hobby engineers and is finding a ton of unthinkable applications.
DBZ isn't the only player in the Indian markets though. Bramha3 has unveiled a 3D printer already and it's expected to ship it by March 2014. Ever since
Angad Daryani's
announced that he's developing low-cost 3D printers in India; things have become interesting. What are you thoughts on the success of 3D printing and 3D printers in India?
Source (& Image Credit) :
Microfabricator
Posted in:
#Coffee Room