Home

>

Apps

>

Groups

>
3D Printed Homes Are Being Built At The Rate Of 10 / Day
Question asked by Kaustubh Katdare in #Coffee Room on Apr 23, 2014
3D printing is rapidly finding applications in Civil and Construction engineering. Winsun, a China based company has developed huge 3D printer (about 6.6mx10mx32m in size) capable of printing building blocks at a rapid rate. These 3D printed blocks can then be used to construct houses quickly and at very economical costs. Winsun recently demonstrated their rapid construction technology by building about 10 houses in just 24 hours. Each of these homes cost less than $5000, including labor charges. Will that put an end to the eternal housing problem around the world; needs to be seen.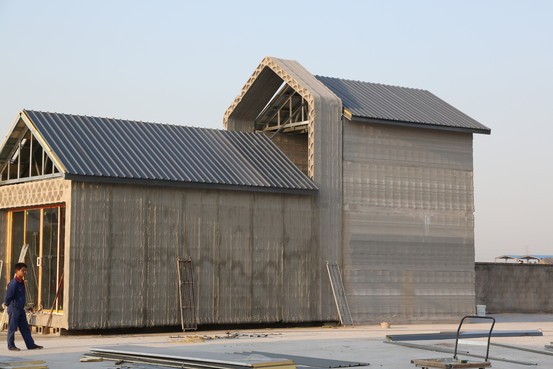 ​
China has been growing at a breakneck speed, resulting into requirement of constructing various housing needs - from Skyscrapers to small homes. On the outskirts of the major cities, the need for constructing cheap homes in quickest possible times has grown significantly in the recent times. Winsun has come up with an innovative solution to address this problem with their badass 3D printer. The printer prints building blocks using recycled material and construction waste. The blocks are then assembled at the construction site. Check out the following video that shows how these houses are constructed.
Do you think 3D printing will bring a revolution in the construction business?
Source:
WSJ
Posted in:
#Coffee Room
One more interesting thing is that ink used in these printers is made from combination of cement and glass fibres.
Houses built in Asia have no insulation because they are made from cement and bricks. But houses in the U.S. are made from wood. It would be great to see how these houses stand against floods and hurricanes. There should be some testing videos out for public.
Looks like the Japanese can have some more fun now - one step closer to their dreams!
I assume this will not trail our ancestors innovated techniques
Unless it has to satisfy the following.
Reliable
Quality
Fire & Water Proof
Aesthetics
Life span
Less Maintenance Etc

I have an another doubt.. How can they going to embedded the electrical, plumbing lines.???
Rajni Jain

One more interesting thing is that ink used in these printers is made from combination of cement and glass fibres.
And still some R&D is going on 3D printer to use some other strong material as a ink and I can see 3D Printer era is coming in next 1-2 years.
We are also planning to purchase one 3D printer.