Home

>

Apps

>

Groups

>
1TB SD Memory Card Ready For Your 4K Videos
Question asked by Kaustubh Katdare in #Coffee Room on Sep 20, 2016
SanDisk has demonstrated the world's first 1TB SD memory card at Photokina 2016 - a trade fair for photography and videography professionals in Germany. The
SanDisk® 1TB terabyte (TB) SDXC™
caters to all the professionals who deal with large volumes of digital content; especially videos with 4K and 8K resolutions. Dinesh Bahal, VP of product management at Western Digital which owns SanDisk, offered some interesting information - that WD had released 64MB SD Card about 16 years ago and is now releasing 1TB SD Card prototype.
It was just two years ago that the company had announced 512GB SanDisk Extreme PRO cards at Photokina 2014. These cards will ensure that digital media professionals have access to all the extra storage space they'll need on the job.
Just about a few years ago, a 1TB SD card would have seemed 'too futuristic'. However, with the recent advancements in video technology like 360 degree videos, VR and AR; the demand for storage space has shot up. For example, a minute long 1080p at 30FPS (Full HD) video will eat up 130 MB of space. But at 60FPS, it will consume about 200 MB of space. When shot at 4K resolution, a minute long video will eat up as much as 375MB of space.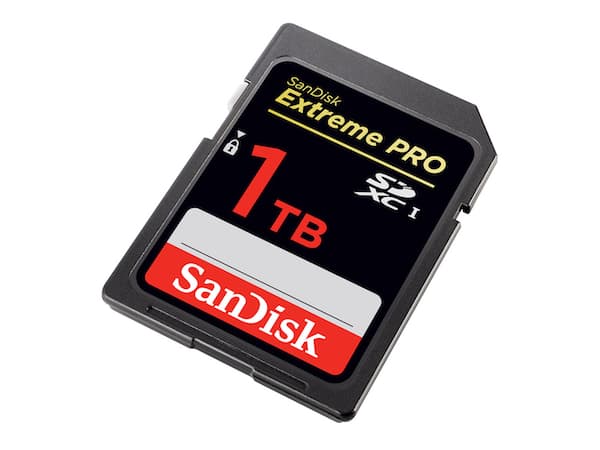 ​
One thing to keep in mind is that the 1GB SD Memory Card is still in the 'prototype' stage as of now. This means, it's still a few months from production. Moreover, Western Digital has not shared any information about R/W speeds which are likely to be slower than what existing smaller capacity cards offer. The pricing, is of course, going to be a lot higher as well.
Do you see any major disadvantages of using a 1TB SD card? If yes, share them with us below.
Source:
SanDisk
Posted in:
#Coffee Room
Carrying such a high cost small item always a risk,
but still for professional camera men it was a good option.