ChalkStreet Co-Founder On How They've Reached 40,000+ Students With Their Affordable Online Courses
By - CrazyEngineers • 7 years ago • 46.3k views
Two IIM-Kozhikode buddies Venkataraghulan and Rajesh Kumar gave up their jobs and put their heads together to build their edutech startup called FACE - Focus Academy for Career Enhancement in the February of 2009. Over the last six years, they trained over a million students for getting them ready to face campus placements and entrance examinations. After a 'freak bike accident', as Venkat puts it, as the duo was recovering they had a lot of time to look back and reflect.

Gathering all their learning from FACE, in January 2015, Venkataraghulan and Rajesh Kumar along with his buddy Tyagarajan Sundaresan (an IIM-B graduate), built ChalkStreet - an online platform that provides affordable learning courses in diverse domains. Within an year of their launch, a completely bootstrapped startup - ChalkStreet has reached out to more than 40,000 students, have 100+ instructors on board and are running 200+ courses.

In an exclusive interview with CrazyEngineers, we got the ChalkStreet CoFounder Venkataraghulan to talk about his initial days, how it all began, what their efforts are currently focused on and a lot more. Read on!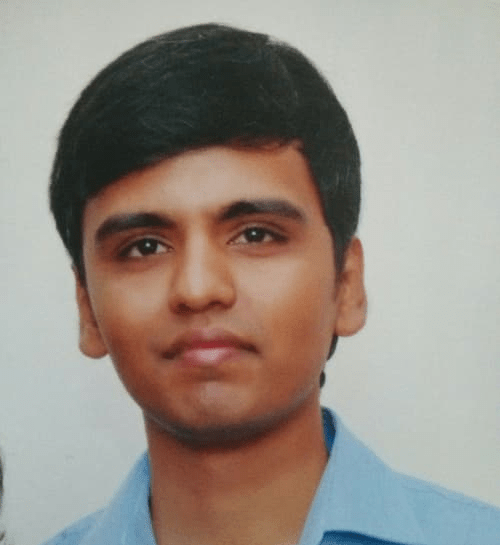 Venkataraghulan, Co-Founder - ChalkStreet 
CE: Tell us about your growing up years and family background.

Venkat: I am from a simple middle class family. My father worked for the government and our location of residence was subject to change. I did my schooling in 8 different schools in different places. Although it is always difficult to change base so often, it is accompanied with a lot of learnings.
CE: How did you all meet? Tell us about your journey from IIM to creating FACE enterprise.

Venkat: Rajesh and I go a long way back. We were classmates at IIM Kozhikode. I met Tyag when we both joined Deloitte Consulting post MBA. Tyag had finished his MBA at the same time from IIM Bangalore. Tyag and Rajesh knew each other from their Engineering college days at PSG College of Engineering, Coimbatore.

We were doing well in our careers. Being a Consultant, I was getting a lot of exposure in dealing with business problems across industries and geographies. Rajesh meanwhile was working with the Sales team at Citibank.

ChalkStreet Founders
A freak bike accident was more or less the beginning of our entrepreneurial story. We were stationed at Hyderabad at that point of time. After the mishap, we were recuperating in Coimbatore and we had a lot of time to look back and reflect.
We both had always been passionate about doing something which could positively affect the Indian society. We brainstormed and felt the education system had a lot of room for improvement.
Quitting comfortable high paying jobs is definitely difficult and we were weighing the pros and cons. This is when we were fortunate to attend IIM Ahmedabad's faculty member and successful entrepreneur Sunil Handa's workshop – Laboratory for Entrepreneurial Motivation. He was the inspiration we needed.
We quit our jobs and started FACE. Now, FACE has assisted over a million Indian students in Placement Training and Entrance Prep over the last 6 years.
CE: How did ChalkStreet happen? What was the motive behind starting the company?
Venkat: A number of insights derived from running FACE saw the birth of ChalkStreet. There were several reasons:
We got a lot of training requests from remote areas in India. Due to geographical constraints, we couldn't always service these requests although we wanted to.
We were market leaders in Placement training and Entrance test prep. We often got requests from students to teach topics which weren't under our area of expertise. But we knew there were other trainers and professionals who could have satisfied these learning needs. Learning was expensive with big players in the industry dominating over smaller (yet very capable) trainers, professionals and institutes.
We felt the need for a platform which gave people who wanted to teach the access to a huge student audience across India so as to satisfy their learning needs. We decided to build that platform.
ChalkStreet is the answer to all these problems as it made learning easily accessible, affordable and democratic. It is a platform Through ChalkStreet, we aim to inculcate the habit of learning in Indians, and build a powerful ecosystem of growth and betterment.
CE: How does ChalkStreet system work? How many new courses do you introduce on daily/monthly basis? 
Venkat: Initially, we had to put a lot of efforts in approaching instructors to teach on our platform. This was when the platform was under development. But quite a few instructors looked forward to the opportunity and joined us.
Slowly, the tide changed where instructors started applying on our portal to makes courses. We produce courses based on the number of applications and our bandwidth. We also actively look out for knowledgeable individuals and institutes who can contribute immensely to our learner audience. Currently, we have over 200 courses in a span of 12 month across various topics.
CE: How was response to ChalkStreet in its initial days? How is it now?
Venkat: It is always difficult to gain traction when you are a bootstrapped startup. The reputation that we had built with FACE in the education field definitely helped us quite a bit in our early days. Most people who visited our website liked the concept – both learners as well as instructors.
Over months, we build good traction with thousands of learners learning from our platform. But this is just the beginning. We are dreaming big and have a long way to go.
CE: What are the team's efforts currently focused on? Where do you see the company two years from now?
Venkat: Currently, we are building the product in terms of adding features which can significantly enhance learning. Our efforts are also focused on adding more courses across various fields to satisfy all kinds of learning needs. In two years, we hope to become the one stop platform for affordable learning where any Indian can find what he needs and loves our service.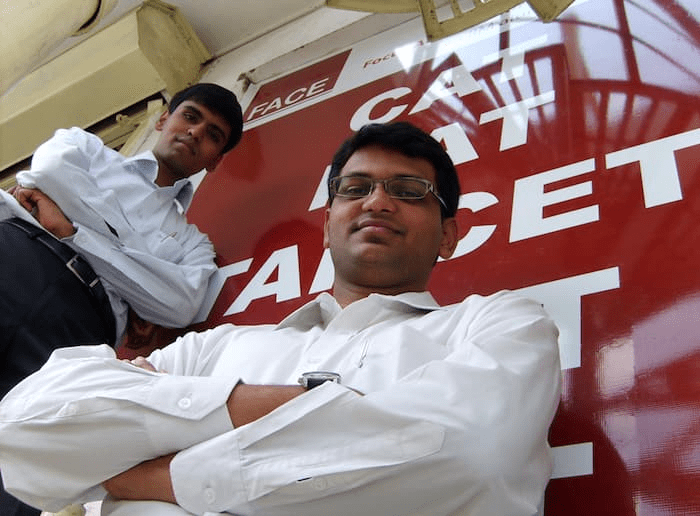 Face Founders - Venkat and Rajesh 
CE: What were the biggest challenges you've had to face so far?
Venkat: The biggest challenge for us, like any bootstrapped startup, is to sustain and grow in an extremely lean yet efficient manner. This translates into all activities from marketing spends to hiring.
CE: What is the one thing you wish you knew about entrepreneurship world before starting up?
Venkat: I had never fathomed how challenging it would be. But we believe that is the beauty of entrepreneurship where you need to fight against a million odds to achieve your dreams and make a positive impact.
CE: How do you differentiate yourself from the competition?
Venkat: The proposition offered by us is unique and therefore, we have not identified direct competitors. Nevertheless, there are big foreign players who offer quality courses like Udemy, Edx and Coursera. These sites enjoy good traffic but are different in terms of the value proposition offered.
Udemy courses, priced in dollars, are far from affordable for Indians. Coursera and Edx offer long drawn courses lasting months. This leads to high number of subscriptions but only a small percentage of students completing the courses.
Also, there are several learning needs which are unique to the Indian context. The highest selling course on our platform with over 2000 learners is the TCS Aptitude Preparation course. Indian sites like Simplilearn have monopolized a niche like programming but again, they offer certification courses lasting a few months and which are way more expensive. Startups like Vedantu are operating in the Online Live tutoring market. Therefore, we believe our offering is unique and can immensely benefit the average Indian learner.
CE: How do you plan to expand your company?
Venkat: Right now, we are trying to consolidate the various aspects of our business. Scale is something we want to hit soon and are working towards that aspect. Our main aim is to make learners happy with the experience we offer. Our belief is that if people love our product, growth will happen by itself.
CE: Are you hiring engineers at your startup? What are the skills or qualifications you look for in the potential candidates? 
Venkat: Yes. We have a lot of engineers in tech as well as business roles. For us, attitude is much more important than skill. Because someone with the right attitude can easily master a skill but not the other way around. If anyone wants a challenging experience with significant learning and growth, they are welcome to send in their resume at hr@chalkstreet.com
CE: What are the best parts about running this startup?
Venkat: As we want to bring back the joy of learning to people in our country, we have inculcated the habit ourselves. A startup is the best place to experiment and learn new things every single day.
The whole concept of a small team with lofty ambitions fighting together and overcoming challenges to achieve something big makes for a really beautiful journey for everyone.
CE: Has the experience of starting up your own business worth it? What would you say to our fellow engineers about startup life?
Venkat: It has definitely been worth it. With FACE, we impacted the lives of over a million students. With ChalkStreet, we aim to impact even more. The sense of satisfaction derived from doing something really meaningful is a very good feeling.
My advice would be: Take up entrepreneurship if you are really driven by your idea and are willing to fight against all the challenges you are sure to face.
Note: Only logged-in members of CrazyEngineers can add replies.
Recent updates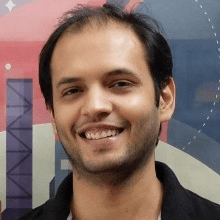 In 10 years, when I go to a hackathon and ask, "Who here has used Postman?" - I want every hand in the room to go up.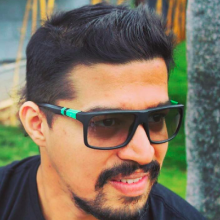 People management, analytical and not emotional driven business decisions is the key.

Abhishek Daga

Thrillophilia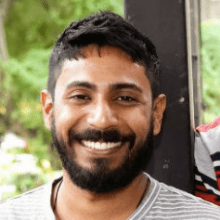 The best way to achieve long-term success is to stay anxious, be super involved in everything that the team does in the nascent stages and keep your eyes on the trophy, even on weekends.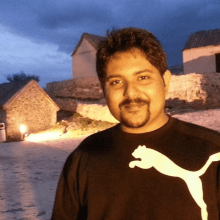 Networking with the right people at the right time is very important for a good clientele. And when you deliver decent work from your end, the goodwill leads to one client from another.

Amitava Ganguly

Couch Potato Media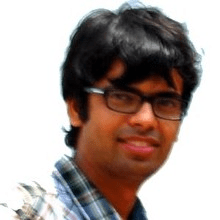 What matters in the long run is how passionate you are about your idea, how much you believe in it, and how well you execute it.

Angam Parashar

ParallelDots