Torqus CEO Tanmay Ratnaparkhe On Making Life Easier For Restaurant Owners
By - CrazyEngineers • 8 years ago • 38.1k views
Tanmay Ratnaparkhe and his three friends from college - Suneet Kulkarni, Sneh Thakkar and Piyush Chavan, who were by now working in IT MNCs, decided to quit their jobs and team up to start Torqus to build POS, Supply Chain and Restaurant Management systems that are perfect help for mid-sized businesses.
Started in 2011, the team of four foodies has developed various products and solutions that can be used by eateries to manage their back-end systems really well. Torqus products are being used by 500+ clients including Eatsome, Chaayos and Cake&Cream. The team raised their first round of funding of $350,000 and are hoping to make 5000 installations by the end of this year by expanding their presence in tier 1 and tier 2 cities.
In an exclusive interview with CrazyEngineers, we got the Torqus's Co-Founder and CEO, Mr. Tanmay Ratnaparkhe to talk about his startup's initial days, challenges and a lot more.
Tanmay is a first generation entrepreneur. Coming from a typical Maharashtrian middle class family, Tanmay did most of his schooling in Bhopal, Indore and Kota. His father works in bank and during his growing up years, his family lived in close to nine cities.
Tanmay completed his graduation in Computer Science engineering from University of Pune in the year 2009. After that he worked in an IT firm for two years. Recalling his time as an engineering student, he shares,
During engineering we started making college projects and selling them. So there was this instant when while in our 3rd year we were selling projects to 4th year students.
After that, he went on to work in an BFSI company for two years before taking the plunge.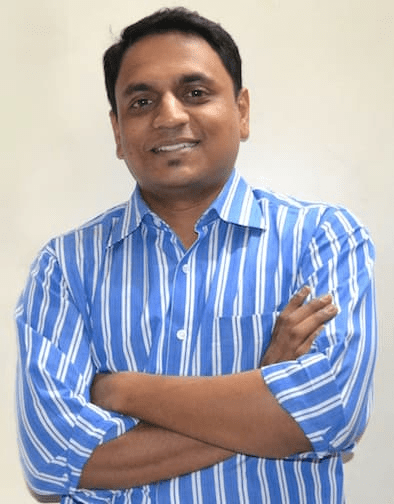 Tanmay Ratnaparkhe - Co-Founder and CEO at Torqus 
CE: How would you describe your journey from IT world to being a startup owner?
Tanmay: Post college, I really never wanted to hold on to a job forever. Hence, I wanted to be the one who decides which company I join in campus placements. Unfortunately, our college had different policy and wanted candidates to appear in all the companies visiting the campus. The instant you were selected in a company, you were out of the process.
I remember attending close to 8 company aptitude tests. I marked all answers incorrectly on purpose, so that I could choose the company I wanted to work at.
I joined S1 Corporation with the aim to learn as much as I could, and after close to 2 years, decided that it was time. We originally wanted to do an environment friendly manufacturing startup, spent close to 6 months in it, live in 3 cities and failed. It was after that we started SmartOrder - Now called 'Torqus'.
And – we believe there are no 'owners' in a startup – there are only 'stakeholders'. Everyone – from Families, team members, Clients and Investors are stakeholders (Though not necessarily in that order ?).
CE When did you first think about building a startup around helping restaurant owners manage their business better?
Tanmay: Restaurants have been there forever. Food is a daily affair – It can be awesome one day and messy the other. At the backend, there are not too many processes which cause a lot of promising restaurants to shut down the shop. I have lived away from my home for more than 10 years now. That basically means a lot of outside food and hence the emotional connect. We really believe that if we can sort out the backend, a lot of amazing food can be had.
CE: What major problems does Torqus solve? Which products from Torqus are you the most proud of?
Tanmay: We call ourselves IT enablers for Food & Beverages. As I said, food is a very day to day affair. One needs to make sure the processes are running perfectly. One small mistake somewhere and there is adverse customer reaction.
We help in sorting out the daily haggle which a F&B owner will face – daily transactions from a multitude of suppliers, cash management, customer issues, theft & leakages.
We have built up a cloud based Supply Chain Management tool which lets all F&B stakeholders to have a real-time view on the daily happenings. This helps them to have a birds eye view for everything and catch hold of issues in their bud.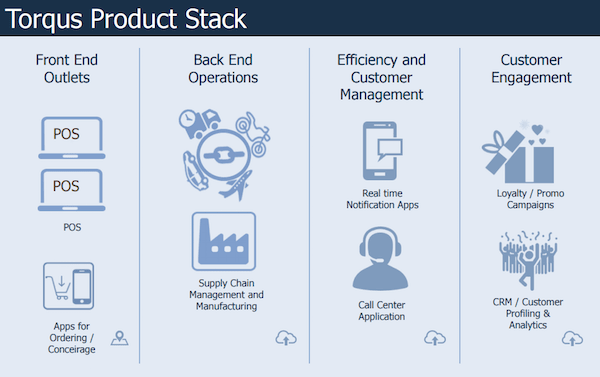 CE: How difficult was it to convince restaurants to use your products in the initial days? How did you go about convincing potential clients?
Tanmay: As for any startup the initial period was tough.
We had a good initial product (POS), but it was difficult to sell it to prospective clients as we did not have a background in the industry. Sometimes people would even opt for inferior solutions due to the fact that they had been in the industry for a fairly long time.
The prospective clients consider the product offering as well as the after sales support that your startup can provide. We convinced our clients about our superior technology and support offerings. Over a period of time we have been able to position ourselves as one of the best providers of products & support in the industry. Due to this, along with our constantly evolving product offerings, today prospective clients approach us rather than the other way around.
CE: What technology are your products developed in? What are the major challenges your team faces on the technical front?
Tanmay: We use Java and MySQL as our cores. We have a local / offline solution (Point of Sale) as well as a cloud solution (SCM). We have a up time of 99.9% currently, and are working really hard to keep it to that level.
CE: As the CEO of your startup, you must be donning multiple hats. What parts of the company are you directly involved in? What role do you enjoy the most?
Tanmay: As a part of a startup, actually, everyone dons multiple hats, especially the co-founders. Personally, I am involved in Product Development, Sales, Support, Strategy Planning. I like it this way as this helps me interact with all teams and work with them according to the overall long term strategy of Torqus – this often means working 14-16 hour days sometimes 7 days a week – which has been the norm for us co-founders since the beginning ?
Being a techie, I obviously enjoy working on the product the most.
CE: How big is your team at the moment? How do you go about hiring professionals who are passionate about your startup?
Tanmay: Our team is based out of Pune (HQ), Mumbai and Bangalore offices. Our current team size stands at 35 members.
While hiring professionals we look for motivated and talented people – who want to learn and achieve something in the long run (never the short term). We look to balance the team out with people who think inside the box and outside it. We look for people who have the drive to grow. We believe Torqus has a long way to grow and we believe in ensuring that the members of Torqus grow with the company.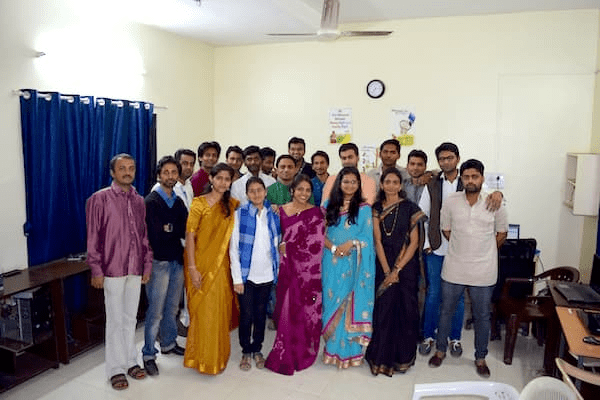 Torqus Team 
CE: What is the typical day in the office like? Run us through your schedule.
Tanmay: Well, every day has a new challenge and new problems.
First thing is to gather everyone and do a standup where we discuss short term and long term plans and track the progress of each team. We try and get the entire team in the standups so that everyone is abreast to the happenings.
I keep on travelling a lot so meetings take up most of the time. Most of the focus is on the product and sales. Every day is like a SINE wave – lots of Ups and Downs. I hope it turns in an upward TAN curve.
CE: Who are your biggest competitors in the domain? How do you maintain an edge over them?
Tanmay: There is indeed competition in this domain, there currently bigger players than us and many smaller ones. What sets us apart is our combination of online and offline product offerings – which lets both stand-alone restaurants as well as chains to utilize and manage their backend to the maximum efficiency. Apart from the POS and SCM product offerings we have multiple products just to increase the efficiency of the outlets and others to ensure that the owners and top management are constantly in the loop about what is happening at their outlets at real time.
The products have been developed with constant inputs from industry magnates and we have ensured that the features are only added if they assist the owners in streamlining processes and increasing efficiency, making sure that no clutter is added in the products and they are extremely easy to use by their staff.
CE: Could you share an experience of working with any of your top clients/known eateries?
Tanmay: It has been a pleasure and an honour of working with doyens of the industry. The crazy passion and the energy which the founders have is mind blowing. When we started this, we had no idea about F&B. We started learning by interacting with customers.
We have done everything – standing in kitchens to see the process, sitting with accountants, bartenders, etc! There have been times when we stayed at the restaurant till 2 AM to make sure they are able to transact perfectly. It has been a true joy ride.
CE: How do you plan to scale up from here? What are the expansion plans for next 2-3 years?
Tanmay: We are a very F&B backend oriented technology player. We want to make sure that our F&B technology is the best in the class. We are looking at various other verticals in the FoodTech Sector. We will be shortly launching a loyalty module in the product. We are also working very, very closely with a lot of other Food Tech players. We aim to be the single point of contact between a restaurant and the other food tech players. We do not have any plans to go into the B2C segment, though are exploring options to go international.
CE: Any message for young engineers or aspiring entrepreneurs?
Tanmay: Well! There are so many things to say. A few bullet points:
Focus only on the problem you are trying to solve.
Keep customers first.
Do not hesitate to take a decision.
Try to be up-to-date with the market happenings.
Network a lot.
Note: Only logged-in members of CrazyEngineers can add replies.
Recent updates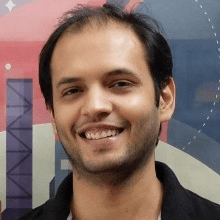 In 10 years, when I go to a hackathon and ask, "Who here has used Postman?" - I want every hand in the room to go up.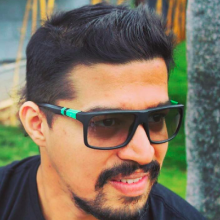 People management, analytical and not emotional driven business decisions is the key.

Abhishek Daga

Thrillophilia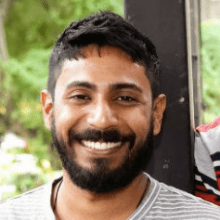 The best way to achieve long-term success is to stay anxious, be super involved in everything that the team does in the nascent stages and keep your eyes on the trophy, even on weekends.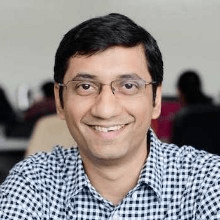 I am happy that we were able to create an online tool that helps people customise their furniture on a real-time basis.

Ajit Shegaonkar

Stitchwood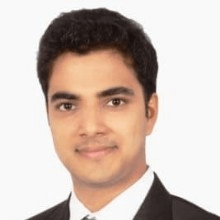 "What makes us unique is the approach and the value we bring on the table - we believe that the people who built the product, are best suited to fix it also."