InkMonk Co-Founder Surya Sankar: How We Built An Online Marketplace For Custom Printed Merchandise
By - CrazyEngineers • 7 years ago • 35.5k views
Hailing from a small town in a middle class household, Surya Sankar has been a day dreamer. With a dad who is a banker and mom, a housewife, Surya grew up in a typical upbringing setting. He is a first generation entrepreneur.

After graduating as and Electrical and Electronics engineer from NIT Trichy in the year 2010, Surya started working at McAfree as a software engineer. He later went on to become a Quality Assurance engineer at Amazon. After 3 years of stint in the IT industry, Surya decided to quit his job and started his first venture - 'Karpeer; - an e-learning portal for engineering students in India. In April 2014, Surya started is second venture called 'InkMonk'. In last 2 years, this online printing company based out of Chennai, has become a 'Print Marketplace', where they help streamline the customer's merchandise printing process.

In August 2015, InkMonk raised a funding of Rs. 1.5 Crore from a group of investors including RedBus co-founder Phanindra Sama, Freshdesk founder Girish Mathrubootham, angel investor Vikram Chachra etc. They are currently using the funds for expansion, recruitment and marketing.

In this exclusive interview with us, we got Surya Sankar to talk about his early work experience, the story behind the birth of InkMonk, their competitors, revenue model and a lot more! Read on!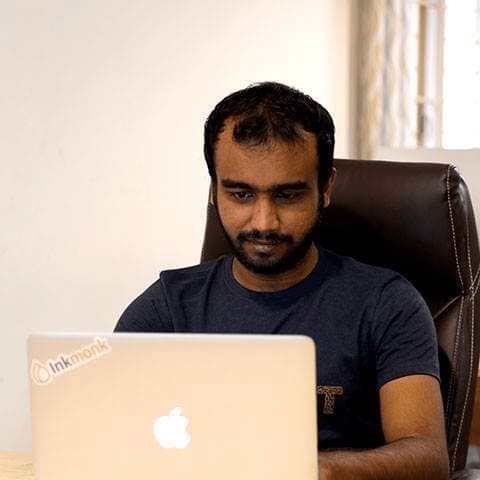 Surya Sankar, Co-Founder, InkMonk 
CE: What were you key learnings from McAfee and Amazon? Tell us more about your other startup Carper .

Surya Sankar: In McAfee and Amazon I mostly had a carefree stint. In retrospect, I would say that I had in fact learned some important customer service lessons in Amazon, which I am realizing in the process of building Inkmonk. The 14 commandments which they hand out to every new hire is a very good lesson on how to run a company.
Karpeer was a lesson. It was my long pending dream to build something like Udacity out of India.
I had been captivated by the potential of experiments like NPTEL and was always dreaming about a future world where degrees would become obsolete and micro-courses in the Coursera/Udacity model would become the face of higher education.
That was what Karpeer was supposed to become. I locked myself up for 2-3 months and just spent all the time fleshing out the prototype. Eventually I had the sense to see that it was not going anywhere and decided to call it quits. But it did teach me a lot on what not to do while building a startup- not launching early and often, not taking feedback early, and choosing a technology you are not very familiar with. These lessons have helped me stay focused while building Inkmonk.
CE: How did InkMonk came into existence? Tell us the story of its inception and How did you meet your co-founder - Isaac John Wesley? 
Surya Sankar: After hanging up my boots on Karpeer, I was looking for a switch and met Isaac at one startup meet. He wanted to pitch an idea about an API for printing. It sounded very cool, so I met up with him and he explained his desire to infuse technology into printing. I initially agreed to help him build an e-commerce site just for selling the high quality stickers he was making. He had the vision to realize that it should not be just another out of the box site and should instead have an API which could power other businesses. So we built Stickystamp and launched the site somewhere in May 2015. It was an immediate hit.
The stickers were getting sold out like movie tickets and plus we were getting some business customers for our API as well. We were onto something with a huge potential. But it took us a lot of trial and error to find out what it was.
We started out building a SaaS platform for helping companies send gifts to their customers. But we eventually pivoted and decided to solve the much more challenging problem of merchandise procurement.
So in Jan 2015 we decided to launch a marketplace for printing and Inkmonk was born.
CE: Why did you choose to go into the 'printing' business? What led you to take this decision? 
Surya Sankar: I didn't choose printing business. Isaac did. Stickystamp just chose me I guess. But I am glad I got a chance to work in an industry which is truly staggering in its scope.
CE: What parts of the company are you directly involved in? What role do you enjoy the most? 
Surya Sankar: I am mostly involved in the product building side. Besides writing a lot of code, I also have the responsibility for deciding the architecture of the platform, the direction of its evolution and talking to different teams and building consensus towards what is to be built. Besides that I also work closely with the business teams and provide my inputs towards our sales and marketing strategies. Of all these, I still enjoy coding the most.
CE: How does InkMonk system works? For which products InkMonk supports its customised printing?What is InkMonk API? 
Surya Sankar: Inkmonk's USP is our ability to provide very intricate customizations to our customers and our ability to extract prices for every possible customization from a wide variety of vendors. We study each product intensively and spend a lot of time to figure out how best to offer maximum customization options to our users, but without sacrificing ease of use.
Customized Merchandise is still very much an untapped market segment and we want to establish ourselves as the clear market leader here. We want to be the first that name that comes to anyone's mind when they want to procure customized merchandise.
In order to do this, we are working on bringing real time prices for every conceivable product. Currently we have nearly 70 different categories of merchandise spread out across variety of categories like Apparels, bags, Electronic accessories, Wall Decor, Stationery, Drinkware, Banners etc. We are currently working on providing real time prices for hundreds of products in these categories.
Inkmonk API is currently limited only to our Dropshipping software. We had built it originally for our SaaS platform and we are continuing to onboard users on an invite basis. Our corporate customers can stock their printed goodies in our warehouse, and then integrate our API into their application to send out unique claim links to their customers who can redeem the claims and get the goodies delivered directly to their doorsteps.
A travel portal for example, uses our API to send gifts to their customers without having to go through the hassle of storing, packing and distributing the goodies. We are currently working on expanding the API to incorporate all the functionality provided in Inkmonk market-place including customization and ordering.
CE: How do you ensures customer's satisfaction and what measures do you take to make them revisit Inkmonk? 
Surya Sankar: We take customer satisfaction very seriously because this industry works primarily on referrals and word of mouth. Every order we take up is a manufacturing job with products printed from scratch. This means that our customers place a lot of trust in Inkmonk's ability to get the best output from the Print manufacturers. And we take this responsibility very seriously. We have invested a lot of effort into building the best possible flow for a customer.
We have a team of designers who review every incoming order and work closely with the customer to help them make the changes which will give the best print quality. We are also investing a lot of technical effort in making our back-end logistics as automated as possible in order to give the fastest turn around times for our customers.
And besides all these, we also take every review seriously and if we find that any customer had a negative experience, we take a lot of effort to make sure that we rectify the problem and satisfy the customer again. This has given us a very good retention rate.
CE: How was your experience of bagging your first deal? What feedback did you receive from them? 
Surya Sankar: Isaac had already started selling his stickers even before I had joined him. So Stickystamp already had a lot of deals in the pipeline even before it came into existence. It was a really good feeling to know that our efforts were not in vain and whatever we were building was actually solving something people wanted. Personally I felt happier when our corporate customers started using our API. It was a great feeling to know that the code I wrote was moving a lot of logistics around.
As far as feedback is concerned we were never short of it. We built most of the features as a response to feedback. I remember one customer asking for a particular feature to be implemented in a few hours time as he wanted his marketing campaign to go live with that feature.
CE: Who are your biggest competitors in this domain? How do you maintain an edge over them?
Surya Sankar: Strictly speaking, we don't have any direct competitor in India as there is no other print marketplace. But there are definitely other much bigger players in the print ecommerce segment - like Vistaprint, PrintVenue , CustomInk (in the US) etc. We differ from them in that we are purely a marketplace and as such we are very asset light. This gives us the freedom to focus completely on building the platform without worrying about the manufacturing constraints.
We have an opportunity to become a single window for the entire print industry. Our goal is to make sure that any print vendor who wants to go online should not have to think about building another ecommerce site and should instead decide to just sell via our platform.
CE: What is the InkMonk revenue model? How big is InkMonk at the moment in terms of its clients and customers? 
Surya Sankar: We work on a commission basis with our vendors. Our customers directly order customized merchandise from vendors and we take a commission for every sale that happens via us. We have served thousands of business customers since inception.
CE: Where is InkMonk office located? On what front are the team's efforts currently focused on? 
Surya Sankar: We are based out of Chennai. Currently we are working on broadening our product catalog and incorporating real time pricing for 70+ categories in our platform.

InkMonk Team 
CE: What advice would you give about leadership to entrepreneurs who are just starting out? 

Surya Sankar: Not sure if I have become that old. But if I have to say, I will request everyone who is starting out, to take care of their mental health first. It's going to be a long slog. The ones who hold out the longest are usually the ones who are eventually going to win. You are going to need a lot of mental strength to withstand it all. Depression is a very real possibility in this journey and you will be better off if you have someone close with whom you can share your thoughts. Don't make the mistake of getting stuck alone in this road. If you can keep your mind stress free, you can then build anything you want.

CE: Any message for young and aspiring engineers? 

Surya Sankar: Stay curious. And learn from your peers. Times have never been better for nerds. There is an explosion of innovation all around. So try to build stuff at every possible opportunity - participate in Techfests, hackathons, coding contests etc. And amidst all these, don't lose sight of the basics as well. Always take some time to understand the underlying logic behind the technology. How HTTP protocol works, how a web page is rendered by the browser etc. If you know the basics well, you can learn any new technology that comes your way.
Note: Only logged-in members of CrazyEngineers can add replies.
Recent updates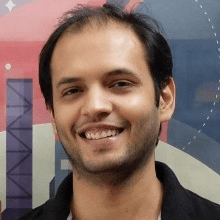 In 10 years, when I go to a hackathon and ask, "Who here has used Postman?" - I want every hand in the room to go up.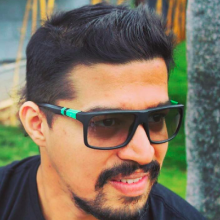 People management, analytical and not emotional driven business decisions is the key.

Abhishek Daga

Thrillophilia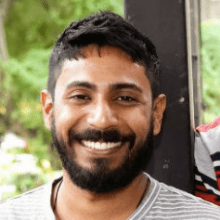 The best way to achieve long-term success is to stay anxious, be super involved in everything that the team does in the nascent stages and keep your eyes on the trophy, even on weekends.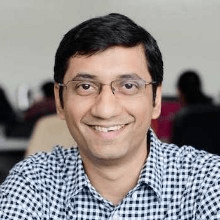 I am happy that we were able to create an online tool that helps people customise their furniture on a real-time basis.

Ajit Shegaonkar

Stitchwood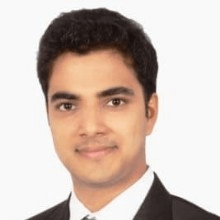 "What makes us unique is the approach and the value we bring on the table - we believe that the people who built the product, are best suited to fix it also."