B2BSphere Founder Aims To On-Board 200,000 Buyers And Suppliers In Two Years
By - CrazyEngineers • 8 years ago • 33.3k views
Born and raised in Bangalore, Sudhi Seshachala grew up in Koramangala, the startup capital of Bangalore. Sudhi hails from a conservative middle class south Indian family. His dad is a retired executive from Mico (Bausch), where he worked for 41 years and his mom is a homemaker. Sudhi's is a closely knit family and his parents instilled the values of hard work and dedication in him from a very young age. He completed his degree in Computer Science from Bangalore University in 1996 and went on to do M.S. from Cal State. He also has a MBA degree in Strategic Management from University of Houston-Victoria.
Sudhi has worked at various pivotal roles at different firms including BEA Systems, SUN Microsystems, Baker Hughes and HP. He became the CTO at Hooduku Inc in 2008 and co-founded Xervmon Inc in 2011. Sudhi spent 15 years in the industry and also became an active contributor on portals such as DevOps.com, CloudAcademy.com, CloudTweaks.com etc.
In February 2015, Sudhi started B2BSphere.com with his friend Babu Jayaram. Babu is a Mechanical Engineer from R.V. College of Engineering, Bangalore. He went on to do M.S. in Computer Science from University of Texas in 1997.
The company that the two friends have built, is based out of Bangalore. B2BSphere.com is a Social Marketplace for buyers and suppliers. Their portal lets buyers search, connect & collaborate with suppliers/service providers from across the globe and also provides a platform for users to access untapped markets for trade. They have subscription plans starting @ $49 / month for suppliers and are going to shortly announce the paid plans for buyer as well.
In an exclusive interview with us, we got Sudhi Seshachala to talk about his journey into the world of entrepreneurship, what was the source of their idea, their growth in last 6 months, their future plans and a lot more! Read on.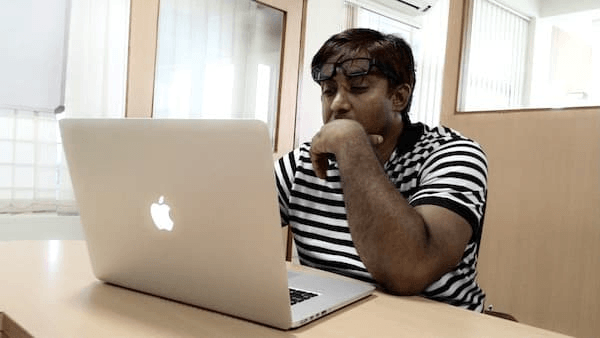 Sudhi Seshachala, Co-Founder @ B2BSphere
CE: When did you first think about being an entrepreneur? What were your baby steps into the world of entrepreneurship?
Sudhi Seshachala: My first date with entrepreneurship was in 1993-94. I was still in 2nd year engineering majoring computer science. Those days, through some family contacts, started data entry/election ID card for Government of India. Then did similar work for few other companies. Meanwhile – the agency I was working with on election ID cards failed to clear invoices since they did not receive payments from government.
In order to overcome the losses, I learnt computer assembly and started assembling and selling computers. The margins were good and through which, I cleared my losses, but then, I did not want to drop out of engineering, so sort of gave up a thriving business to complete engineering.
After engineering, I was scared to venture into business due to bad experiences, hence started working for companies for few years. In 2006 – I worked on a verticalized search for job site, but did not get enough traction. However, I did sell the technology built to a startup e-unibus and did not follow it after that. Then in 2008, I started consulting startup. I believe that, for techies consulting is the best way to start a company and learn the art and science of business. In 2011, I partnered with Babu and his MS classmate to start Xervmon Inc.
CE: When did you and Babu Jayaram first think of developing B2BSphere platform to connect Buyers and Suppliers?

Sudhi Seshachala: We met in 1991 to be precise. We were both preparing for engineering in class 12th. We met in the coaching classes first and then that transformed into a long friendship that has lasted over 24 years now. We completed engineering in 1996/1997 and he left for US for his masters. I joined few startups and then ended up in Microland - software division. Through which, I was deputed for an US assignment.
During the years 2000 – 2010, we might have met few times, but nothing we discussed was on business. Since last 5 years, more than friendship – it is more of a partnership in business. As partners do, we argue on what is more constructive and makes sense for business and we both are brutally honest when we argue and the intention is to bring the best out of us for business and nothing personal.
In 2010, we discussed about starting our own business. In those days, I used to run a IT services company from Houston. We started collaborating on services business and then we thought we should start a product business. We started Xervmon Inc.
With Xervmon in transition, we were thinking of starting the next one. We tested couple of ideas, but then did not think it was viable from business standpoint. Over the years, Babu had setup an export business and had encountered some problem areas, which could have been productized. While we were deciding on next product idea, we discussed the problems the typical suppliers in India have issues finding leads for business.
Then we started speaking to few of our contacts in the industry and started validating the idea. Then we realized that it is not just suppliers, but buyers (companies in US/UK) too had issues communicating and collaborating with suppliers in India, China etc. That is when we pivoted on connecting buyers and suppliers globally on a single integrated platform. Thus, B2BSphere was born.
CE: Describe your journey from the idea stage to inception for B2BSphere.
Sudhi Seshachala: In late 2014 – we started validating the idea behind B2BSphere. We began speaking to our contacts within Buyers and Suppliers ecosystem. There are portals that address the lead generation issues for suppliers – but it is more of a glorified listing service for suppliers with no real ROI delivered to suppliers. That is where B2BSphere differentiates from competitors.
We are "Rethinking B2B - Optimizing collaborations by connecting business partners" . We are not just listing service – but an end-to-end virtual office productivity suite that helps buyers and suppliers can discover, connect and collaborate with custom business workflows. We are in a category of our own and that is "Redefining B2B".
CE: What are the most important features offered by B2BSphere?
Sudhi Seshachala: Following image best describes our engagement with both Buyers and Suppliers. Take a look -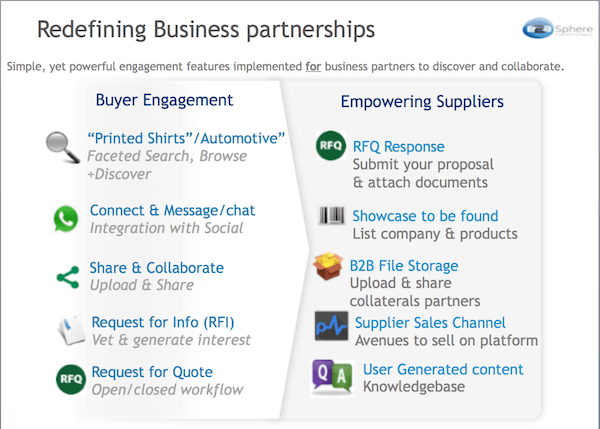 CE: How big is B2BSphere in terms of its clients? How has the growth chart been?
Sudhi Seshachala: The traction and brands are as below. We are growing at 50% month after month. We are very close to generating revenues as well. In fact, customers are calling us to subscribe for long term plans.
Over 3 months of going live with the product, we have signed up over 25 brands. These include - Titan, Godrej, Syntronics, CRANE etc. There 2000+ total number of users, 3000+ verified suppliers and 300+ active buyers.
We have growing paid customers and buyers have posted 4M+ worth projects on our buyers channel with a growth of 25% month over month.This is a one of the major milestone we have achieved.
CE: How was your experience of bagging your first deal? What was the feedback you received?

Sudhi Seshachala: First few of our customers were from known acquaintances. What really triggered follow up customers is that we listened to our first few customers and started tweaking the product to their needs in a generic fashion to address the larger market. We started signing up some larger buyers and started getting their testimonials. Here are few of them -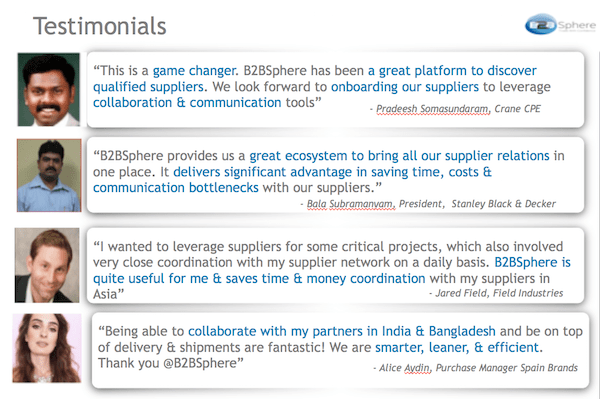 CE: What is the B2BShpere revenue model? How big is B2BSphere team at the moment?
Sudhi Seshachala: With a globally addressable market of 10 Billion+, Serviceable market is around 100M+ covering India and Indian Sub continent (Bangladesh, Sri Lanka, Bhutan etc.).
Our Initial market we are currently in is ~$10M covering Industrial Corridor of South India. We are at a inflection point where SaaS adoption in SMB is to grow CAGR of about 15/% Y-o-Y and this growth is expected to propel the IT spend to cross USD 18.5 Billion by FY 2018 according to NASSCOM.
We have subscription plans starting @ $49 / month for suppliers. For Buyers – we will be announcing paid plans shortly. Then we also have marketplace for buyers to buy supplier verifications, auditing etc.
We are 14 member team comprising of myself and Babu Jayaram and rest of 12 team members. Then we have a great advisory board. We have Govind Sheshadri, VP - Capillary, Ashish Kasi, CTO - Capillary and Nishant Kashyap, Co-Founder Mfgtechupdate.com as our advisors.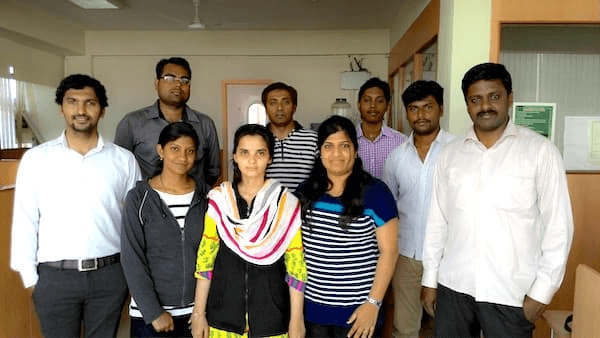 B2BSphere Team at their office
CE: Where do you see B2BSphere two years from now? What are the team's efforts currently focused on?
Sudhi Seshachala: We are currently focused In Indian sub continent to make an impact around the 'Make in India' Initiative and help support Indian MSME/SME/SMB to target global customers. We aim to have around 200,000+ companies registered on the platform with in the next 24 months, including both buyers and suppliers. Of course we will be generating revenues. If we follow a growth phase – then, profitability could be question, but our background and where have come from, we would thrive with revenues and profitability.
CE: Thank you for your time. Any message for your readers?
Sudhi Seshachala: For many startup is a fad today. It is all about raising VC money. I strongly believe that the ultimate 'kick' in entrepreneurship comes from building a sustainable business. I would like to see more entrepreneurs get mature quickly and build global businesses from India.
Note: Only logged-in members of CrazyEngineers can add replies.
Recent updates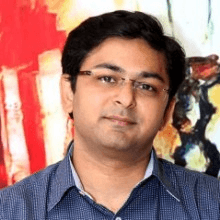 We understood the client's need of going mobile friendly and making solutions that will help save time and money. That is how our direction of being known as one of India's best enterprise mobility solution provider became an aim.

Abhijit Junagade

Winjit Technologies​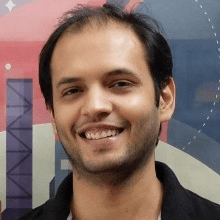 In 10 years, when I go to a hackathon and ask, "Who here has used Postman?" - I want every hand in the room to go up.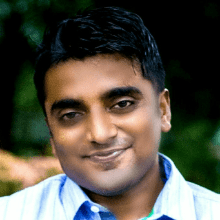 Competencies can be build and nurtured. But right ambition, right motivation and cultural fit is very imp. I will suggest all entrepreneurs in early years to codify it.

Abhishek Ballabh

ExtraaEdge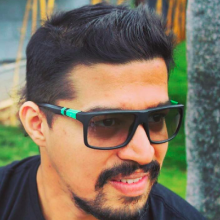 People management, analytical and not emotional driven business decisions is the key.

Abhishek Daga

Thrillophilia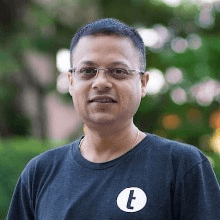 We believe great attitude and the "always be learning" mentality trumps all else and we tend to optimize our hiring for such folks.

Abinash Tripathy

Helpshift