"Get a confirmed ticket to travel no matter what" - Sripad Vaidya, Co-Founder ConfirmTKT
By - CrazyEngineers • 7 years ago • 46.5k views
Born in a middle class family in a small town named Bodhan in Telangana, Sripad Vaidya hails from a family where entrepreneurship is considered a risky affair. His dad is a headmaster in a government school and mom is a homemaker. Sripad got his B.Tech degree in Computer Science in the year 2010 and soon started working IBM as a Business Analyst. It was at IBM that Sripad met Dinesh Kumar Kotha. Sripad and Dinesh were colleagues and roomies and also had the same dream of starting something of their own. They would discuss their ideas like starting a online grocery store, mobile marketing tool etc. on their days off work.
After days of discussions, they zeroed on MeterUp, an auto fare calculator website that also introduced taxi fare comparison facility. Sadly, it didn't gain much traction. During this period, he used to travel from Bangalore to Hyderabad on weekends or festival times. Recalling those times, Sripad says, "We never used to get a ticket to travel on trains. So, every time we used to end up shelling out huge money for buses." That's when they came up with the idea for ConfirmTkt and started working on it.
While Sripad is from Analytics background, Dinesh who has worked at IBM and a US based startup called 09 solutions, is an Electronics Engineer (B.Tech) from NIT Jamshedpur. He has worked as a full stack developer across various technologies and platforms.
The duo thought that there had to be a way of tracking the ticketing trends and taking informed decisions. Sripad had tried this technique manually many times and to his surprise it worked very well every time. Therefore, they thought of building software which automates this task. Together, they started gathering the historical data of trains and by 2013 their product was ready. It took them about an year of testing and the product aka ConfirmTkt went live in July 2014.
With ConfirmTkt, today users can explore seat availability in all trains between stations on their travel date, predict the chances of getting a confirmed ticket and discover all possible alternatives to book confirmed train tickets and leave nothing to luck.
In an exclusive interview with CrazyEngineers, we got Sripad Vaidya to talk about their startup, how it has grown in the last one year, their competition and where they hope to take it in the next few years. Read on!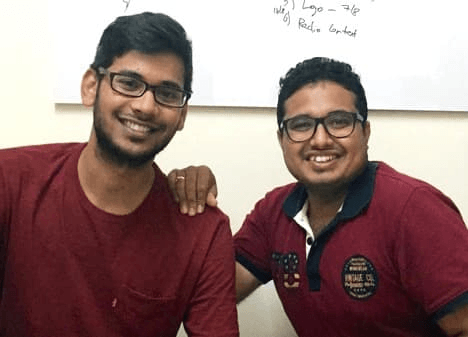 Dinesh Kumar Kotha (L) and Sripad Vaidya (R) 
CE: How do you explain the ConfirmTkt app to layman?
Sripad Vaidya: ConfirmTkt is a travel tool which is changing the way people travel in India. It is solving of the biggest problem which Indian train traveler faces every day.
Problem: Getting a Confirmed ticket to travel
In India almost 2.2 million tickets booked on a daily basis of which 7.9 lakh tickets would be in waitlist. This is a huge problem which a Indian train traveler faces.
Many of us know if we are lucky a W/L ticket will get confirmed. And people start guessing and trying their luck. Some people are lucky enough to travel some people just cancel their trips just because they are not getting a confirmed train ticket.
Lay man Solution: Everyone has seen people say "For a train "XXX" W/L 30 would confirm". How do they guess it? Just by their past experiences.
Confirmtkt Solution: ConfirmtTkt does the same. The intelligence behind the ConfirmTKT PNR predictions is very close to how humans think. We humans predict and act on the future based on past experiences
In the similar way, ConfirmTKT algorithm analyses the past ticketing trends and predicts your ticket confirmation chances. ConfirmTKT maintains confirmation thresholds for every train and predict the ticket confirmation chances based on them. ConfirmTKT is designed in such a way that it learns while predicting. So, the more we predict the more accurate and efficient we are.
CE: How does the algorithm for predicting PNR status work? 
Sripad Vaidya: ConfirmTkt uses machine learning technique to predict the train ticket confirmation chances. The beauty and reason behind using this technique is that it learns from its past experiences similar to how a human learns from past experiences and act in future.
ConfirmTKT maintains confirmation thresholds for every train and predict the ticket confirmation chances based on them. ConfirmTKT is designed in such a way that it learns while predicting. So, the more we predict the more accurate and efficient we are.
CE: What other services apart from predicting PNR status does the ConfirmTkt app offers to their costumers?
Sripad Vaidya: Alternate Travel Options, Offline Train Schedules to access train schedules offline without internet connection and facility to save all the past and future trips at a single place.
We never stopped innovating. Even though we started predicting the trains, there were some tickets for which confirmation chances are very low (Confirmtkt status shows "No Chance"). The number of ticket which would end up in W/L is huge. After a deep analysis of the train data, we designed an algorithm which would start exploring all the possible quotAs available on a train to discover an alternate way to travel.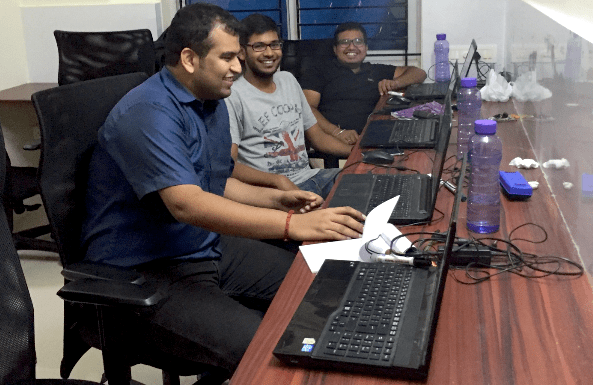 The ConfirmTkt Office @ Bangalore
CE: How was response to the app in its initial days? How many downloads do you now see on daily or monthly basis?
Sripad Vaidya: We gained a very good traction initially. People started liking our product very much. Within 4 months of launch we have touched 50,000 downloads on Android. Currently, we have 3 lakhs of total mobile downloads across Android and Windows platforms. iOS will be launched in the next few weeks.
Around 20,000 users use our app on a daily basis and we get around 1.3 lakh unique monthly users on our mobile app.
CE: What measures do you take to make user stick to ConfirmTkt app for their reservation confirmation related concerns?
Sripad Vaidya: The prediction accuracy and alternates feature which we have in our app is not provided by any other player in the market. Every feature in our app is very user friendly compared to other train apps. Example: Our train search feature is accessible by just a single click.
CE: Whom do you see as your biggest competitor in the market? What measures do you take to maintain an edge over them?
Sripad Vaidya: Coming to the alternates, we are the only player in the market who does the alternate suggestions today. Currently we are unique but many other players like Ixigo, RailYatri etc. are trying to copy and replicate our features. They have launched PNR predictions recently . But we are far ahead from them in terms of accuracies of predictions as we are powered by more historical data. As all our services are data-driven, for any new player to come at par with it, would take huge amount of time.
CE: What are the team's efforts currently focused on? Where do you see the company two years from now?
Sripad Vaidya: We are trying to build more and more features on the app which will change the way people traveL in India. We are moving towards making confirmtkt a ticket discovery tool which will tell the user how to travel and when to travel. Our motto is - "Get a confirmed ticket to travel no matter what."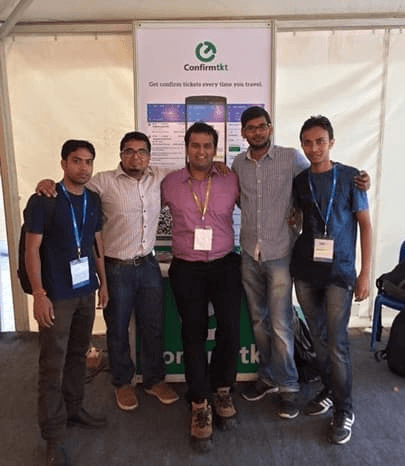 The 5 member ConfirmTkt team
CE: How do you define entrepreneurship? What advice will you give to wannabe entrepreneurs?
Sripad Vaidya: Entrepreneurship is a 'keeda' which will make you restless until you are moving towards it. It teaches you many things which a mundane job cannot. I would say it is the best thing that can happen to anyone in his life.
Advice: If you are building something, don't think about making money. Just believe in your product and things will start falling in place.
CE: What is the one thing you wish you knew about entrepreneurship/startup world before starting up? What were the biggest challenges you've had to face so far?
Sripad Vaidya: If you are starting up you should never be alone. You need a co-founder who can support you in decision making and motivate you in tough times.
Hiring a passionate team and reaching the capturing the huge market with almost no marketing budgets was our biggest challenge.
CE: What is your message to your readers?
Sripad Vaidya: If you are passionate about something you have to take a risk and move forward, then the things will automatically fall in. It's very important that you take the first step. 
Note: Only logged-in members of CrazyEngineers can add replies.
Recent updates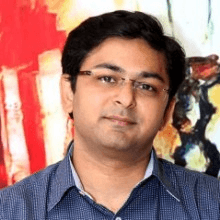 We understood the client's need of going mobile friendly and making solutions that will help save time and money. That is how our direction of being known as one of India's best enterprise mobility solution provider became an aim.

Abhijit Junagade

Winjit Technologies​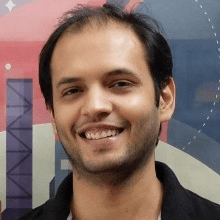 In 10 years, when I go to a hackathon and ask, "Who here has used Postman?" - I want every hand in the room to go up.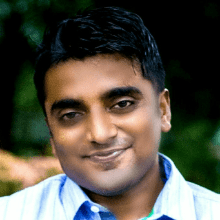 Competencies can be build and nurtured. But right ambition, right motivation and cultural fit is very imp. I will suggest all entrepreneurs in early years to codify it.

Abhishek Ballabh

ExtraaEdge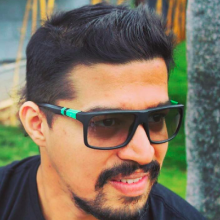 People management, analytical and not emotional driven business decisions is the key.

Abhishek Daga

Thrillophilia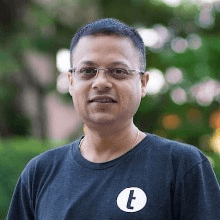 We believe great attitude and the "always be learning" mentality trumps all else and we tend to optimize our hiring for such folks.

Abinash Tripathy

Helpshift