Meet Graffersid Founder Sidharth Jain, who is bringing high quality, timely delivery to mobile and web app development for startups
By - CrazyEngineers • 5 years ago • 32k views
Hailing from small village 'Barwaha',60 KM away from Indore , Sidharth Jain is a self-motivator like his father and grandfather. His grandfather took the first big step to leave the job and start his own business and that got passed down ever since. Later on, his father would also build his own business all by himself and so did he.
On asking he added "It was super tough time for us. Dad was an Entrepreneur and did his business independently, he would never take NO for an answer. Since he did a business without any external support, there was a severe financial crisis in early days. And I grew up seeing him smile and not deter 1 bit from the goals he made. He ensured that our future was not compromised, hence he gave us best education by working extra hard. There were times when we would not see him for weeks and then he would come bearing lovely presents. He taught me the importance of being independent and following the dream."
Sidharth spent early years of education from the village in a Hindi medium school and later from an international school in Indore. He then joined Accenture and EngineerBabu but soon become independent and followed his dreams with HealthFirends and Auropiez.
We got into discussion with Siddharth to know more about his professional and personal life, the ups and downs and most importantly the exciting journey of GrafferSid. Read on to get more details!
Sidharth Jain - Founder- GrafferSid
CE: How was your experience working for – Accenture and EngineerBabu?
Sidharth Jain: Within 2 months of joining Accenture Mumbai, I went into depression and felt like a nobody. I know of people who would say that corporates are lonely, and people are treated like machines but these people are just "give-ups". Corporates are competitive and you need to earn your place if you can't then it is not meant for you. I was not giving up, I decided to earn my place.
Unlike college, there were no teachers here so I pro-actively learned latest technologies like Angular, React, Node and MongoDB. In 6 months I had a team of 4 people to build a product from scratch, an opportunity that not many get being a fresher. We went on to sell that for 6 figures to a UK based client. Moreover, I also got invited to make an official contribution to the Accenture Knowledge library (KX Portal), accessed and appreciated by Accenture's employees across the globe. By then I had the credibility attached to my name, I no longer need to introduce myself. I was neither lonely nor treated like a machine anymore. Accenture, one of the biggest IT company in the world, it was a phenomenal experience. I got a chance to learn from the best in the industry.
Meanwhile, people from outside company also started approaching me and I started helping them and the word of mouth kept growing. Now I had developed a thing for hearing new ideas and brainstorming the challenges that the startups might face. And this is when EngineerBabu happened, a startup from my hometown Indore. I wanted to join them as a developer but they saw the hunger in me to work closely with Entrepreneurs.
I signed a 1-year term, and this time I didn't wait 2 months to build my reputation, I was aggressive from the first day. They gave me a free hand to play multiple roles right from Business Analyst to a Business Strategist for them. In my term, we started a new line of business, doubled down on revenue, project delivery rate and Client Satisfaction Index were at an all-time high. By the time I finished my 1 year, it was no more a small startup that I had joined.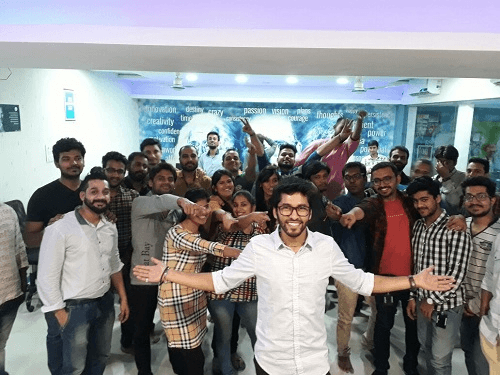 CE: Tell us more about your other ventures – HealthFriends and Auropiez.
Sidharth Jain: My grandmother was getting sick and we needed a professional help to take care of her at home for a month. And it was extremely tough to find a nurse, and then, to trust an unknown to be 24 hours at your house. Inheriting from my dad, I had stopped taking NO for an answer. So I started, HealthFriends, a marketplace to book nurses for different services that offered. It was really successful and we had a great traction. Until the family mates of a critical condition patient made a call to me for his special needs. I was an engineer and didn't know a thing about medicine. Although we took good care we realized that we are an outsider in this industry.
Auropiez was a Nachos brand that we started. We were able to convince one of India's leading manufacturers to supply us packed Nachos at an affordable rate. It was really successful and we got some serious B2B clients on a long-term contract. Within few months of operations, we realized that this is not what I want to do for life. At the same time, Act-II launched it's cheapest packets which cut down the margins completely for us. It helped me in making a firm decision and continue our journey in the things I really enjoyed.
CE: How did Graffersid happen? How did you come up with the idea? Tell us about the story of your startup.
Sidharth Jain: I always take a personal interest in the startups I work with and form a strong bond with the founders. At the time, I was working with a US based client and because of heavy workload, my delivery got a month delayed due to which he lost a promising pitch opportunity. And I saw him shatter and that was all that was needed for me.
Startup failure rate is claimed to be at 90%, that means 9/10 people's dream gets crushed. 
An entrepreneur risks everything to do a start-ups- family, friends, future, career, kids, dreams, and his life savings. If it fails all that is gone, it is completely unacceptable for me to see it happen with my client and do nothing about it.
I decided to start Graffersid which would focus purely on timely delivery with high quality. The same client gave us our first project as a company and this time we made sure that it raised it's round. He again broke down but this time in happiness.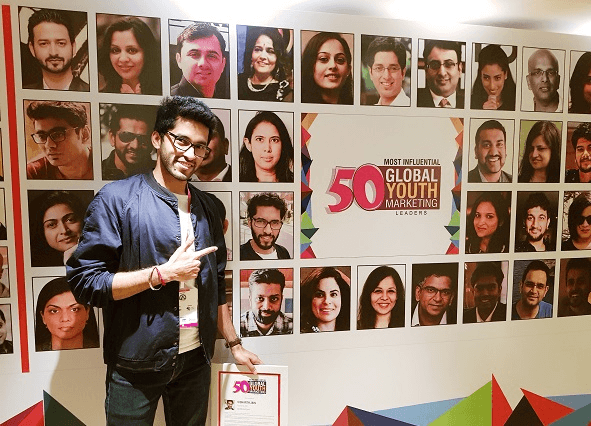 CE: How does Graffersid's system work?
Sidharth Jain: Graffersid is a one-stop IT solution for the startups. We provide services of Prototyping, Designing, Website Development, and Mobile Application. Prototyping is something that not a lot of companies do properly in India. Inspired by the experience of one of our team member who previously worked in Norway, we consider this as a very important validation process for the startup.
When any client comes to Graffersid, we understand the WHY? Of the startup before understanding the WHAT?. We gather the requirement, then we brainstorm it for loopholes. Once the requirement is locked we design the wireframes and create a working Prototype. We take feedback from real users to make a perfect application flow. When the customers are satisfied then we start the development using the Prototype as the reference to create a pixel-perfect application. You can say that our model is a hybrid of Waterfall and Agile process.
CE: How did you make your first sale?
Sidharth Jain: Our first sale, even to this day, remains to be our most ambitious and memorable one. It was one of my old clients before I started the company, who missed out on an opportunity for possible investment because I was a month late to deliver the finished product. But he liked the way I worked and appreciated the quality so he came back and gave me a second chance. It was the very reason that made me start the company. If it wasn't for him I might still be working and growing someone else's startup, which I still do but through our blog section.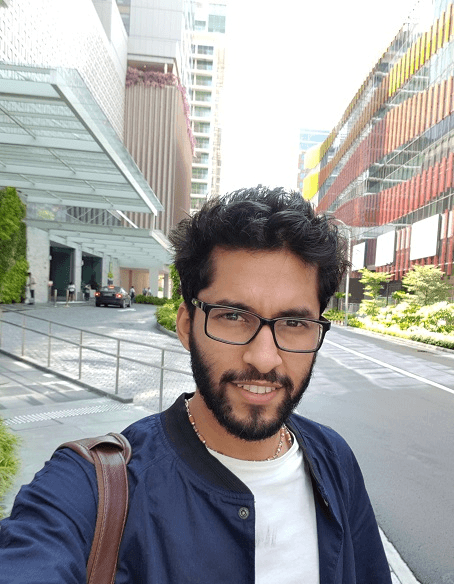 CE: Who are your biggest competitors and how do you differentiate yourself from them?
Sidharth Jain: 80% of Graffersid business comes from references and repeat clients. Most of our customers are from outside India, from places like US, Australia, and Europe. So our old self is our biggest competitor. Moreover, I think there is enough space in this domain for everyone. Digitalisation is at an all-time high which has created a huge demand for companies who can deliver a high-quality product.
There are 2 major reasons why our clients stick with us:
First, we use the latest technology. At Graffersid, among many other processes, we have a rule where each day the last 1 hour is dedicated to learning a new technology and creating a dummy project in 1 month. This way we never get outdated.
Second, our "Don't just say YES" policy. When a customer comes to us with an idea, we do a thorough research and throw them with a bunch of questions, we challenge the workflow on each step. This helps us get a far deeper understanding of the project and build a very user-centric product, increasing the chances of startup's success.
CE: What is the revenue model for Graffersid?
Sidharth Jain: Graffersid has 2 revenue models namely Per Hour and Per Project. In the Per Project model, we give a lump-sum quotation for the complete development while in the Per Hour model the clients are charged on an hourly basis. Project-based model is more popular among the startups while Hourly is more preferred my corporate clients like MNCs and other big companies. Although our major focus is startups but once in a while we will have some corporate come to us with some requirement. Since they come from references, we happily accept the projects.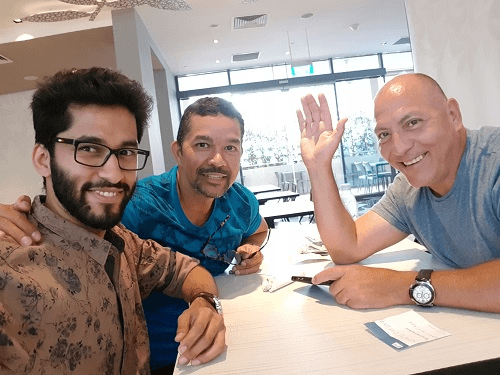 CE: How big is Graffersid team at moment? Where do you operate from?
Sidharth Jain: The foundation of Graffersid is based on quality than on quantity. We are a team of 10 people strong, based out of Indore, Madhya Pradesh, India. At Graffersid, we have a funny hiring process. For us, the resume or the college degree doesn't matter, in the interview the candidate is given a test which they have to complete right in front of us. Based on the quality of the work the salaries are decided. We have a 28-year-old earning equal to a 34-year-old. Delivery is what matters the most and we are building a team of international standard so, we don't settle for anything but the best.
CE: What talents do you possess that have helped you in your business?
Sidharth Jain: As a company, we have already won "Best User Experience" and "Rising Star" awards. Almost everyone at Graffersid has worked with a founder or a product based company at least once in their career. This experience helps them better understand the product and come up with features that can give it a better advantage over its competitors. This client/product first approach has helped us build products that have won multiple awards at global platforms and raise funding in the early stages. However, our customers referring us to their friends and family is our biggest success mantra.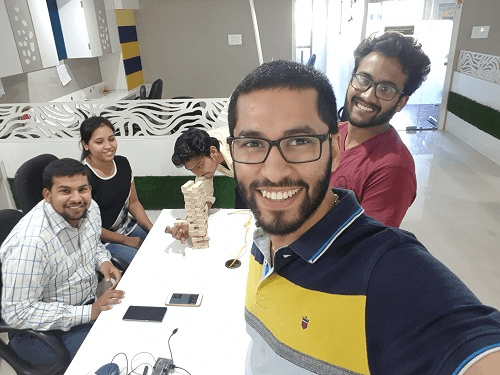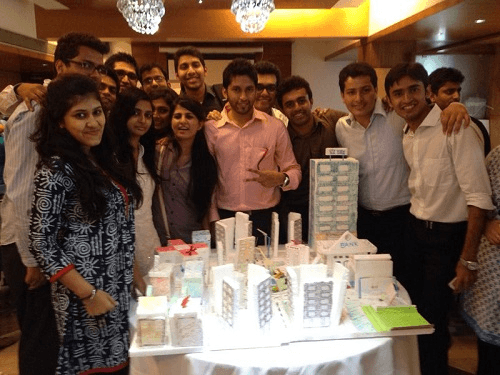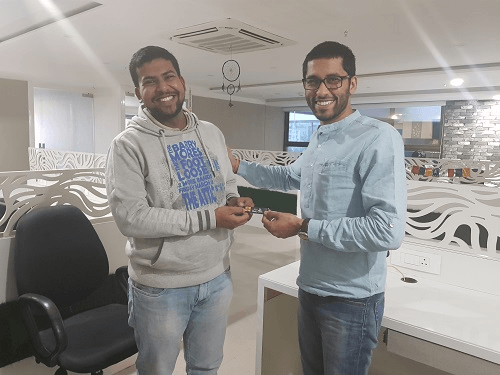 CE: What are the most important traits and talents to have in starting and running a business?
Sidharth Jain: Knowledge is the best talent you can have. For that, imagine those school day's summer vacation, when you could play all day without food or water.
 If doing something is fun than you would unconsciously keep getting better. Hence, you should always start a business that you are passionate about, it should always arise from your curiosity or a need. 
The reason, it will help you to become the best and dedicate your time to learning and upgrading without even realizing it.
Sachin was a pretty decent bowler but imagine what if the coach would have shifted him completely to bowling. Dhoni is a great finisher but put him in baseball and he might not hit a six (homerun) anymore. It is all about your interest.
CE: Thanks for your time. Any message for your readers?
Sidharth Jain: Don't wait, don't just keep thinking; If you want to do something do it now. Success comes to those who make an effort for it. Irrespective of the business you start, make sure you know in-and-out about it before starting. There is no bigger weapon than knowledge. And have a team which can help you meet the commitments you make to your clients. Be honest with your customers and they will never leave you.
Note: Only logged-in members of CrazyEngineers can add replies.
Recent updates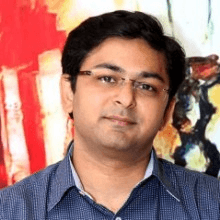 We understood the client's need of going mobile friendly and making solutions that will help save time and money. That is how our direction of being known as one of India's best enterprise mobility solution provider became an aim.

Abhijit Junagade

Winjit Technologies​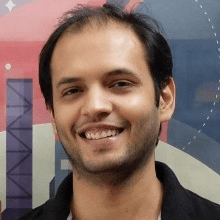 In 10 years, when I go to a hackathon and ask, "Who here has used Postman?" - I want every hand in the room to go up.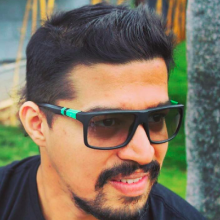 People management, analytical and not emotional driven business decisions is the key.

Abhishek Daga

Thrillophilia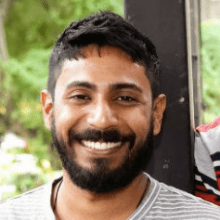 The best way to achieve long-term success is to stay anxious, be super involved in everything that the team does in the nascent stages and keep your eyes on the trophy, even on weekends.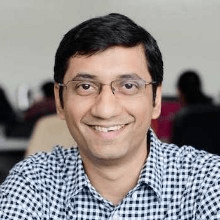 I am happy that we were able to create an online tool that helps people customise their furniture on a real-time basis.

Ajit Shegaonkar

Stitchwood