Lybrate's Saurabh Arora On Fixing The Issue Of Doctors Crunch In India
By - CrazyEngineers • 8 years ago • 36.9k views
Lybrate.com is India's mobile first platform that aims to makes healthcare delivery rapidly accessible to millions of Indians. Founded by Saurabh Arora and Rahul Narang in 2013, Lybrate is one of the fastest growing healthcare platforms in India. The platform lets users ask health-related questions to a network of trusted doctors for free and also get in touch with them privately by paying fees. Users can also fix appointments with top doctors in the country, manage their medical history and reports online as well as have access to health tips from doctors.

We got in conversation with Saurabh Arora, one of the Co-Founders, to know his experience about running Lybrate. Saurabh is a Mechanical Engineer from IIT Delhi. He has done his MBA from Columbia University in 2012. He has worked at ITC Limited, Times Business Solutions and Facebook prior to starting Lybrate.com.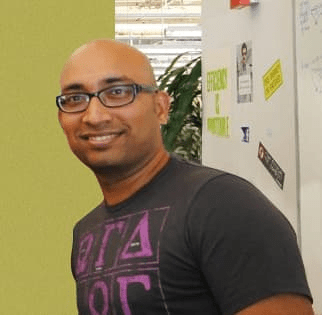 Saurabh Arora, Co-Founder, Lybrate.com 
We asked him about his time at IIT Delhi. He said, "An engineering course polishes the problem-solving abilities, and I was no exception to it. But at IIT problem solving qualities get more sharpened because everybody is always hard pressed for time. "
There is so much in store to do and the scarcity of time makes one find unique solutions to finish the task in designated hours."
He believes that when become good at prioritization, it ultimately results in good time management. He tells, "Initially, the pressure used to bog me down. But things got better with the passing of time and I learned the tricks to remain calm even under pressure. During the four-years at IIT, these qualities became ingrained in me. When I look back I see that these qualities have helped me immensely at each stage of my career."
An IIT-MBA combination is not un-common in the country. We asked him about his decision to pursue MBA degree from Columbia University. On which he says, "When I decided to go abroad for higher studies, there were many options available and I had to zero in on one that suited me best."
The excitement is not in doing things which everybody does. It takes a lot to be different and that is what pays off eventually.
"In 2010, I saw West Coast was the preferred choice for all those wanting to pursue a course in Technology. However, around that time technology scene was booming in New York and the city was becoming the hub for technology companies and startups, attracting big size venture capital funding. For me being at the centre of the tech boom by being at Columbia Business School (CBS) was something very fascinating.
Besides, CBS at that time was well known as a Finance school. However, the broader ecosystem at Columbia that included other schools was also perfect. Being at Columbia presented me with the opportunity to be at the heart of thriving technology scene in New York."
We also asked Saurabh about his experience of working at Facebook. He says, "Facebook is undoubtedly the best companies to work for. The culture is very open and everything there is result driven. Despite being a big company, the teams there remain small in size, giving a sense of belongingness. Creativity is what makes the company unique, so any sort of idea from anyone is encouraged and nurtured."
At Facebook, I helped connected SMEs and large advertisers to their customers using Facebook Ads. It was altogether a great learning and fulfilling experience.
CE: What was the initial idea behind starting up Lybrate? What was your motivation to quit the job and startup on your own?
Saurabh: The sole motivation was to bring a paradigm shift to healthcare delivery in India. What prompted me was the way people were blindly relying on chemists for fixing their health problems. During one of my visits to Delhi, I came across a very disturbing trend.
I saw chemists were directly diagnosing the health woes of people, for which they were not even qualified.
More worrying was the fact that if such a thing was rampant in Delhi, how it would be in tier 2 and tier 3 city. My intrigue-ness led me to the root cause, which was nothing but inaccessibility of doctors.
While figuring out a solution, I thought what if there was a platform that could connect users with any doctor in India? I replicated my experience of connecting different users via technology to build Lybrate, a platform that connects users with any doctor across India. Lybrate has exceptional potential to make healthcare incredibly accessible to people in the country.
We got interested. On asking how Lybrate makes money, Saurabh said:
Lybrate's revenue model is simple. Patients pay a convenience fee on top of online doctor consultation fee.
CE: Tell us something about Lybrate that is not yet well known.
Saurabh: Lybrate is solving India's fundamental problem of healthcare delivery in India, that being the inaccessibility of doctors which is being compounded by demand-supply gap of healthcare professionals.
By increasing the access to healthcare experts, we are fixing the issue of doctors' crunch in the country.
While our app seamlessly connects users to doctors, it also imparts medically authenticated information to them. Today our app is the:
Only app to have medically authenticated answers to users' queries (users can ask their health-related questions and doctors then reply to their queries for free)
Only app that makes possible 1:1 private conversations between users (who remain anonymous) and doctors for a fee (users can get into 1:1 WhatsApp-style conversations by paying the doctor's professional fees and share their medical reports, photos of affected body parts, prescriptions and medical records anonymously). Users' contact details (email address, phone number) are never revealed to doctors in such cases.
Only app to have medically curated healthcare information (health tips posted by doctors themselves to keep users healthy. Each health tip is categorized under one of the 400 topics and users can choose to receive health tips based on their interest)
When asked about competition in the market, Saurabh replied saying -
Different platforms are trying to do different things. Lybrate is India's mobile-first healthcare information, access and delivery platform.
We are fixing the root cause of the problem in a holistic manner by increasing the accessibility of doctors and enhancing the ability of users to connect with doctors anytime, anywhere. Besides, we also want users to stay healthy and not approach a doctor only when they are really sick. Our vision is make people live healthier.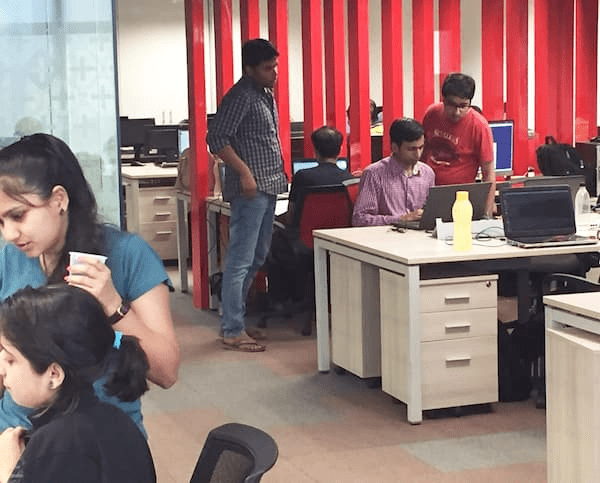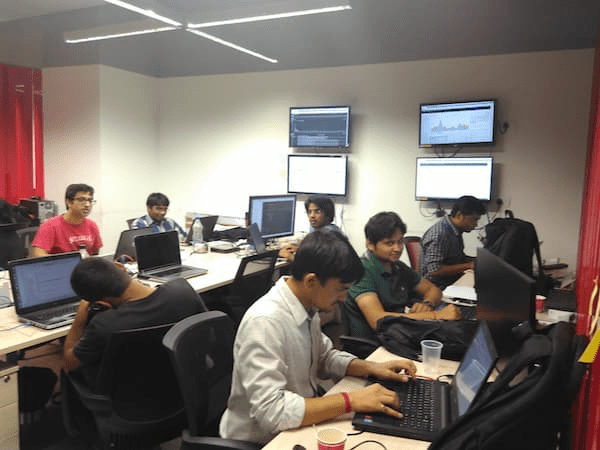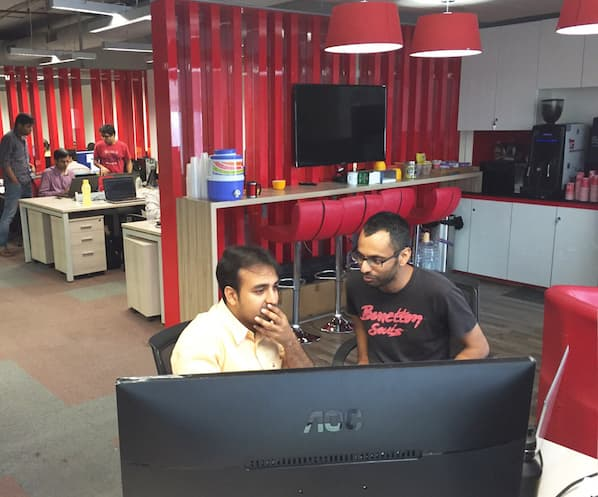 Lybrate Team 
CE: What do you think can help engineers turn into innovators?
Saurabh: Trusting the engineers in whatever they do goes a long way. They need to be given a free hand in designing the system and made to feel confident that even if something goes wrong, there is somebody for course correction. It is fine to err and learn from them. Such an attitude makes them try out new and innovative things. The culture of trying new things without fear of repercussions should be encouraged.
CE: What according to you are the important questions any aspiring entrepreneur should try to answer before launching any new venture?
Saurabh: For a person who wants to be an entrepreneur, getting started is the very first step. There is no right time for it. When you think you have some ground-breaking concept or idea, you can start to give it a concrete shape. However, there are some things that every aspiring entrepreneur must be amply clear about since beginning.
Am I ready to take the plunge?
No one should take a call in a haste. While there is no right time to start, taking stock of things makes things a lot easier. No matter how sure one must be, there are a lot of uncertainties involved which one might be unaware of. Since beginning ones needs to be ready for all upheavals and determined to achieve the goal, no matter what. Perseverance is the key.
Do I know my target audience?
Knowing full well the target audience helps the product development process and product performance. Don't try to solve all possible use cases. Initially, it's important to focus on just one single use case, and ensure those set of users actually love your product.
CE: What are the biggest challenges of a startup in healthcare domain?
Saurabh: In India, the healthcare segment is quite fragmented and disorganized. Thus, getting a clear picture initially for a healthcare startup remains difficult. Also, technology adoption among doctors in the country is dismal. Doctors are not tech savvy.
However, if a startup is able to make an inroad and get the users to use the product, difficulties begin to fade away. In every challenge, there is an opportunity.
CE: What is the one experience of running Lybrate that you would like to share with budding entrepreneurs?

Saurabh: One thing that I would like to underpin is that one should not wait for the perfect product to be out. Ship product to users and review the user experience. Accordingly improve and iterate. There isn't such thing as perfect product.
Preferences changes, so does user habits. A product must keep evolving.
CE: Any message for engineers at the community?
Saurabh: It is very important for young engineers to learn on-the-go. The best learning experience comes from working with a startup which is in its infancy stage as it offers a plethora of opportunities to learn and help develop skill sets. Lybrate is always open to hire engineers who want to bring a sea change to healthcare delivery and touch lives. 
Note: Only logged-in members of CrazyEngineers can add replies.
Recent updates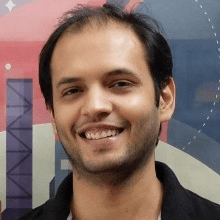 In 10 years, when I go to a hackathon and ask, "Who here has used Postman?" - I want every hand in the room to go up.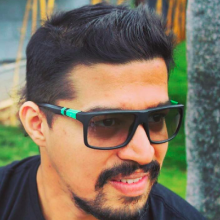 People management, analytical and not emotional driven business decisions is the key.

Abhishek Daga

Thrillophilia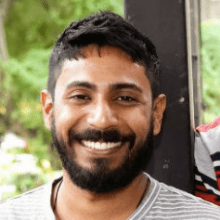 The best way to achieve long-term success is to stay anxious, be super involved in everything that the team does in the nascent stages and keep your eyes on the trophy, even on weekends.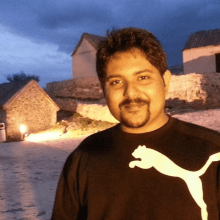 Networking with the right people at the right time is very important for a good clientele. And when you deliver decent work from your end, the goodwill leads to one client from another.

Amitava Ganguly

Couch Potato Media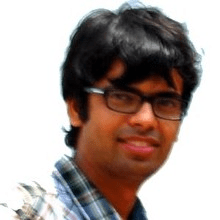 What matters in the long run is how passionate you are about your idea, how much you believe in it, and how well you execute it.

Angam Parashar

ParallelDots