VanityCube Co-Founder Renu Bisht On Her Fast-Growing Beauty And Wellness Startup
By - CrazyEngineers • 8 years ago • 22.2k views
Born in Vishakhapatnam with family roots in Uttarakhand, Renu Bisht was born to a father who was an officer in Indian Navy. Along with an elder sister and an younger brother, Renu was brought up in different parts of the country in Mumbai, Chennai, Andaman & Nicobar, Kerala etc. and therefore has been always social and enterprising. Renu is the first female engineer in her family and has now also become a first generation entrepreneur.

After graduating from Jawaharlal Nehru Technological University with a B. Tech degree in Computer Science Engineering in 2006, Renu went on to do her MBA from Symbiosis International University (Pune) in Marketing-Finance. Since 2009, Renu has been working with various organisation including Aditya Birla Group's Novelis Infotech Limited, Wipro Technologies and KPMG.

In August 2014, Renu Bisht along with her friend Pragya Upadhyay, started her own venture called 'VanityCube', a professional on-demand beauty and wellness services portal that lets you sit back and book a beauty specialist who will come directly to your doorstep, be it your home, office, hotel or any other location in less than 90 minutes. In the last one year of operation, VanityCube has worked with 100+ beauticians and served more than 8000 clients in Delhi NCR and Mumbai regions.

VanityCube has recently received a funding of $2,50,000. They currently process 1000+ orders per month with average transaction size of Rs. 800-1000/- and are looking to expand to 5-6 cities in next one year.

We got Renu Bisht to feature in an exclusive interview with us to talk about her life as an entrepreneur, how it all began, the challenges they tackled and a lot more. Read on and be inspired!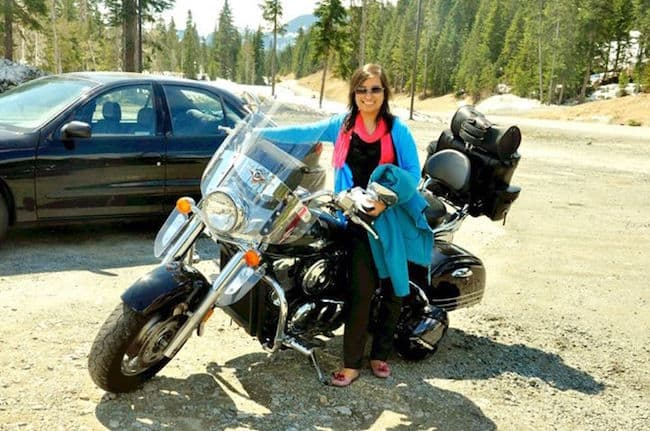 Renu Bisht, Co-Founder - VanityCube 
CE: Years of work experience in the industry later, you thought of starting your own venture. What made you quit your job? 

Renu Bisht: I started my career with Novelis (An Aditya Birla Group company in Pune) after completing my MBA from Symbiosis Pune. After that, I went on to work with Wipro and worked in Canada for an year before moving back to India and joining KPMG. The sheer displeasure of having worked in the same kind of profile for a really long time had got boring and I was looking for a change.

Back then I thought and still do that startup space is quite exciting. I have a wonderful friend circle who motivates me every now and then. People around me were building awesome stuff and hence the idea of starting something of my own came up.

CE: You are a computer science engineer by degree. What part of that education is directly useful to you in your current venture?

Renu Bisht: I think being a computer science engineer is the best thing that could have happen to me. There is so much happening in technology space these days. Having understood the subject, helped me work better from technology perspective.

CE: How did you meet Pragya your co-founder? What parts of the startup do you handle separately?

Renu Bisht: Pragya and I knew each other from our common friend circle. We used to discuss a lot about new startups whenever we used to catch up. Our husbands are batchmates from IIT Bombay and brainstorming on our ideas was our regular ritual. Today, Pragya takes care of Operations and Vendor relations and I take care of Business expansion, Marketing and Technology.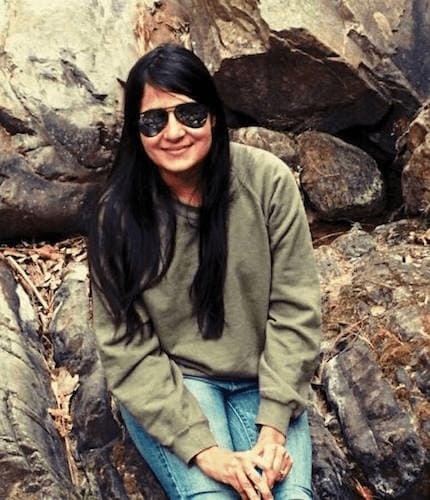 Pragya Upadhya, Co-Founder - Vanity Cube 
CE: What were the biggest challenges you had to face in the first few months of operation? How did you tackle them?
Renu Bisht: Getting the right staff was one of the major challenges. In India, working in a salon is still a taboo in lot of places. On top of that, if you have to go to someone's home it's treated even worse.
Once we got the right staff, making our customers aware about our concept was a tough thing to do, as a lot of customers were taking home salon services from people who use local products and use unhygienic ways to deliver services. Some people had also faced security issues when dealing with home salon services personnel.
But word-of-mouth worked great for us and customers started liking VanityCube.
I think our biggest strength and the key factor that took our business where it is today has been our staff.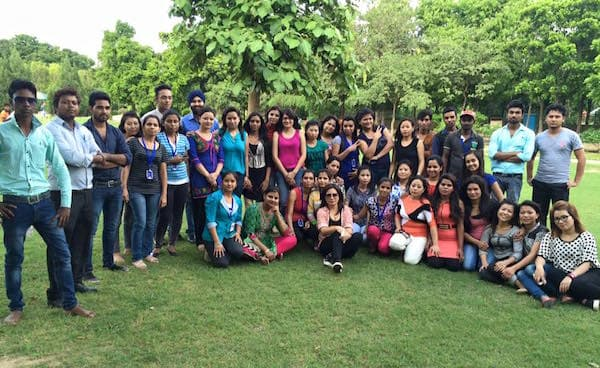 The VanityCube Team 
CE: Why is VanityCube important? What parts of the service you offer are you the most proud of?

Renu Bisht: VanityCube is like our baby whom we nurture every day. Our most popular services are waxing, facial, manicure and pedicure. But we are more proud about the fact that in last one year we have also served customers who were bed ridden and unwell.
Everybody wants to look good and they want to be groomed and giving services to elderly people gives us the most satisfaction. We also do a lot of NGO activities and spread smile on the faces of hundreds through our pamper sessions.
CE: Tell us a story of one of your happy customers - Right from receiving their order up to receiving a good feedback.
Renu Bisht: There are many such happy stories but let me restrict it to just one story. During the start of the business, I remember that a customer called us and she was very sceptical about the services. She even mentioned to us that our services are quite expensive and we must slash our prices. She shared that she takes services from one of the top salon in the city and she is quite a fussy customer.
When our therapist reached her location and started the services, during the services she was so impressed that during her facial services she called up and described how impressed she is with the overall services but also told us to book another appointment for next week.
CE: What is the story behind the fascinating name 'VanityCube'?
Renu Bisht: We did so much brainstorming to get to this name.
'Vanity' is basically your makeup kit and 'Cube' means we just need cube-sized space to pamper you at your location and hence the name 'VanityCube'.
CE: What are the specific challenges that startups in the beauty and wellness segment face? 
Renu Bisht: The industry is quite unorganised compared to lot of other industries and getting the right mix of product, service, pricing and staff for your business is quite challenging. We need to constantly innovate and see what others are doing in this space, learn from the best practices around and implement it.
CE: Who are your biggest competitors in Delhi and other metro cities? How do you plan to maintain an edge over them?
Renu Bisht: There are many competitors in Delhi and other metros. We are currently focussing on quality of service, easy and convenient booking process and focussing on service innovation.
CE: What are your thoughts about the work-life balance among women entrepreneurs? 
Renu Bisht: I think when you are an entrepreneur irrespective of gender; you have to give enough time to your business and have to work hard to build a team that can take you to success. Women are working hard these days. When I was with KPMG, there were times I have stayed in office till 1:00 or 2:00 AM for tenders. Compared to that, today I start my day at 9:00 AM and their is no end time. We work till 12-1:00 AM in office. It is difficult to have work-life balance as an entrepreneur but you have to choose between work and personal commitment and try to give priority accordingly.
CE: If you had a chance to rewind the last one year, what things would you do differently?
Renu Bisht: I think I will start with a tech co-founder if I have to build a product around a service business. You need the right people to kick start and it can give you early success and be more aggressive in the market. Take quicker decisions and execute them.
CE: Any message to your readers aka engineers and wannabe entrepreneurs? 
Renu Bisht: There is no perfect fit when you're looking for the next big thing to do. You have to take opportunities and make an opportunity fit for you, rather than the other way around. The ability to learn is the most important quality one can have.
Note: Only logged-in members of CrazyEngineers can add replies.
Recent updates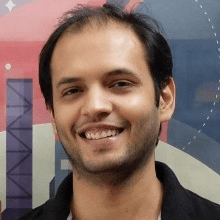 In 10 years, when I go to a hackathon and ask, "Who here has used Postman?" - I want every hand in the room to go up.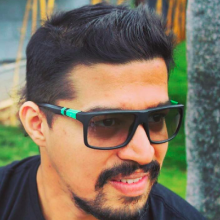 People management, analytical and not emotional driven business decisions is the key.

Abhishek Daga

Thrillophilia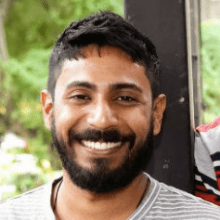 The best way to achieve long-term success is to stay anxious, be super involved in everything that the team does in the nascent stages and keep your eyes on the trophy, even on weekends.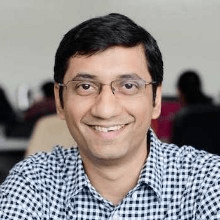 I am happy that we were able to create an online tool that helps people customise their furniture on a real-time basis.

Ajit Shegaonkar

Stitchwood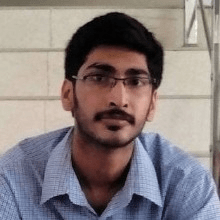 I have learned that just developing a good product is not enough. Marketing and advertising is as important as making a good product.

Akash Shastri

Brainasoft​