How Out-Of-The-Box Thinker Pranoti Nagarkar Created 'Rotimatic' - World's First Roti-Making Robot
By - CrazyEngineers • 7 years ago • 47.3k views
One of the most innovative products of our times, 'Rotimatic' has made it possible to automate the tedious process of making fresh round rotis - the Indian bread that is extensively prepared in almost every household across India. The brainchild of Pranoti Nagarkar Israni, a mechanical engineer & industrial product designer, Rotimatic as a product has shot to fame ever since its launch. We got Pranoti to feature in an exclusive interview with us. Read on!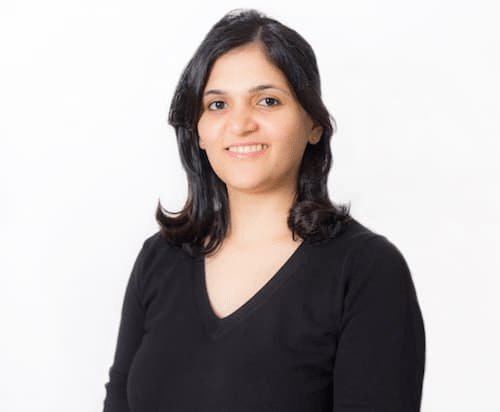 Pranoti Nagarkar Israni - The Maker of Rotimatic 
Born and brought up in Pune and growing up in a family with four generations of engineers, Pranoti would always dream of becoming an inventor. Both her parents have been entrepreneurs in their own ways.
Pranoti's mother, a very dynamic and intelligent woman, is a painter and has started her own interior design consultancy, donned multiple hats, learnt programming to keep up with the latest in the world, and is currently living her passion as a mathematics teacher. Pranoti's father, an extremely logical and practical man, started his career in Machine design. In his 50s he decided to work for himself by starting a Point of Sales turnkey solutions company.
With the ideologies such as 'High thinking, Simple living' and upbringing with focus on experience and learning rather than the actual result, gave Pranoti the best moulding for living life to the fullest.
Pranoti completed her degree in Bachelor of Engineering in Mechanical stream in the year 2006 from NUS and UC Berkeley. She had a taste of success during a third-year undergraduate design project where she and her team designed a working prototype for Philips that could automatically iron shirts, and won the best design prize. After graduation, she joined Inovasia, a product design firm, where she worked on a few projects for Philips designing products that were answers to real life practical problems. Her hands-on experience in the entire product cycle from concept to the final manufactured product gave her the impetus to begin her own product development.
Today, Rotimatic is the world's first robot that makes fresh homemade rotis using a elegantly designed, easy to clean, compact machine that makes 20 rotis in one go!
Read on to know the inspiring story of how Pranoti Nagarkar the co-founder of Zimplistic (the company behind Rotimatic) did it all, her struggles through this journey, her passion for industrial engineering, how she maintains work-life balance and a lot more.
CE: What made you pursue Mechanical Engineering? Could you tell us about your decision to go for the graduation courses at NUS and UC Berkeley?
Pranoti: In 1999, I came to Singapore on Singapore Airlines Youth Scholarship to do my A levels at National Junior College. With the love for engineering, I pursued a degree in Mechanical engineering and went into Product Design at National University of Singapore. As part of the university exchange programme, I went to UC Berkeley and got in close contact with world-class teachers and students.
CE: When did you first think about building a Roti Maker? What was the motivation to build such a machine? 
Pranoti: The idea was born out of a brainstorm session with my husband on big problems that technology can help with.
I myself feel the basic need of a solution which will help an Indian family like mine to eat together and not have the mother/wife stuck in the kitchen making rotis.
Despite modern gadgets all around us, no fully automatic solution was available. I thought it was a very meaningful problem to solve, so this drove me to take the first step in 2008. I had worked in a large firm as product design engineer and got to see an entire product cycle and got to lead major parts of it. This gave me the confidence that if I have a product idea, I can design, build, test and take it through manufacturing.
CE: What were your first steps when you started building it?

Pranoti: I quit my job and started to build the first prototype by myself with my own savings. I participated in and won the national Start-Up Singapore competition in 2009, followed by a few other awards and start-up competitions. This is a strategic move for me, as competition not only gives you sustenance money, but it gives credibility to then raise funding for taking the business to the next stage.
CE: Were there people who told you that the idea was implausible? How does one handle the naysayers?
Pranoti: Yes, plenty of them. But I am extremely thankful that my family always believes in my idea and supports me throughout.
The best way to handle the naysayers is to make progress and prove to them nothing is impossible. But you have to 100% believe in your idea and yourself first to be able to do that. I somehow, have complete faith in the idea and my capability of making it possible.
CE: Did people find it strange that a woman was the chief engineer behind Rotimatic? What has been your experience of building and presenting your product before clients and other audiences?
Pranoti: Definitely. When I met people to convince them to come on board, I was usually assumed as part of the marketing team, or that I had simply come up with the concept and let someone else do the rest of the work. It was a frustrating time for me.
I had to do some crazy things to break the stereotype and for that I even learned to ride a motorbike.
I learnt it in our apartment's carpark, got my licence and bought a 200cc Honda Phantom. I rode it everywhere I went for three years, including to meetings.
CE: How did you meet Rishi Israni, your co-founder? What made him write the software that runs the Rotimatic? What were the major challenges he faced in the process?
Pranoti: I met Rishi, my husband, while studying at the National University of Singapore.
An important motivation that brought us together to work on Rotimatic was our complementary skills and abilities, which were essential to make the solution possible. Rotimatic is a robotic device, with 10 motors, 15 sensors, 300 unique parts, microprocessor with a sophisticated firmware and software to control all these parts.
I bring in the mechanical, industrial & product design and manufacturing experience whereas, Rishi brings in the software and tech expertise necessary for such a complex product. Furthermore, Rishi loves complexity and I love to clarify and simplify things. These varied preferences have made it possible for us to deliver an easy user experience for such a complex robotics product. But most importantly, it's the common purpose and passion for health, family that enable us to persevere through all the challenges, build a team and bring the business to this stage.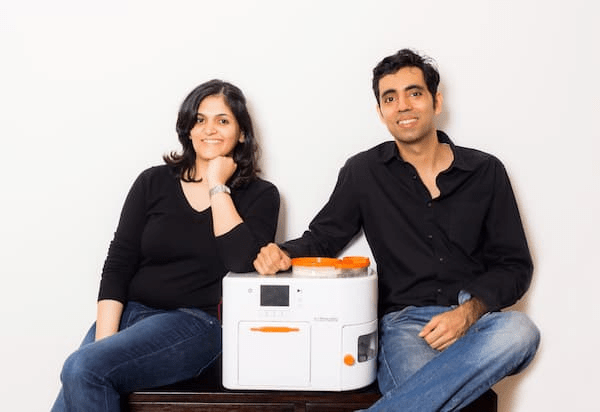 Pranoti & Rishi Israni - Founders @ Rotimatic 
Rishi has experience building his own startup. He was the CTO at his old company, so to step up as a CEO and handle all business aspects in addition to leading the software development for Rotimatic was a stretching experience. Rishi and I had to take up many other responsibilities in seeking for investments and building a strong team.
CE: What was it like to survive on $1,000 a month back when Rotimatic's first prototype was being built?
Pranoti: It's simple. I was taught to live simply from a very young age. I believe we need very little to be happy. We also made very smart practical decisions for example: we rode our bikes to save on time and transport, shared apartments with friends, and generally lived minimally.
CE: How big is the Rotimatic team at the moment? What are the various departments that your employees are currently working on?
Pranoti: We have 32 team members (and growing) in mechanical engineering, electrical engineering, firmware, quality assurance, finance, marketing, operations and customer support. We also have an in-house chef to take care of our health and welfare in the office. ?
CE: Your brother, who is an automobile engineer, is helping the company design Rotimatic's manufacturing line in India. How is that shaping up?
Pranoti: He is part of the Zimplistic team and is leading the manufacturing efforts. We have the manufacturing done in Malaysia. He worked in India prior to this at the Tata Engineering Research centre. He brings in the passion and dedication that is needed to build assembly and establish processes and testing from scratch. His role has been pivotal and I am very grateful to him to have the courage to come and help us when we were really struggling to find capable dedicated people in such a risky phase of the company.
CE: Engadget has called your product "The robot that bakes the world's most expensive flatbread." What are your thoughts about Rotimatic's pricing? 
Pranoti: Rotimatic is the world's first fully automatic roti making robot. We are lucky and happy to be the first team in the world to develop the solution after years of R&D. But this also comes with many big first-time challenges.
The main challenge was to automate a task which is currently done by the best machine in the world- a human, that too needs a fair bit of practice as roti making is almost an art. We had to engineer technology inside from scratch and design processes without any precedent to follow or improve upon.
It needed multiple multidisciplinary innovations to make Rotimatic possible, just like how the first washing machine or computer first came about.
We expect Rotimatic to revolutionize the kitchen, help people eat healthier and save them more time to do what they love. We believe in the revolutionary value Rotimatic brings about and there are many people in our waitlist who would agree with us.
As we scale up and when there are opportunities to bring the cost down in the future, we will. Our mission is to place Rotimatic in the home of every roti-lover and simplify their lives.
CE: What do you like the most about industrial engineering & design?
Pranoti: The ability to create meaningful (and beautiful) inventions that matter - to make an impact at scale. Although I am not a trained Industrial designer, I have realised that passion, sensibility of mechanical design and most importantly the user perspective which helped me to design Rotimatic architecture, mechanics, and industrial design, is the real requirement.
CE: Is Zimplistic working on other innovative projects, apart from the Rotimatic?
Pranoti: We are on a constant look out for big problems that technology can solve. Currently Zimplistic only focuses on bringing Rotimatic to market. Once this is done, we will expand to other types of flatbreads such as tortillas and wraps.
CE: What is your advice to young women who want to become product creators, builders and entrepreneurs?
Pranoti: Believe in yourself, your idea and persevere. Find a support network and a team to nurture and build up on your idea. Constantly grow and have fun along the way.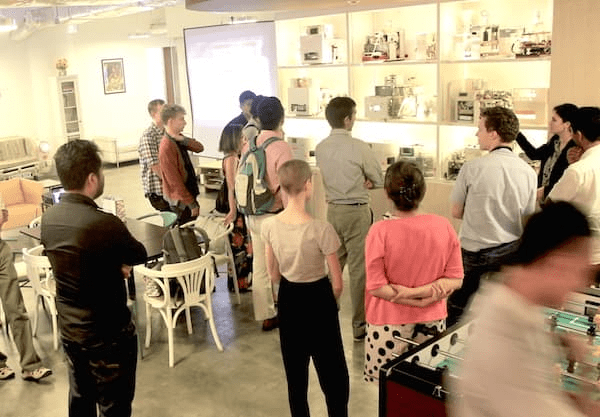 CE: How important was your family's support in your entrepreneurial journey? After all these years, how do you go about maintaining a balance between professional & personal commitments?
Pranoti: I am extremely grateful to have my family's full support during my entire journey with Rotimatic, without which I wouldn't be able to make it till today.
My parents have given me such an incredible upbringing, very balanced, very high thinking simple living values. Especially since now that I am a mother, I see how much we can stress and not stress about every little thing about our kids. I have been given the life skills to focus on clarity of thought, being practical, being curious, being able to judge and see objectively myself when I make a choice. This is very important I feel. My husband and his family have been super supportive, loving, caring, everything a woman would wish for.
CE: What are the future plans for Rotimatic? Where do you see the company 3-5 years down the line?
Pranoti: We are now focusing on bringing Rotimatic to market and fulfill the first pre-order batch. After which, we will open more orders and expand into other markets aside from Singapore and the US. Aside from manufacturing, the team is also building a Rotimatic app to enable remote control, feature upgrades and recipe downloads. More app features will be added to make the whole user experience more holistic and seamless.
Moving forward, we will develop more versions which can make more types of flatbreads like tortillas and wraps to cater to a wider market.
Future kitchen robotics is the vision of our company. We aim to develop meaningful inventions to help people eat healthier and live better without hassle. This will be the direction guiding our next invention journey after we roll out Rotimatic.
CE: Any message for your readers and wannabe entrepreneurs?
Pranoti: Be adventurous. Dream big. Don't be afraid. Believe in your dreams and persevere. And don't forget to enjoy the ride! Remind yourself of the Big picture and move One step at a time towards it. 
Note: Only logged-in members of CrazyEngineers can add replies.
Recent updates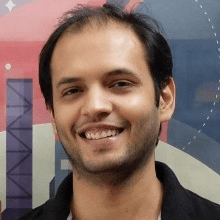 In 10 years, when I go to a hackathon and ask, "Who here has used Postman?" - I want every hand in the room to go up.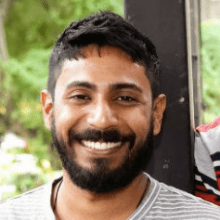 The best way to achieve long-term success is to stay anxious, be super involved in everything that the team does in the nascent stages and keep your eyes on the trophy, even on weekends.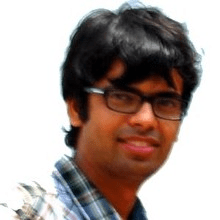 What matters in the long run is how passionate you are about your idea, how much you believe in it, and how well you execute it.

Angam Parashar

ParallelDots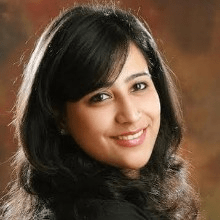 Giving up the comfort of a decent career and a stable income and going to an unknown void was the most difficult thing to do.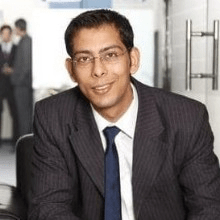 What one learns in a year of entrepreneurship is much more relevant than 10 years of job experience.

Annu Grover

Nurturing Green