How 'EventsHigh' Makes Event Discovery And Ticket Booking Easy
By - CrazyEngineers • 8 years ago • 44.9k views
Nikesh Garera comes from a strong background in computer science engineering. Having did his graduation from University of Mumbai (B.E.) in the year 2002, he went on to pursue M.S. in Language Technologies from Carnegie Mellon University (CMU) and a Ph.D in Computer Science from John Hopkins University. He has worked at Google and Kosmix which later became WalmartLabs on various projects related to NLP (Natural Language Processing) and Machine Learning. He brought years of experience of working in the field when he decided to become a co-founder at 'EventsHigh'.
It so happens that many of us come to know about an interesting event in our city only after it has happened when news about it is printed in the newspaper next day or a friend calls to say, "Hey, that event was so good! You should've attended it." Much to our dismay, it is only through billboards or social media or online ads do we come to know about an event and sometimes it's too late.
Nikesh and his co-founders Arvind Batra and Parag Sarda (former colleagues at WalmartLabs) came together to solve the problem of finding events happening around you before they've taken place through their startup called 'EventsHigh', an event discovery portal that can be accessed via their website or through the Android app.
We got Nikesh to feature in an exclusive interview with us to know about his thoughts on entrepreneurship, their work so far and their expansion plans. When we asked him about the things that their team's efforts are currently focused on, he had just one apt word for it - "Growth".
Read on to know more about Nikesh, his co-founders and their startup.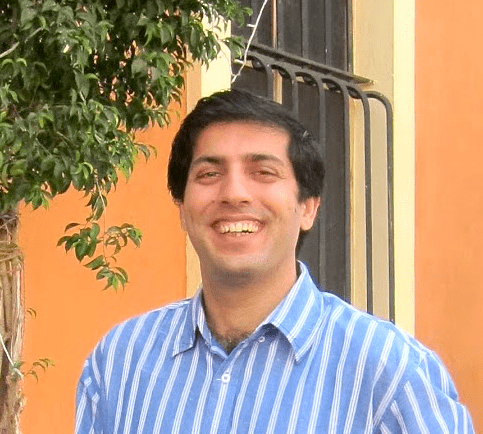 Nikesh Garera

Nikesh's been born and brought up in Mumbai and has done a lot of crazy things growing up. He hails from a family which has a business background, but EventsHigh is the first venture of his own. He recalls the time from his engineering college days where he spent most of his time in attending sports tournaments and says, "One of the fondest memories is winning the badminton championship for our college."
Nikesh met Arvind Batra in 2009 at Kosmix, which was a startup in bay area that was acquired and became WalmartLabs. They've been working together ever since. Arvind & Nikesh moved to WalmartLabs India in 2012, where they met their third co-founder, Parag Sarda. Nikesh says, "We agree to disagree on many things! And what binds us together are our core values."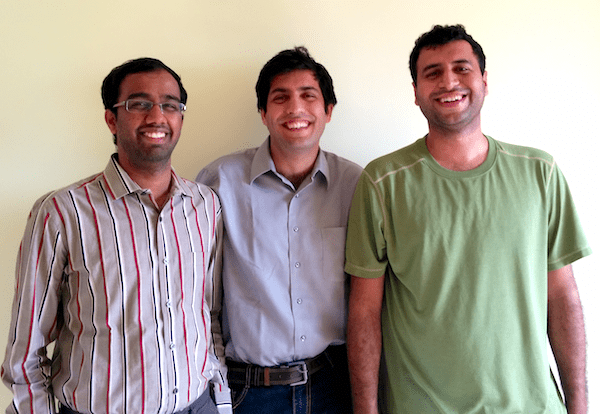 (From R to L) Parag Sarda, Nikesh Garera and Arvind Batra
The trio found it too painful to look at several different sites for local events & activities and were thinking that instead of we searching for them, the relevant ones should just come to us.
"The trigger was when we took part in a hackathon in bay area to let us remind of whenever Google I/O comes up, since it would sell out very fast and we would miss out on the free phones!"
CE: Tell us about the top features of EventsHigh that sets it apart from the competition.

 Nikesh: Coverage & Relevance. The biggest pain is to go to 10 different places to see what's going on, and through our technology we bring everything at one place. And once that happens, being able to filter what's not relevant and suggest personalized events to the user becomes critical. We solve relevance via three dimensions:
Location: Users can see what's happening near them on a map. Commute is a big problem in Bangalore and the first thing that users wanted was what's happening nearby.
Interest: The personalized "My Events" screen. Our secret sauce is in categorizing events & activities into thousands of interests and matching them with user's interests.
Friends: Make it more social and let users know if their friends or contacts are attending a particular event, or if they have also checked out the details about the same event.
CE: How big is the EventsHigh team at the moment?

 Nikesh: Currently we are a team of 7 and we want to expand around our mobile user growth while keeping the team lean. We are also looking to scale up our supplier side integrations.
I believe that when it comes to talent acquisition, the incentives have to be aligned. Almost all of our team has good equity ownership, and that also helps you hire the right people who believe in the company's vision.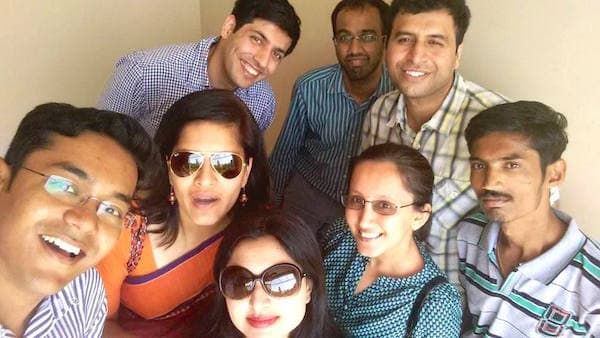 EventsHigh Team posing for a quick group selfieCE: How difficult was it to get events listed on your portal?

Nikesh: The complexity is in the technology that does crawling, extracting, de-duplicating and organizing events information automatically from various online sources. The biggest challenge is in organizing this unstructured data and recommending the right events to the user. Once we had the technology ready, collecting and organizing events data automatically at scale became very efficient.
CE: What is the revenue model for EventsHigh?

 Nikesh: One of the biggest pain points that organizers have is filling empty seats. Organizers can use our platform to create/manage/sell events, see realtime stats and promote their event to the right audience based on user's location and interests.
CE: Tell us about the company's expansion plans. Where do you see EventsHigh 2 years from now?

 Nikesh: We want to scale up across geographies, both internationally and in India. We are also launching our supply app in July and I am really excited about the value add it brings for the organizers. Our mission is to be the best events platform for both event goers and organizers.
CE: What are the biggest challenges of running this company?

 Nikesh: In general, the biggest challenge for a startup is clarity and then being laser-focused in your execution.
CE: How would you describe the experience of being an employee vs. being an employer?

 Nikesh:
As an employee, you think about how can I improve and perform my best. As an employer, you think about how can I create an environment that enables everyone to perform at their best.
CE: What are your thoughts about engineers doing research work in India and brain-drain vs. brain gain?
Nikesh: With online course platforms such as Coursera, Udacity and so on, everyone has now access to the best education material in Machine Learning, NLP and in other areas and it's becoming a level playing field.
I am also seeing several tech startups in India being aware and making using of state of the art research. Overall I feel there is much lesser brain drain happening compared to 10 years ago and I am also seeing a reverse trend with many of my colleagues returning back to India.
CE: Any message for young engineers and aspiring entrepreneurs?

 Nikesh: 
For engineers aspiring to be entrepreneurs, start learning non-tech skills: Product, Design, Marketing & Sales. 
Take up projects in these areas and understand what it takes to win in each. Give a lot of thought to charting out few paths to win in your space. And don't start alone, find people with whom you share your values & vision, and then make them your co-founders!
Note: Only logged-in members of CrazyEngineers can add replies.
Recent updates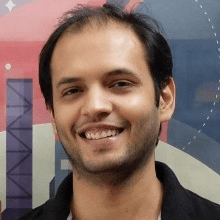 In 10 years, when I go to a hackathon and ask, "Who here has used Postman?" - I want every hand in the room to go up.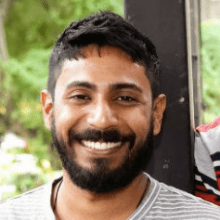 The best way to achieve long-term success is to stay anxious, be super involved in everything that the team does in the nascent stages and keep your eyes on the trophy, even on weekends.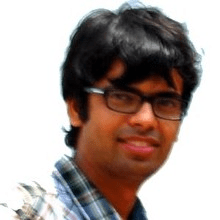 What matters in the long run is how passionate you are about your idea, how much you believe in it, and how well you execute it.

Angam Parashar

ParallelDots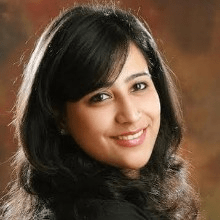 Giving up the comfort of a decent career and a stable income and going to an unknown void was the most difficult thing to do.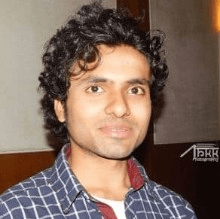 We want to aware people about the benefits of proper organized disposal of waste material can create an impact to their life to the nation and to the environment.

Anurag Asati

TheKabadiwala.com