Driven By The Dream To Make His Idea Successful, How Jinaraj P G Built FieldEZ
By - CrazyEngineers • 8 years ago • 27.6k views
Born in a village in Palakkad, Kerala, Jinaraj P G hails from middle class background. His dad was a BSNL employee and mom a home maker. There was no entrepreneur in the family. Jinaraj and his two brothers wanted to be engineers because the most glamorous job they had seen in the childhood was that of a telecom engineer in their dad's office. Being good at studies, Jinaraj was one of the first engineers from his village.
After graduation, Jinaraj went on to work at various MNCs and startups in the field of software and IT services. Some organizations where he held key lead positions in engineering include Cisco, i2 Technologies, MindTree Consulting, Ketera Technologies, PepsiCo etc.
With extensive work experience under his hat after working in the industry for over 16 years, Jinaraj had come to a position where he was starting to get bored of working for others. The year was 2011. Jinaraj thought, "The company I am working for is not allowing me to be innovative."
He wanted to create a world class product on his own and started nurturing the idea of a product that was in digital advertisements – a marriage between digital media and mobile phones.
"I built a prototype and was looking for an investor. I got connected with Mr. Ramaswamy who instantly became interested in the product after seeing a demo. By this time I had resigned from CISCO and had started pursuing this business idea full time. One dramatic turn happened one day when Ram asked me to help in building a mobile application extension to his existing CRM software. I just kept my original idea aside and worked few days on this mobile application", says Jinaraj.
After couple of weeks of work, they realized the potential of the application and that became the starting point for FieldEZ. They quickly registered the company and formed a small team and enriched the product with lot of features that were attractive to the enterprise business.
"This application solves one huge problem in enterprise field force management space – lack of visibility about what is happening in the field", adds Jinaraj. To fill the clearly visible gap, FieldEZ started forming its roots in the mind of the engineer turned entrepreneur.
We got Jinaraj to feature in an exclusive interview with CrazyEngineers to know more about their startup's exciting journey over the last 5 years. With over 26,000 users, their product has become strong and stout and is growing every day. Read on to know what Jinaraj has to share about their startup's initial days, competitors and more.
Jinaraj P G, Founder and CTO - FieldEZ 
FieldEZ is an award-winning mobile Field Force Management Solution that helps manage your field operations in real-time. FieldEZ provides visibility from "the Road to the Board" with features like ticket / lead management & scheduling, location & attendance tracking, invoicing and more. FieldEZ's powerful configurability and integration capabilities with back-end systems makes it the ideal choice for a multitude of industries and applications.
In India, traditionally, reactive Field Service Management (FSM) has been the default service organization approach to delivering good customer service. Times have changed and the present day consumers are extremely demanding. Service organizations now need to increasingly adopt a more strategic approach to revenue growth, customer satisfaction, competitive differentiation, and overall service quality – all of which cohesively define Field service success. Automating field service management would soon be the new normal and organizations are already preparing for it.

CE: What were the initial days of running your startup like?

Jinaraj P G: We hired a small 60 square feet – almost a small shop – in Manipal center, Bangalore and started our operation in March, 2011. I recruited two freshers (Abhishek and Chiran - both were referrals). Meanwhile, Kamakshya, who used to work with me promised to join in two months. He became my right hand man. We wrote plenty of code in the next couple of years. Problems – plenty!
We literally had to do everything – including cleaning the office, taking care of couriers… the list goes on. The biggest problem in business was getting the first big customer. That happened by the end of 2011. Wipro became our first big customer.
CE: Tell us about your experience in seeking & bagging investment for FieldEZ.

Jinaraj P G: We had started to understand the need for bigger marketing and sales budget by 2013 which we never had. There was no specialized marketing or sales team and we also wanted to hit the US market. We started going to VCs and most of them showed interest in us because we had few big names in Indian market by that time – Wipro, HCL and ICICI Bank. Investors knew we have a solid product since these big customers were paying us and had great retention. IDG & Ivy Capital decided to back us in 2013 and we raised our Series A.

CE: Whom do you consider your biggest competitors?

Jinaraj P G: In India, we have various IT services companies as our competitors. They build custom mobile applications. But the advantage we have is – low cost in deploying the solution quickly. While custom solutions could take one year and more, we take couple of days to configure the application for our customers. In US market we have a number of competitors – Fieldone, FieldAware, mHelpdesk, Jobber etc.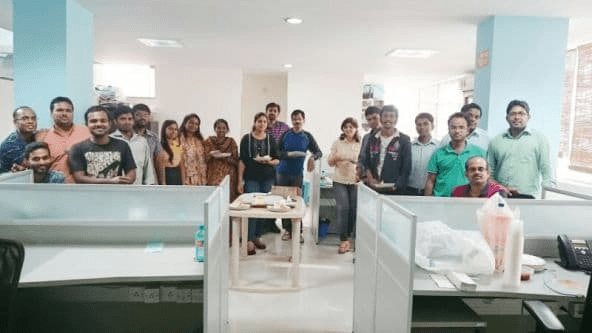 FieldEZ Team 
CE: What major technical challenges do you face in managing end-to end services?

Jinaraj: Keeping the product integrity while making the product flexible to customizations through configuration. The same product that is used in Wipro for after sales service management is used as lead management platform for ICICI Bank. This is a huge technical challenge.

CE: How is FieldEZ's mobile field workforce service different from any other helpdesk ticket management service?

Jinaraj P G:
The challenge with traditional desktop or web based helpdesk ticket management services is that of manual updation of field data – usually when the field staff return to office at the end of the day. This is a huge issue for the management – poor SLA management, inefficient field force management etc. FieldEZ solves this through the mobile first approach.
FieldEZ has mobile native applications across all platforms – iOS, Android and Windows phones – and a server application that can be accessed through browsers. Data from the field instantaneously get updated to the server and the managers who are using the graphical scheduler manages the field staff efficiently. FieldEZ server application works as a CRM for SMBs and for enterprises, it is a bridge between FieldEZ mobile app and CRM.

CE: Where is the FieldEZ located? What is the typical day in the office like?

Jinaraj P G: FieldEZ is located in Richmond Town Bangalore. We have very flexible office time. Engineering team usually is busy with the feature releases and discussions with product management for the next innovative idea that will keep us ahead of the competitors. For implementation team, it is all about making sure the implementations for the customers are working fine and finding solutions to new customer problems. By the way it is not just work and work – it is also fun. Average age at office is 26 years. Debates – nothing particular, all under the sun is discussed – planning for the weekend treks etc.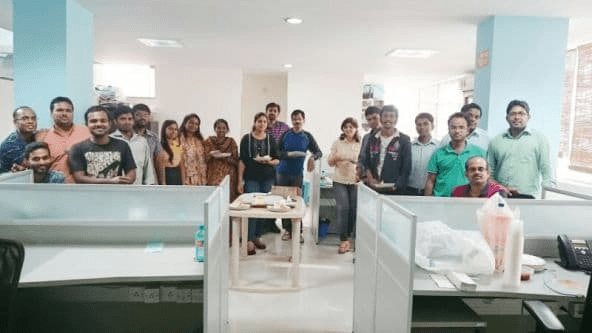 FieldEZ Team @ Bangalore Office 
CE: What are your thoughts about starting up young vs. starting up after acquiring substantial work experience?

Jinaraj P G: Both have merits as well as some disadvantages. For example, youngsters don't have past baggage while experienced people have the advantage of past experience. A mix of both worlds make it perfect in my opinion.

CE: How big is FieldEZ at the moment? What are the expansion plans?

Jinaraj P G: We have around 26,000 users using our product around the globe. We are twenty seven employees. We need to expand our market to unexplored geographies – middle east, ASEAN countries and Europe.

CE: Are you enjoying the entrepreneurial journey?

Jinaraj P G: It is a mixed bag. Till you are successful, it is full of ups and downs. Success or failure, it teaches a lot of good lessons.

CE: What makes you wake up & get back to work everyday?

Jinaraj P G: It is the prospect of making your own idea successful. The acceptance of our product among the 26 thousand users around the globe is my biggest motivation now.

CE: Any message for engineers and aspiring entrepreneurs?

Jinaraj P G: First priority – be a good human being, second – be a good engineer , then there is a natural path to become a good entrepreneur.
Note: Only logged-in members of CrazyEngineers can add replies.
Recent updates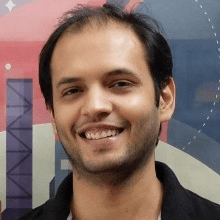 In 10 years, when I go to a hackathon and ask, "Who here has used Postman?" - I want every hand in the room to go up.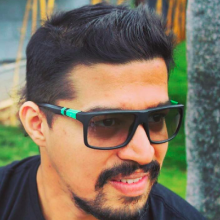 People management, analytical and not emotional driven business decisions is the key.

Abhishek Daga

Thrillophilia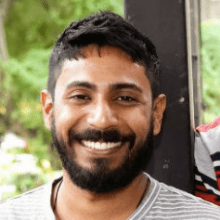 The best way to achieve long-term success is to stay anxious, be super involved in everything that the team does in the nascent stages and keep your eyes on the trophy, even on weekends.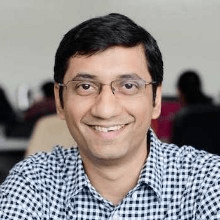 I am happy that we were able to create an online tool that helps people customise their furniture on a real-time basis.

Ajit Shegaonkar

Stitchwood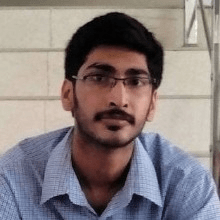 I have learned that just developing a good product is not enough. Marketing and advertising is as important as making a good product.

Akash Shastri

Brainasoft​