Pick My Laundry CEO Gaurav Agrawal On How They Aim To Solve The Laundry Problem In India
By - CrazyEngineers • 7 years ago • 24.5k views
Born and brought up in a small town in Chattisgarh, Gaurav Agrawal studied in 6 different schools till class 12th. His family is entirely into business, but the IIT BHU graduate decided to do things on his own. He cleared the IIT-JEE in first attempt and out of sheer passion to join a IIT, he took the best option available i.e. Metallurgical Engineering and upon graduation in 2011, he joined as a Management Trainee in Tata Steel.
At Tata Steel, Gaurav was working in a Greenfield project, where he looked after the Project Management of Blast Furnace, a unit which produces hot-iron at 1600 degree Celsius. Gaurav worked at Tata Steel for more than 3 years and had by then started discussing ideas with his friends Ankur Jain (IIT Bombay) and Samar Sisodia (IIT-BHU) for doing business that solves a real life problem.
While looking for business opportunities across all sectors, the trio found that laundry wasn't still a big business in India. Everyone in their town needed a professional service, as they were tired of chasing local washerman or dhobi.
When they did some research, they found that On-Demand Laundry services was a thriving industry in the US & UK. The trio started asking friends in metropolitan cities about the need of such a service in India – and everyone said – we will be your customers.
In January 2015, the three friends left their jobs and started exploring the opportunity in the streets of Delhi. At this point, they weren't even sure – how they will get the clothes washed. In their heart, they had decided that they just wanted to deliver well-pressed garments, while making lives easier. That's how - Pick My Laundry was born.
They started with just one vendor in South Delhi and with just one locality – Vasant Kunj. Soon, they found a lot of happy customers, and hence a proven model. Currently, this startup works in various regions across Delhi-NCR and will be expanding to other cities soon. Their Android App is available for free download on the Google Play Store.
In this exclusive interview, we got Gaurav Agrawal, Co-Founder & CEO at Pick My Laundry to talk about his startup, the journey so far, the challenges they faced and a lot more. Read on!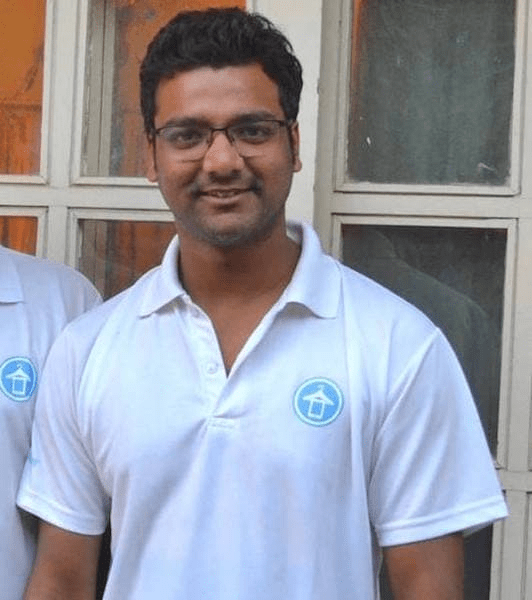 Gaurav Agrawal, Co-Founder & CEO - Pick My Laundry 
CE: How was your experience in running the Volunteer Trail and Samvedna KPO during your days at Tata Steel?
Gaurav Agrawal: At Tata Steel, I always felt I could do more than I currently was. I didn't like going to office at all. And hence, didn't want to work there. I started exploring options, went to a 15 day long train journey called Jagriti Yatra, which inspired me a lot and motivated me to really do something I like. I was always good in event management – where you are required to do lot of multitasking, and manage a team.
I planned Samvedna at Tata Steel (KPO – Kalinganagar Project Odisha) and formed a team of youngsters like me – and we organized campaigns for the local orphanage. It was a huge success. We would have been satisfied had we collected just Rs. 30,000/- but we were able to raise 1.2 lakh rupees. That boosted my morale a lot. That made me think more about what I am doing in a 9-5 job.
Then I planned for a social enterprise – Volunteer Trail – which would allow people to create a path of volunteering. The idea is to create a course for Volunteers – but because of paucity of time, and the lack of a revenue model, I stopped pursuing that and started looking for a real pain point.
CE: Why laundry services? What problem are you trying to solve with Pick My Laundry?
Gaurav Agrawal: The only reason was an existing problem, which was not being attempted in India in the way it should be.
We create value for 2 stakeholders - the Consumers & the Laundromats.
1. For Consumers -
People do not have a professional service available. Doing laundry at home is cumbersome. No one loves to do this job. We usually have house maids to do this, but there are issues such as time mismatch, reliability, ironing etc.
One can find a dhobi in their neighbourhood, but mostly he only irons, – and that too with an archaic coal-based method, that leaves a typical odour that most of us find offensive.
One can own a washing machine - but again drying at home is a problem & ironing anyways has to be done outside. The one-time investment is high, and no bachelor would want to spend that kind of money! And again, colour bleeding by mixing of colours of different garments is another pain point.
No one has the time to bother about where and how laundry gets done! People just want clean clothes when they need it.
Our solution allows them to schedule a pickup & drop via a mobile app. Our aim is to make lives simpler & offer free time.
Doing laundry takes upto 2 hours a week for every individual & if we can save 8 hours a week for a family, it's significant. Time is the most valuable thing we gain, & by offering people comfort & luxury where they do not have to haggle with anyone, worry about misplaced garments or suffer due to water, time and space shortage.
2. For Laundromats -
Faster return over investment.
Reduction of lean hours.
Standardisation of best practises.
Better control over quality and no worries about logistics.
CE: Could you tell us about how Pick My Laundry works?
Gaurav Agrawal: Anyone can schedule a pickup of their clothes through our Android App, Website or Phone call. We have 2 hour slots starting at 8 am till 10 pm and we come with all our own accessories such as Pickup Bags, Weighing Scales, logistics bags & vehicle.
The collected clothes reach processing centres with whom we have a tie-up. Their processing expertise makes sure that all clothes are handled carefully and all stains removed. Then they steam iron the clothes and package them. After a quality check, the clothes are delivered back to the customer's address at the pre scheduled time.
We also receive custom requests like change in delivery time, location, etc and we serve our customers as per their requirement.
CE: How many transactions do you do on a typical day? Tell us a story about the team being overwhelmed by the satisfactory response.
Gaurav Agrawal: Handling 4000 clothes in a day - is our biggest achievement so far. This is done through our in-house technology which makes sure that no pickup and delivery is left unattempted at the mentioned time. Our Operations team is one which always stretches itself as per required bandwidth.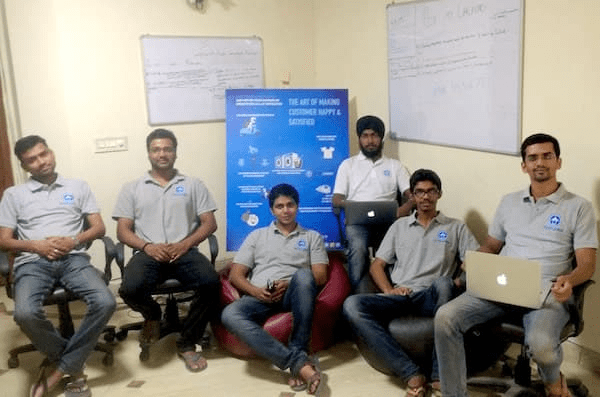 The Pick My Laundry Team
From Left to Right - Vipin Jindal, Gaurav Agrawal, Ankur Jain,
Pawandeep Arora, Mukesh Kumar, Samar Sisodia 
CE: What were the major challenges you face while running Pick My Laundry? How did you tackle them?
Gaurav Agrawal: Sometimes, we get a lot of pickups and deliveries in the evening slots and our afternoon slots remain idle. But we have developed an incentive model & working schedule, which minimises this problem. Also, we get a lot of orders on weekends and the week remains fairly idle. So, we are trying to shift the laundry day from a weekend to weekday through several ways.

CE: What are your major learnings from your startup journey so far? 
Gaurav Agrawal: I have learnt technology, team building, negotiation, communication skills, convincing abilities, execution, designing, product development, etc. These are small things but all things put together makes a complete package which all of us should learn.

CE: What is the most challenging part of being an entrepreneur? What do you love or hate the most about it?
Gaurav Agrawal: Uncertainty - you never know what will happen tomorrow. Life of an entrepreneur is so uncertain and there is always rush for something or the other. You feel sleepy but still want to stay awake. The most challenging part is to keep pace with your own work and outside world.

CE: Any message for your fellow engineers?
Gaurav Agrawal: There is no harm in doing a job. Just do what you love. Even if you are into a startup – you will succeed if you are confident in what you are doing. Right after graduating from college, don't think too much about your salary or your place of stay or any other ancillary. Focus on what you are learning, as this will help you in the long run.
Note: Only logged-in members of CrazyEngineers can add replies.
Recent updates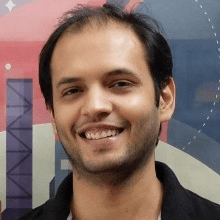 In 10 years, when I go to a hackathon and ask, "Who here has used Postman?" - I want every hand in the room to go up.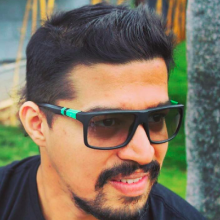 People management, analytical and not emotional driven business decisions is the key.

Abhishek Daga

Thrillophilia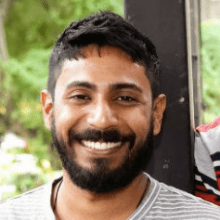 The best way to achieve long-term success is to stay anxious, be super involved in everything that the team does in the nascent stages and keep your eyes on the trophy, even on weekends.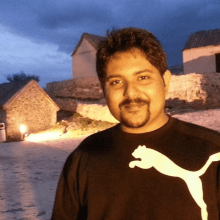 Networking with the right people at the right time is very important for a good clientele. And when you deliver decent work from your end, the goodwill leads to one client from another.

Amitava Ganguly

Couch Potato Media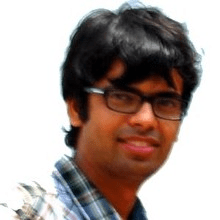 What matters in the long run is how passionate you are about your idea, how much you believe in it, and how well you execute it.

Angam Parashar

ParallelDots