How 91Mobiles Became The Largest Gadget Research Site In India
By - CrazyEngineers • 7 years ago • 32.1k views
91mobiles is a consumer electronics company co-founded by Bharanidharan Viswanathan and Nitin Mathur in the year 2010. 91mobiles.com is curently the largest gadget research site in India. They provide information, reviews & smart tools to help their customers decide which gadget best suits their needs. On a monthly basis, 91mobiles is visited by over 6 million gadget enthusiasts, and ranks among the top 300 websites in India.

Bharanidharan Viswanathan completed Mechanical Engineering from Anna University in the year 1999. He then worked with Cognizant Technologies for close to five years and later with Convergys Information Management Group, MIH Web Private Limited for almost two years prior to starting up with his first entrepreneurial venture antya.com. 91mobiles.com is Bharanidharan's third venture.

In an exclusive interview with CrazyEngineers.com, we got Bharanidharan to talk about his experiences at 91mobiles.com, his first entrepreneurial venture - antya.com, his second entrepreneurial venture - gaadi.com, source of inspiration behind 91mobiles.com, how he got in touch with Nitin Mathur, why does he think 91mobiles.com can beat the competition and a lot more. Read on!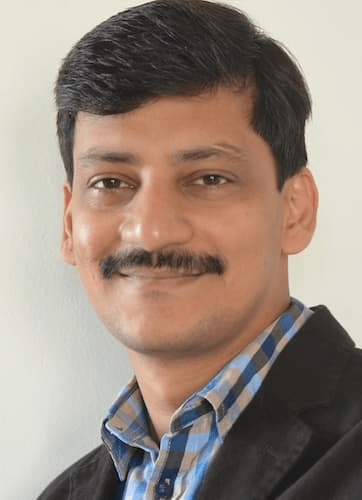 Bharanidharan Viswanathan 
CE: Hi Bharanidharan. Could you please tell our readers something about 91mobiles.com that is still unknown?

Bharanidharan: 91mobiles is the largest gadget research website in the country that combines the power of research tools and high-quality expert content. We primarily help people to decide on two important questions : "What gadget to buy?" & "Where should I buy from?". Everything on the website aims to address those 2 primary questions in a convincing manner. We are a 45 people company having presence in Gurgaon and Chennai. For the last 4 years we have been growing 100% year-on-year in terms of traffic and revenue. 91mobiles is venture-funded and profitable. Our customers include all major ecommerce companies such as flipkart, amazon, snapdeal etc., and gadget brands such as samsung, micromax, sony, huawei etc.,

Finally, a fun fact that many people miss is that the number 91 in our logo is the ISD code of India.

CE: You have founded two other start-ups prior to 91mobiles.com. Could you tell us more about your entrepreneurial journey?

Bharanidharan: As a kid, It was my dream to start my own venture. Digital startups and the power of internet fascinated me. The dots got connected over a period of time and I started my first venture antya.com - a discovery-style local search. But I made quite a few mistakes during that startup and I decided to close it down after a period of 8 months. Armed with the valuable learnings from that experience, I co-founded an online auto research website called gaadi.comalong with 3 friends from ISB. The venture was successful and later acquired by MIH India (the ibibo group) and I decided to move on. I was fortunate to see both sides of entrepreneurship - failure and success. When I was figuring out what to do next, the idea of 91mobiles with a vision of making the gadget research simpler and effective came up. I decided to bootstrap the venture with minimum capital and lower cost structure. I spent the first couple of years in reaching the product market fit before reaching out to investors.

CE:  What was the source of inspiration behind 91mobiles.com?

Bharanidharan: Towards the end of 2009, when I was figuring out my next entrepreneurial journey, I spotted a big gap in the gadget research space especially around mobile phones. On one hand, there was a flurry of brands and models released in to the market both from international and indian players. On the other hand, consumer interest and adoption was growing. Thanks to the growing disposable income, people were ready to spend money on gadgets. But it was not easier for people to decide on what gadget to buy and how much to spend. So, we started 91mobiles.com as a gadget research destination that makes the job of finding the perfect gadget for your need easier.
CE:  How did you get in touch with Nitin Mathur, your co-founder at 91mobiles.com?

Bharanidharan: I bootstrapped 91mobiles for first couple of years. All the while, I was looking for a smart and entrepreneurial co-founder. It is very important to have a partner who have the same vision and belief yet having a complementary skill set. In the year 2012, I met Nitin Mathur through a common friend Umang Kumar (who is currently the CEO of Gaadi.com). During that time, Nitin had just sold off his online venture privilegecorner.com and completed his stint at healthpa.com. He was looking for the next challenging and worthwhile opportunity. Nitin and myself spent close to 4 months in discussing various things about industry, vision, style of working, approach towards building a business etc., before deciding to work together. It's been an amazing journey ever since we decided to join hands.
CE: Why do you think 91mobiles.com can beat the competition?

Bharanidharan: On the one side, we have the deals/coupons/price-comparison sites that is helping people to spot good deals and best prices. On the other side, we have tech sites that cover the latest news and reviews about the gadgets. So, people end up going to multiple sites before completing their purchase. We believe that a gadget research site should help users to take decisions on both fronts starting from "what to buy" and then ending with "where to buy". It's a logical journey and we are the only website that does that helps users to do that. In addition, the depth of content, data-science-driven research tools and high-quality expert reviews are not easy to offer and it takes a special focus and team to deliver it. It's not in the DNA of our competitors. The combination of tech and content will help us to not just beat the competition but also to differentiate ourselves clearly in the market.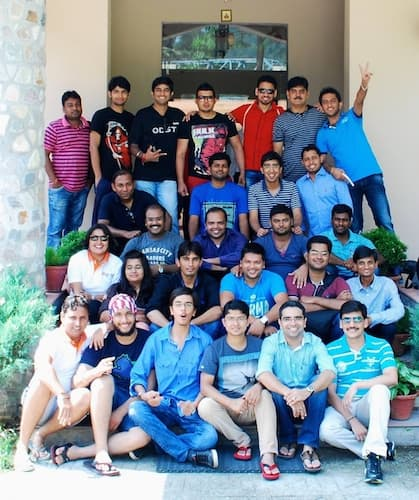 Team @ 91Mobiles 
CE: How much capital do you have and when do we expect cash flow break even?
Bharanidharan: We are well-funded through the investment from India quotient. In addition, we are well monetised and hence have an healthy revenue stream and cash-flow. We are already profitable inspite of the investments we have been making on the talent and product.
CE: How many hours a week do you spend on work? What about family/hobbies?
Bharanidharan: I end up working a lot without realizing it. I am spending close to 14-15 hours every day.
Off-late, I have made it a practice to keep weekends free and spend quality time with my family. I read a lot of non-fiction books, meditate, do yoga and travel occasionally to explore new places.
CE: Thank you for your time. Any message for our readers?
Bharanidharan: Engineers love to build things and solve challenging tech problems. But I have observed that lot of engineers shy away from business and sales. It's important to focus on building a sustainable business and hence one should build a strong business mind-set. Engineers with a strong business-mindset will end up creating large businesses in the long-run.
Also, keep in mind that entrepreneurship is a marathon, not a sprint. You need to persevere and believe in yourself. So going after something you love naturally keeps you going for a long time. Also, you need to stay focused on the problem at hand and not get distracted by opportunities that pop up all around.
Note: Only logged-in members of CrazyEngineers can add replies.
Recent updates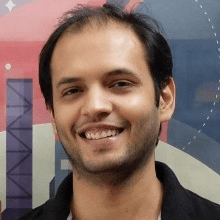 In 10 years, when I go to a hackathon and ask, "Who here has used Postman?" - I want every hand in the room to go up.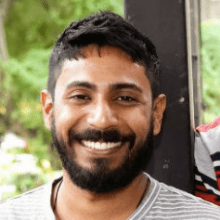 The best way to achieve long-term success is to stay anxious, be super involved in everything that the team does in the nascent stages and keep your eyes on the trophy, even on weekends.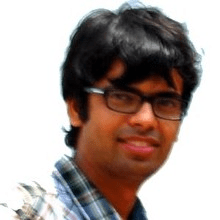 What matters in the long run is how passionate you are about your idea, how much you believe in it, and how well you execute it.

Angam Parashar

ParallelDots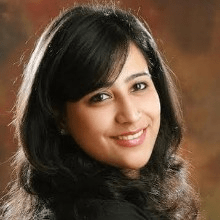 Giving up the comfort of a decent career and a stable income and going to an unknown void was the most difficult thing to do.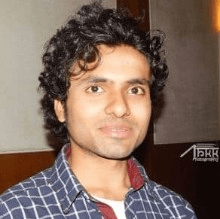 We want to aware people about the benefits of proper organized disposal of waste material can create an impact to their life to the nation and to the environment.

Anurag Asati

TheKabadiwala.com