All About AIB - India's Edgiest Comedy Collective Group
By - CrazyEngineers • 8 years ago • 46.1k views
If you have been on social media, you have heard about them. AIB (short for All India Bakchod) is co-founded by comedians Gursimran Khamba and Tanmay Bhat, along with Rohan Joshi and Ashish Shakya. Their comedy shows, podcast episodes and other gigs, including youtube videos such as 'Rape: It's Your Fault' featuring Bollywood actress Kalki Koechlin and the recent 'Alia Bhatt - Genius of the Year' have went super viral and attracted more than 50 lakh views each.

We go in touch with Ashish Shakya, an Electronics and Telecommunications Engineer from University of Mumbai, who has worked in the past as a scriptwriter for CNN-IBN's popular show "The Week That Wasn't with Cyrus Broacha" and Pepsi MTV's "Wassup: The Voice of Youngistaan".

In an exclusive interview with CrazyEngineers, Ashish Shakya talks about their team, how AIB finds inspiration, how can startups make their products go viral and a lot more. Read on to find out the story of an innovative startup from India -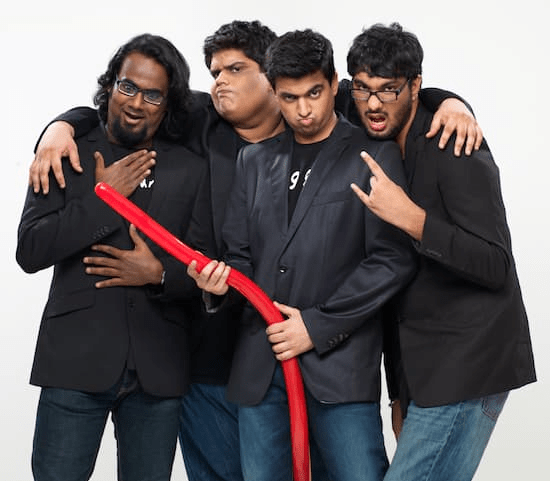 AIB Team
CE: Nobody had ever done a comedy podcast show in India before AIB. Could you please tell our readers what ignited the spark in you to start with AIB? How did you get in touch with Tanmay Bhat?

Ashish: Khamba was in Delhi and bored, and having been inspired by the likes of WTF with Marc Maron and Nerdist, decided to talk to people from the comedy scene just to get a conversation going about the art. That was purely interview based, but when he came to Bombay to study, he met Tanmay (having flirted on Twitter before) and there was a spark and the two fell in love. That's when they came up with the name and turned it into the format we know today - a funny take on news events, general observations about life, the universe and everything, and of course, conversations with funny, interesting people, such as Kashyap, Raju Srivastav, Russell Peters and Johnny Lever.

CE: Where do you look for to get a dose of inspiration?

Ashish: 
We live in India, where inspiration is screaming at you from newspapers, TV channels, films and the weird, wonderful mess that we call society. We see the same things as everyone else - it's just that our twisted brains help in extracting humour from it.
CE: How do you go about marketing your business? What has been your most successful form of marketing? 

Ashish: We've relied pretty much only on social media for promotions and marketing - be it Twitter, Facebook or more recently, Youtube. For example, the past year saw a whole new set of people come in to our live shows. These were people who hadn't necessarily been following comedy before. They just saw us doing fun stuff on Youtube and wanted to see what we were like live. So over the past year, Youtube has been a major driver for our live shows. That's how we managed to sell out large-capacity auditoriums across the country over a period of five months (for the Royal Turds).

That was for the audience. We're managed by OML Entertainment, so when it comes to reaching out to clients and sponsors, they're the ones reaching out on that front.

CE: How many people are there in the AIB team? What are some of the memorable moments for the the team when behind the camera?

Ashish: The core team is four people - Khamba, Tanmay, Rohan and I - plus Abish Mathew and Karunesh Talwar. Then there's Mihir Lele, our animator, Mehar Chumble, our music guy and Shashwat Datta, our editor. Plus a few enterprising interns (that we're always on the lookout for) and a whole lot of other people that we work with on a regular basis - including our director friend Kumar Devanshu and DOP Sahir Raza - without whom our work would not be half as good.

We've had a bunch of fun moments behind the camera. It all comes from the stress (and eventually) satisfaction of watching an idea go from a thought to a video. The recent Alia video was great fun to shoot, as was the India-Pakistan video because it was completely different from what we usually do. It was quite interesting to go up to random people and say, "Aap ek Pakistani se baat karenge?"
CE: Would you rather be a worried genius or a joyful simpleton?

Ashish: Joyful genius.

CE:What lessons can others startups learn from AIB about keeping their audience hooked? What is your competitive advantage and why do you think it cannot be copied?

Ashish: It was a combination of luck and smarts, and the fact that we were itching to do. I guess the idea is to keep trying fun, different stuff, and reject first thoughts as much as possible.

Otherwise there's nothing that can't be copied or replicated. We make sketches, which is a format that anyone can do, so it's not like we've hit upon some unique creative jackpot. I guess the differentiator always will be the team behind any creative endeavour.

CE: If you could go back and do it all over again, from the time you first began planning for your AIB, what would you do differently the second time around, and why?

Ashish: May have rethought the name, just to avoid giving potential sponsors a heart attack.

CE: What is the toughest decision you had to make in the last few months? What sacrifices have you had to make to be a successful entrepreneur?

Ashish: Sleep and social life, I'd say. Our parents and friends have probably forgotten what we look like.

CE: When do you think is the appropriate time of an exclusive direct-to-internet production model for All India Bakchod?

Ashish: Not right now, but eventually. Can't put a definite timeframe on it. It'll be a risk whenever we try it, so it comes down to gauging our audience and our content. It'll happen.

CE: How to monetize youtube videos? And how do you constantly come up with new content?

Ashish: Um, you just click on the monetize option? You make content, people watch, you make money if a lot of people have watched it. From our end, we get a sponsor (like Snapdeal). It works great for them because a good video reaches out to as many people as something on traditional media, if not more, for a fraction of their regular ad spend.

We constantly come up with new content because it is our job to do so. No other way to put it. Also, because of THC.

CE: What other avenues is AIB willing to explore in the near future?

Ashish: We want to expand and go bigger and better across all fronts - Youtube, live shows, international gigs and eventually films. All in good time. *fingers crossed*

CE: Do you remember that time five years ago when you were extremely upset? Does it really matter now?

Ashish: No. And to misquote an engineer's favorite band, Metallica, "Nothing really matters."

CE: A startup's product or a service going 'viral' on the internet today has become a benchmark for every entrepreneur? When and what was the first thing that went viral for you? Can other entrepreneurs get some advice on 'going viral'? 

Ashish: That video was It's Your Fault - a satire on victim-blaming and rape culture, that struck a chord with people worldwide. It recently crossed four million views. Others that helped push us forward include the Yashraj video and more recently, the Alia sketch.
As for advice about going viral, don't ever start by saying, "Boss I want to make a viral video." Because that is not up to you. You make the video and the internet decides if it'll go viral or not. It helps if it's relatable, or outright funny, or features celebrities, but there is no guarantee. Do your best, churn out a quality product and then let people take it from there.

CE: If you just won a million dollars, would you quit your job? Why? Why not?

Ashish: A million between all of us? No. It would make life easier though. A million each? Would make life way easier in terms of financial pressure, but we're too wired to sit around to do nothing, so we'd be doing something fun and creative anyway.
Note: Only logged-in members of CrazyEngineers can add replies.
Recent updates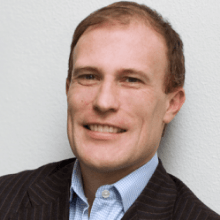 We think with our solution we open up any BI system to that other 80% of all information to get to better-informed more effective decision-making. Research we did together with customers point to a cut in research time of up...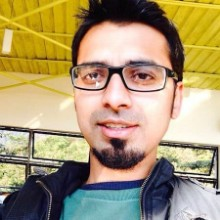 One of my mantra of life is "Never take advice from someone who has not walked into my shoes or been into the similar situation".

Harsh Agrawal

ShoutMeLoud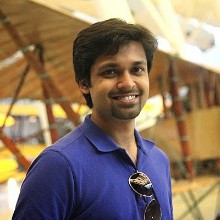 I think being an engineer enables you to think about the world around you in ways which others can't, and that gives you an advantage in solving problems and building things which can help make the world better.

Shiladitya Mukhopadhyaya

Rasilant Technologies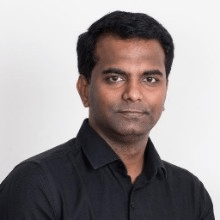 Decisions become easier when there is a broader strategy and tenets in place. So I focus on tenets and strategy so that I need not be involved in every decision.