Starting With Pocket Money, How Angad Jagtiani Built 'Dot' - A Design, Print And Manufacturing Firm
By - CrazyEngineers • 7 years ago • 31.1k views
Born with the entrepreneurial keeda, Angad Jagtiani went straight to work at his brother's startup after graduating as a computer engineer. Today, he runs his own venture called 'Dot' a design and merchandising firm that creates everything from posters to badges to fridge magnets that people love and buy.
In the exclusive interview with CrazyEngineers, we got Angad to talk about his venture, how he landed up where he is, his team, the challenges they faced and a lot more! Read on!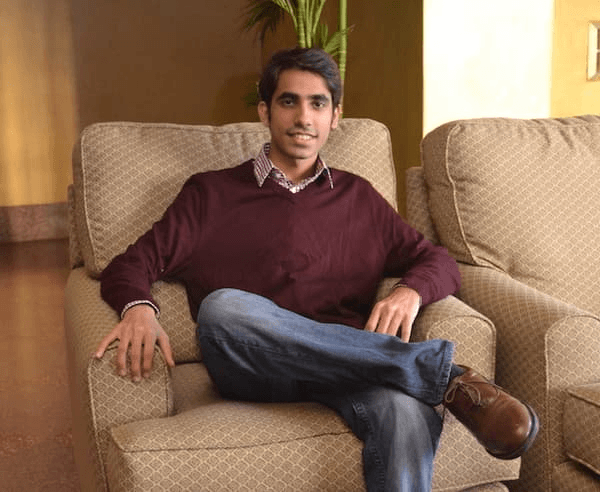 Angad N. Jagtiani, Founder - DotBadges
CE: Tell us about your growing up years and family background. Are you a first generation entrepreneur?
Angad N. Jagtiani: I come from a background of engineers. I was never pushed into it by my family. It was my own choice and love for computers, that I ended up picking computer engineering. But turned out I was the more of the artsy types and here I am designing merchandise instead of software. I can't say I am the first one to start a business in my family, it was when I worked at my brother's startup that I got the experience and learnt the way a startup functions.
CE: Tell us your experience working as COO for MarkMyFest.
Angad N. Jagtiani: I started working at MarkMyFest (my brother's startup) at an early age of 15. I used to design the website, social media content and print material. We started with colleges in Mumbai and in a span of 3 months we were publicizing fests for colleges all across the country.
It was a roller coaster ride. My brother handed over the business to me when I was 18, as he moved out for his Masters. It wasn't easy to catch up with all of it, as I had just started my Engineering. Holding my first business card at such a young age, certainly felt good, but I also had to live up to all the expectations. It's always been a pleasure working for Mark My Fest, I've learned a lot from it. I've learnt how to manage a business and most importantly how important it is to take risks.
CE: When did you first think about Dot? What is Dot all about?
Angad N. Jagtiani: To be honest, I never gave Dot much thought. My love for merchandise made me start Dot choosing pin-back badges as our signature product.
Dot is a design, print and manufacturing firm, which carters to all branding, designing and merchandising needs of corporates, start-ups, homepreneurs and individuals.
We also set up pop-up shops on monthly basis in different parts of the city, and sell out products designed by us.
CE: How does Dot help their clients for design branding and social media marketing solutions?
Angad N. Jagtiani: Depending on the clients needs and requirements, we help them out. And at the same time, we suggest certain alternate products that might be more appropriate from an economic and from a marketing point of view.
CE: Tell us about the growth rate of DotBadges. How many clients do you currently have and from which spheres? 
Angad N. Jagtiani: Growth rate, well that's confidential. But since you ask, all I can say is that, dot has grown so well, that I don't have to work a 9-5 at a MNC. Our major clients are from the medical, retail, merchant navy, food and beverage industry. Apart from these we have rolling clients who come with various requirements for events, seminars, weddings and personal branding requirements.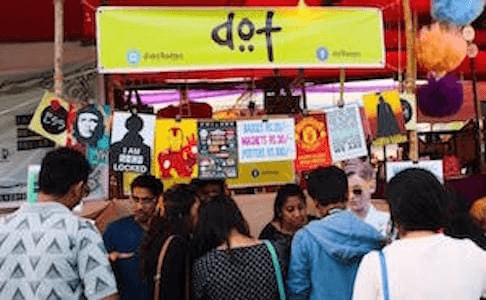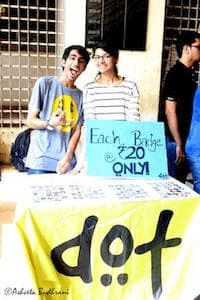 CE: How big is the market that you are targeting? What are the expansion plans for Dot?
Angad N. Jagtiani: Initially I started out with a mindset to carter only to college students and people upto the age of 30-35. But after a few pop-up stalls I realized that theres was more to it, when I saw an older crowd, going gaga over our stuff. I went on to design and manufacture products which would appeal to moms and dads as well, and the response was magnificent. I had managers and executives, sending in queries to know if they could have badges customized for their brands. I mean I never thought that an older crowd would also be interested in badges.
As of now we are focusing on our upcoming office and soon we plan to open a retail outlet for our line of products.
CE: How big is the Dot team at the moment? How do you go about hiring? 
Angad N. Jagtiani: At the moment its just me, a friend and my entire family thats helping out along with 2 designers and 3 interns. We plan to expand our team in Q2 this year. We simply look out for people who can get the job done in the best way, people who are creative and full of ideas. I don't look for fancy degrees, high flying marks, or well groomed people. I strongly believe that one's work speaks for itself and not a boring CV.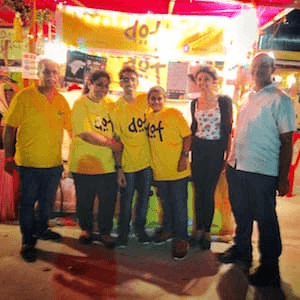 CE: What is the revenue model for Dot?
Angad N. Jagtiani: I never learnt business from a book and to be honest I don't understand any of those fancy acronyms that "entrepreneurs" use these days. My revenue model is simple, design, manufacture, sell, make profits, repeat. There really is no secret to our revenue model at dot.
CE: Is yours a bootstrapped startup or have you raised funding from external sources?
Angad N. Jagtiani: Dot is a bootstrapped startup. I started with my pocket money that I had saved for quite a while.
CE: What is the best part about your job? And what is the worst?
Angad N. Jagtiani: Best part of my job is that I am my own boss, I don't have to take orders from anyone above, everyday is a new challenge for me, my clients have different requirements everyday and my job is to make it possible and deliver the best to them.
Worst part is that I have to be punctual for client meetings and I have to dress up formally at times.
CE: What are the biggest challenges you've had to face while running this company and how did you tackle them?
Angad N. Jagtiani: When I started out no one supported me, people would look down upon me, at times my teachers would tell me to focus on my studies and not waste time in this as this would lead me no where.
When I used to tell friends and relatives that I was pursuing my startup instead of a 9-5 job they would think I am crazy and this wouldn't work out. But now tables have turned the same people want to be associated with me, they want to know how do I run my business and gain insights.
CE: Any message for young engineers and aspiring entrepreneurs?
Angad N. Jagtiani: I'm going to be very blunt and open about this I think students from every field have a lot of potential, rather than wasting time organizing your college fests, trying to be cool hanging a walkie-talkie around your neck, and clicking selfies get out, face the real world and do something, be different from the average crowd. Take risks.
Organizing a festival in college isn't going to add to your CV. Do something different, so that you'll never have to draft a CV. And most importantly listen to your inner-voice. 
Note: Only logged-in members of CrazyEngineers can add replies.
Recent updates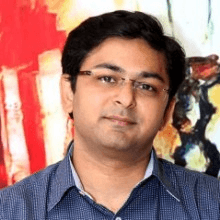 We understood the client's need of going mobile friendly and making solutions that will help save time and money. That is how our direction of being known as one of India's best enterprise mobility solution provider became an aim.

Abhijit Junagade

Winjit Technologies​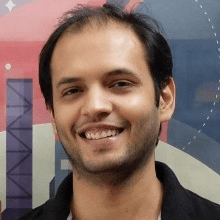 In 10 years, when I go to a hackathon and ask, "Who here has used Postman?" - I want every hand in the room to go up.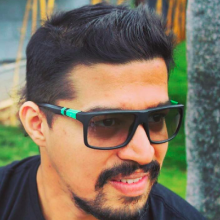 People management, analytical and not emotional driven business decisions is the key.

Abhishek Daga

Thrillophilia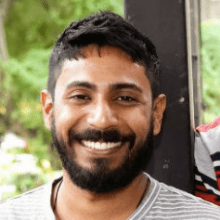 The best way to achieve long-term success is to stay anxious, be super involved in everything that the team does in the nascent stages and keep your eyes on the trophy, even on weekends.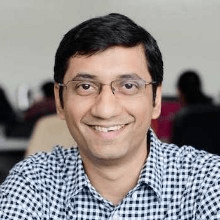 I am happy that we were able to create an online tool that helps people customise their furniture on a real-time basis.

Ajit Shegaonkar

Stitchwood